Monday
Community Articles
Warrior Tribute: Fay Octavia Elliott
by Nathan Railla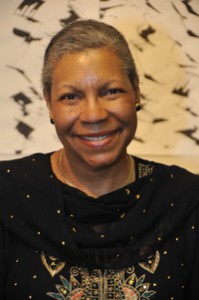 "My prayer is that when it comes my time to die, because I am walking the bodhisattva chaplain path focused on love in the form of two-fold Bodhichitta, my practice, and engagement with the suffering of the world, I will die with no regrets." – Fay Elliott from Walking the Path of the Bodhisattva Chaplain.
Fay Octavia Elliott passed away Monday, March 23rd, surrounded by fellow chaplains, her loving husband and many others, in Boulder, Colorado. She had lung cancer.
On a pleasantly warm and sunny Colorado afternoon, hundreds of people arrived at the Boulder Shambhala Center to honor Fay Elliott this last Thursday, March 26th. Shastri Janet Solyntjes presided over the Shing Kam Ceremony, which is a powerful practice of assisting Fay in her journey as well as culitivate compassion and openness for everyone present. Fay has touched many, and soon after her family, students and friends began sharing their experiences of Fay, it became clear that the way she impacted people was unique.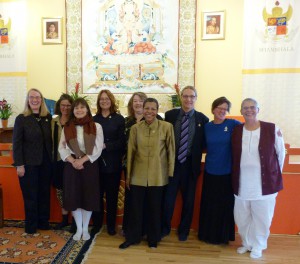 Fay found her way to not only embodying the Bodhisattva ideal, but also making it her profession. The Shambhala Buddhist chaplain/minister ordination of Upadhyaya was so central to Fay's work in her final years (For a Shambhala Times article about the Upadhyaya role – click here). Essentially, her wish for Upadhyaya was to be a healing, nurturing and caring role for the Shambhala community. According to her fellow Upadhyaya, Sue Vess, Fay was a strong advocate and leader for this role to care for the sick, the dying, the incarcerated and more. Both Sue and Fay were part of a four-person Upadhyaya team of women in Boulder, who auspiciously were born months apart.
Acharya Judith Simmer-Brown commented how Fay was a woman who had personal experience in many faiths. Fay graduated from Naropa University in 2011 and soon began teaching afterwards. Fay was an adjunct faculty for a number of years at Naropa University and worked closely with Acharya Simmer-Brown. Fay taught inter-religious dialogue and other Masters of Divinity classes and had a special relationship with many of her students, embodying genuine nurturance.
Fay grew up in New York City and had a very full life of touching so many.  A common theme was how loving and supportive Fay was. During the funeral ceremony, one of Fay's longest friends, beginning when they both worked at IBM, Susan Zoller, spoke about how Fay would encourage her with "Be genuine and you can do it." Fay's niece, Dominique Elliott, gave a moving account of how Fay taught her so much and loved her unconditionally.  From meditation to dating advice, even how to make a cake, Fay was like a second mother to Dominique.  Dominique's final comment was, "She gave us the legacy that we can take [her] love and kindness and share it."  Fay's husband, Richard Ehret, spoke beautifully on how Fay would put smiles on people's face wherever she went.
One of the last things that Fay did was to get married. Richard and Fay had both lost their first spouses. They met while Richard's spouse was in the process of dying and Fay was their chaplain. Months afterwards they fell in love. Their love was so important to both of them that they had planned to marry in this coming May, which included arranging for a location, a beautiful cake and other matrimonial details. With a day's notice, Acharya Simmer-Brown, Fay's mentor and dear friend married them in the hospital the Saturday before she passed. Enjoying chocolate and sake, friends and family celebrated the new bride and groom.
Fay was a wonderful example of joy and dedication for all of us, regardless of background or creed. We can still learn so much from her. Luckily, Fay has left us with a few resources to guide us on our path and they embody this amazing woman's genuine kindness.
Fay's Thesis for her Masters of Divinity from Naropa University.  Walking the Path of the Bodhisattva Chaplain
You'll be dearly missed, Vajra sister. We will do our best to follow your lead of taking our bodhisattva vow to hear, and putting people before our own habitual patterns. May your journey bring you peace and a seat amongst the Werma and Drala.
~~

Nathan Railla is the Director of the Shambhala Meditation Center of Denver. Auspiciously he has shared much of his Shambhala path with Fay.  hey both started in August/September of 2008 and eventually went to Vajrayana Seminary, Rigden Abhisheka and Scorpion Seal Assembly together. They also attended Naropa University during the same time. He lives in the heart of Denver with his lovely wife Betsy and dog Bette.
Post Tags:
fay octavia elliott
,
Warrior Tribute