Wednesday
Atlantic Canada, Community Articles
Yarne: The Heart of Gampo Abbey
by Emma Cataford, temporary monastic
and Loden Nyima, Head of Education at Gampo Abbey
The community at Gampo Abbey ushered in 2015 by starting their annual winter retreat, called Yarne. Entering the retreat involves formally committing to remain within both the physical boundaries of the land as well as the spiritual boundaries of our intention and according conduct. The Yarne retreat was established as a natural response to the Indian summer's monsoon weather: during the rainy season, it was not advisable to travel and therefore an ideal time for the sangha to practice together. At Gampo Abbey, the most logical time for this is during the winter, which in Cape Breton can be quite harsh. It includes spending upwards of eight hours a day on the cushion engaged in meditation, contemplation, and liturgy within the tight container of monastic discipline. As Genyen Thubten Tingdzen points out, it's a wonderful way for our community "to enrich the Shambhala mandala with the blessings of this 2,600 year old tradition.
This year, Gampo Acharya Pema Chodron gave a series of talks titled Making Friends with Yourself: Exploring Self, Selflessness, and the Roots of Attachment, which will be edited in an online course. Based on the Buddha's expositions of the Five Skandhas, the Eight Consciousnesses and the Twelve Nidanas, they draw from a variety of teachers, including Sakyong Mipham Rinpoche, Chogyam Trungpa Rinpoche, HH the Dalai Lama, Mingyur Rinpoche, and Thich Nhat Hanh and Ken McCleod.  
Through Ani Pema's classes, followed by Q&A sessions, readings, group discussions, and guided contemplations, the participants had the opportunity to explore the concept and their experience of the illusion of self and the freedom of selflessness. It was a rich investigation into how we view ourselves as separate from others, consequently bringing insight into how we relate to the world and our society. "We have come to a place where we cannot escape the vividness of reality," says Tingdzen. "This was an important lesson for me: I either struggle with reality or I can relax into it. We share reality and how we work with our mind affects that shared reality. The method that we learned from Acharya Pema Chodron has to do with being able to relax into our own basic goodness."
Due to the number of residents who joined the Abbey for the The Warriors Who Are Meek year of monastic training in October, the monastery was filled near capacity and we were only able to invite a very limited number of guests into a well settled container. The demands of the schedule were felt strongly, but a culture of support was ever-present. Held together by the lifetime monastics, the Abbey Director and Shastri in residence, who provide the ground and guidance for the whole sangha to delve into practice, there was a sense of commitment, yet with a certain lightheartedness. "Going quite deeply into our neurosis can make for some funny yet tender scenarios in the monastery," Tingdzen explains. "I think there were moments for everyone where we caught ourselves thinking about packing our bags and maybe even got to the point where we were looking at our empty suitcase on our bed, ready to be filled, before being able to smile at ourselves, seeing how far we had gone into our escape plan."
During her first address, Ani Pema made an invitation to reflect on why each individual was undertaking the retreat and to make a dedication to a specific person or group of people. In this way, practicing takes on a stronger significance, implying that all the effort made is not just for oneself, but so that one can raise bodhichitta for the benefit of others. Of course, there are also personal benefits in going through an intense closed retreat such as this. As any long term meditator will tell you, dedicating a period of time to deepen one's practice is a precious opportunity.
Doing this in a monastery, given the nature of the container, can be challenging, but also somewhat liberating. One of the lay participants, Rebecca Eldridge, shares: "There's space to unravel at Gampo Abbey, which can be so freeing, but also takes a lot of courage. I'm grateful to my fellow unravelers on this journey. And with Ani Pema at the helm, what an amazing journey it's been."
This was an occasion to rest fully with mind, its workings and its potential. Discussing the eight types of consciousness can be an entryway to observing the patterns of thoughts, emotions and reactions in daily life. This is a process, not a quick fix solution. Rebecca adds: "Calm arises; it moves off. Frustration comes on, then it leaves. A main practice for me has been staying with all the comings and goings without beating myself up when I think I'm failing and without puffing myself up when I think I'm finally getting somewhere."
Starting from contemplating our understanding of self by looking at our habitual tendencies, Ani Pema encouraged people to get intimate with what it means to be human, as opposed of trying to get rid of ego. Tharpa Lodro, a temporary monastic, paints a colorful picture of this: "It was like a huge gigantic empty pot and inside of that is plenty of water in which your little pea-body is floating and here comes Ani Pema with her teachings on selflessness to turn on the heat and get the water boiling. A very powerful, beautiful and demanding experience."
One of the instructions given by the teacher was to rest in the raw energy of our emotions in order to find a space to pause between thought and action. This gives us a chance to see clearly our entanglement in reactivity and interrupt the momentum of our usual unhelpful inclinations. By contacting the energy of being hooked we can also recognize how others experience the same suffering.
During the seven weeks of retreat, participants also had the fortune of connecting to their body through the work of two gifted instructors: Hope Martin with the Alexander Technique, and Rebecca Eldridge with Mindfulness Based Stress Reduction. Both their work appropriately coincided with the instructions given by Ani Pema. Maria Losurdo, a lay practitioner notes: "The experiential work that has been presented by Hope and Rebecca has supercharged the retreat by magnifying Pema's teachings and infusing them into felt experience."
While Hope concentrated on our posture, Rebecca led the group once a week in various MBSR exercises, such as a body scan which provided a gateway to awareness of self through our most direct vehicle, our physical sensations. Getsulma Lodro Dechen explains: "We discussed the nervous system (which Ani Pema brought up a few times in her talks) and how, through mindfulness, it could be trained to tolerate, even embrace, painful or difficult situations, thus allowing us to be of greater benefit to others."
After 45 days of retreat we celebrated Gagye, the lifting of the restrictions. Each monastic (and a few lay participants) gave a brief talk, an occasion for the community to share how they joined the teachings they received during Yarne with their practice and daily lives. "Yarne is a source of strength and training for the rest of the year, and cumulatively for our monastic life," explains Gelong Loden Nyima, who just completed his sixth. "It's when we put in the cushion time and the training, which allows the teachings to affect us in a powerful way. It's the heart of Gampo Abbey".
~~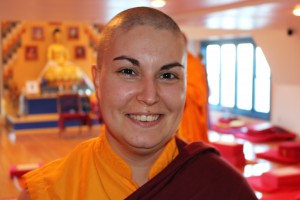 Emma Cataford grew up in Italy and studied Journalism in London, UK. She has been in Shambhala for about three years, is a bartender by trade, and loves dogs and diving. She is currently residing at Gampo Abbey as a temporary monastic, where she goes by the name Tharpa Chodron.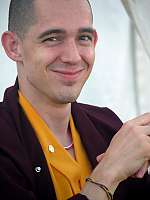 Gelong Loden Nyima is a fully ordained monk and has been in residence at Gampo Abbey since 2009.  He serves as Monastic Secretary to Sakyong Mipham Rinpoche and as Head of Education at Gampo Abbey, where he designs and leads training programs offered by the Shambhala Monastic Order.  He was born in Texas and in his free time loves to meditate, study, and exercise.    
Post Tags:
Gampo Abbey
,
monastic
,
monasticism
,
Yarne