Sunday
Scene and Heard
Graceful Appearance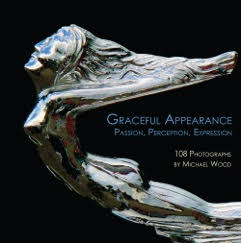 Miksang Publications is happy to announce the release of Michael Wood's new book, Graceful Appearance: Passion, Perception, Expression.
Graceful Appearance is a collection of 108 of Michael's most essential Miksang photographs. They were selected from thousands of images taken over more than thirty years of developing and teaching Miksang Contemplative Photography.
This First Edition is a limited release of only 100 signed and sealed copies.

"Graceful Appearance," shares Michael Wood, "is a collection of my images that expresses the experience of the first moment of meeting. It is possible to see as if for the first time whenever we are still, open and available, prepared to meet our world as it presents itself. When interpretation and meaning are irrelevant, and we present ourselves fully and unconditionally to meet the world as it manifests, we can experience the joy of graceful appearance."
To celebrate this occasion, we are offering a complimentary copy of Graceful Appearance with the purchase of a signed, sealed and numbered print of any image in the book.
Please visit gracefulappearancebook.com to see and read about Graceful Appearance and the images Michael chose to include in his book.
Post Tags:
book release
,
miksang