Wednesday
Community Articles
The Barnacle's Roar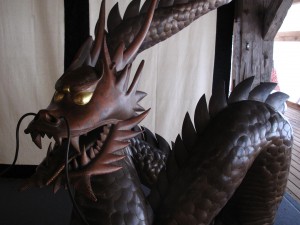 Coming Home from Enlightened Society Assembly
article by Emma Cataford, Gampo Abbey
photos by Jacqueline Larson and Naomi de Ville
Between June 24th and July 3rd at Dorje Denma Ling, around sixty practitioners attended Enlightened Society Assembly led by Acharya Marty Janowitz and Shastri Mary Campbell. Given the shortened duration (eight days of actual program), it was an intense experience, with a tight schedule and plenty of material to cover. Under the full range of Nova Scotia weather (except snow, thank goodness), we had the full societal experience: from organizational dilemmas, to family warmth, to communal living irritation, to inspirational teachings, to disappointment and exhaustion, to heart connections.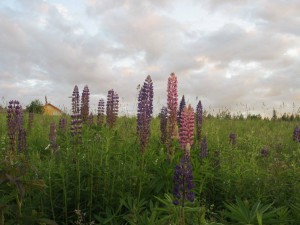 At the beginning, the teachers explained the distinction between a "program" and an "assembly". This assembly was going to be a time to connect with each other in exploring what it is to touch basic goodness and how that translates into the vision of enlightened society. That exploration was approached through a variety of formats such as one-on-one conversations, discussions on study material, wisdom exchanges and affinity groups. My first reaction to that was along the lines of "Oh, great. All talk and no practice." But it wasn't long before I started to appreciate the practice of seeing people, the practice of listening, the practice of accepting the elements, the practice of staying with bubbling feelings, and the practice of curiosity.
Shastri Campbell set the tone of the retreat by asking us to contemplate the question: "What is important to you about being here?" This revealed a variety of motivations that participants had to engage in creating enlightened society. It immediately uncovered the incredible richness of our sangha, all the different angles that practitioners take in bringing the teachings into their daily experience.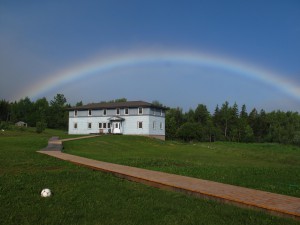 The whole retreat for me was an investigation of interdependence. It gave me the opportunity to better understand the journey our Shambhala community is going through as a whole. We have been hearing expressions like "cultural transformation" for a while, and ESA is a space to contemplate what that means for us not only as practitioners, but first of all as human beings that cannot exist in a vacuum. One prominent topic was how to create a mind of possibility where basic goodness can manifest. In discussing the ways in which we can create an environment for that to happen, questions came up about what kind of atmosphere we foster in our family, work and day-to-day activities, and, conversely, how we experience the atmosphere other people create around us.
The discussion around the basic goodness of society was particularly challenging as we can immediately point out the dire state our world is in. But if we take the view that violence and aggression come from separation, rather than from our inherent nature, then we can also see that seeking relationship or affiliation (no matter how misguided or harmful our actions are) is a manifestation of basic goodness. Here lies the revolutionary aspect of our lineage, through a teacher who even in the midst of genocide refused to forget about his birthright of human dignity. A powerful part of our gathering was hearing recollections of Chogyam Trungpa Rinpoche from Acharyas Janowitz and Bill McKeever (who we had the good fortune to have as one of our Meditation Instructors), which enabled us to connect to the stream of intention set out by the warriors before us.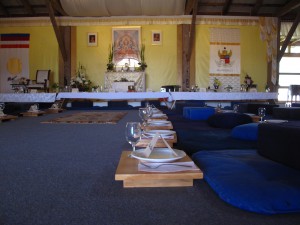 So what to do once the intention is planted in our hearts? Such a radical approach can be understood by seeing how much occurs based on one shared thought. If I can share the thought of basic goodness in my immediate environment, than that is working towards enlightened society. Okay, but practically? Well, at ESA the practical aspect comes in by working in affinity circles. Various topics of interest were proposed and people spontaneously gathered around them, sharing expertise and contacts. It's a great way to gather allies around a discussion you're passionate about. Circles included family systems, sustainability, death and dying, yoga, technology, joy in the workplace, starting a business, conflict in the sangha, growth of Shambhala centers and groups.
In order to fully take the action part into our path, we must explore our minds. In our tradition, the two always go side by side. So it wasn't all talk and no practice. The social interaction was framed by the formal practice of Shambhala Meditation and the Shambhala Sadhana. Being introduced to these new methods was indispensable to the exploration of enlightened society. I found them to be actual tools for my mind to establish the link between my aspirations and their realization. It's a rich and potent way to go deeper into my understanding of the view, to question my resolve, and to strengthen my conviction.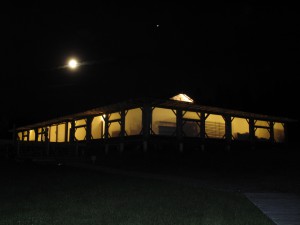 In some ways I feel like I came home with more questions than before, and years of habit make me react to that with frustration. There's always that nagging voice of spiritual materialism that says: "You're not getting any answers here, let's move on to something else." But then I get a great sense of relief by just resting in the question. Acharya Janowitz talked about the value of doubt, which is not a problem in itself. Respecting the question, which is there for us to engage in, is a fertile ground for progressing on the path.
That ground becomes all the more fertile if we have the good fortune to share our doubts along with our aspirations with others on the path. Separate from the affinity circles, the participants were organized in smaller groups of around ten people that regularly got together throughout the duration of the retreat to talk about how we were doing generally in our practice and in the program itself. Coming from a deeply personal understanding, universal truths can be brought into a reality that is closer to home. That's the most valuable thing I took home with me from ESA.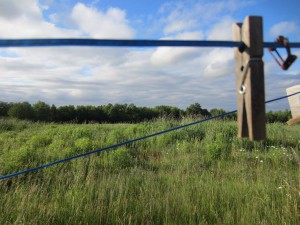 This kind of assembly, and possibly all Shambhala gatherings we attend, are a testing ground for the balance we try to strike between personal practice and social engagement. There is no substitute for our time on the cushion, but at the same time no amount of practice is going to give us the "heart workout" (as one of my fellow warriors put it) we get by simply being around other people.
Talking about the process of opening up to our heart's potential, Shastri Campbell used an interesting image from the animal kingdom: the barnacle. This crustacean seems quite lifeless and unapproachable, but if you observe it interacting with the tide, you notice a little filament coming out of its shell and then retracting. The hope is that, through our practice, we can extend ourselves outwards, even when we're feeling crusty and encased in our cocoon. By not being afraid of who we are, we can afford one little movement to touch basic goodness in ourselves and in our surroundings. Even if it's a brief moment, this can lead to a whole path of awakening. From a feeble "meep" to a full-hearted roar.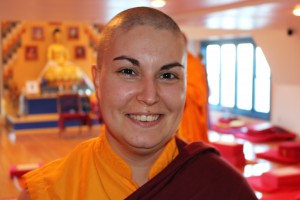 ~~
Emma Cataford grew up in Italy and studied Journalism in London, UK. She has been in Shambhala for about three years, is a bartender by trade, and loves dogs and diving. She is currently residing at Gampo Abbey as a temporary monastic, where she goes by the name Tharpa Chodron.
Post Tags:
Enlightened Society Assembly
,
reflection