Friday
International Programs
Creating Dechen Choling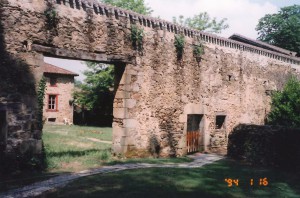 Celebrating 20 Years of Dechen Choling
A Few Early Recollections
article by Herbert Elsky
photos from the Dechen Choling archives
After the property was purchased we (Herbert and Catherine Elsky) were asked to come to France to take charge of the renovations because Catherine is the only French speaking architect in our sangha.
When we arrived here the "Chateau" and surrounding property had the look and feel of an abandoned property. The land and buildings seemed to be literally calling out for help. Since we had made a big effort to come from North America to create the "European Land Center" we expected to be greeted by a welcoming committee with flowers, but our reception was quite different. Nothing had been prepared for us.
The first thing we did was to go back to Limoges and buy a mattress and some pillows and move into the Farmers House, which is now the where the offices are.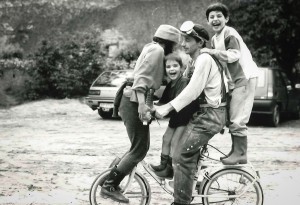 What we found was Simon Lahaye, who was the first to arrive, trying to create some kind of organization in the middle of this immense project. There were a couple of recovering drug addicts from Holland who volunteered to help make a start on fixing up the place as best as they could. They were living somewhat in hippie grand style as the occupants of a chateau, but in dingy bedrooms with the old wallpaper peeling off. There were regular "eau de vie" drinking contests that went late into the night.
The first year we were regarded by the local people with suspicion, as a cult, and as city folks who knew nothing about farming and life in the country. The land had been pretty much abandoned for many years and local farmers were used to having access to it. At that time there were large old piles of manure which had rotted over the years into good compost. One day as we were returning from doing errands, we saw a tractor with a scooper loading our manure onto the back of a truck. Catherine called out, "Stop the car! They are steeling our shit."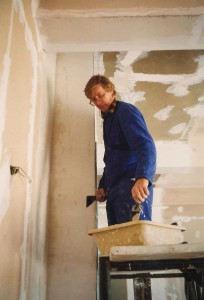 The police came by regularly to check on us and at one point they asked that we give them the names and birth dates and countries of origin of all the people who came to the land. They were very paranoid as there had been the mass suicide of the "Temple of the Sun" cult in Switzerland and there was a French "blacklist" of cults which included even little yoga groups. The mayor of St Yrieix sous Aixe called a mayor in the Dordogne to check on us because there are many Buddhist centers there, and he replied, "The buddhists are O.K." and that helped us a lot.
We had to start the renovation work from scratch. Catherine had to draw the plans, and she had to find, and schedule, all the carpenters and masons, the plumbers and electricians to redo all the infrastructure. At night, in bed, when I wanted to cuddle she would spread plans across our laps and say, "Where can we put another toilet?"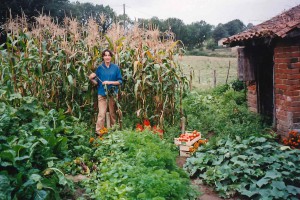 Scheduling contractors is an art in itself requiring a lot of strategy so that the work progresses in logical steps. Catherine did not want to engage workers unless she knew we had the money to pay them. One night she called Mary Fahrenfort in Holland to say that there was no more money in the bank account so she could not continue. Mary said, "Keep going. It is your job to do the renovation and my job to get the money." And she did!
During the first year Penor Rinpoche came to bless the place with a lhasang. The mayor and local officials were invited and they came as they were all curious about us. The lhasang was very elaborate with lots of offerings and tibetan music played by the monks. At the end, much to our surprise, and delight, the local officials all came up to receive a protection cord and blessing and to be introduced to Penor Rinpoche.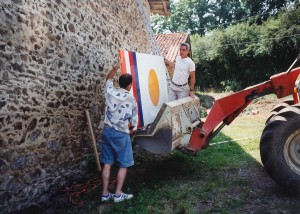 Later that day, at lunch with Penor Rinpoche and his monks I asked him, "since water is the main element here how should we relate to the Nagas?" Penor Rinpoche replied, "If you don't know what you are doing it is better not to mess with the Nagas! Then he added "You should keep the waterways clean."
At that time local people had been dumping their trash in a place where just before the stream leaves the property it forms a small pond. There were old televisions and every kind of junk bobbing up and down in the water. I immediately found a couple of helpers to drag the junk out of there.
There is so much more to tell, and so many people who came to help and who should be thanked. This beautiful place would not exist without them.
I am especially proud of Catherine for getting the place open, on time, and on budget!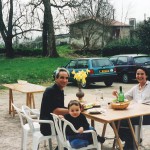 Post Tags:
Dechen Choling