Wednesday
International Programs
Dechen Choling: 20 Years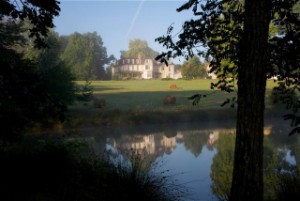 Dechen Choling Shambhala Retreat Center in Southern France
Turns 20 Years Old
article by Maggie Lewis
We've got a lot to celebrate! This is our 20th anniversary at Dechen Choling and we are so proud to be here. We are nestled in the French countryside, and invite the world to come and experience not only the beauty of our landscape but also the teachings of Shambhala and so many other things which lead to being awake and present in this wonderful world.
We've come a long way in these twenty years. We had a vision, to begin with, of a land center here in Europe. The Shambhala mandala was growing across from North America to Europe and we needed to find the right space to host larger programs. After several fruitless searches, we found the Chateau Mas Marvent in the Limousin area of France, three hours south of Paris by train.
The land here is like the softness of the universe with clean air, a wonderful river nearby, and magnificent trees, some of which are a hundred and fifty years old. It has a heart shaped lake as well. The land was perfect except for the fact that it needed a great deal of work to get it into shape as a dharma and practice center. Somehow it attracted the right group of crazy, talented, dedicated people to stay and help the flower start to bloom.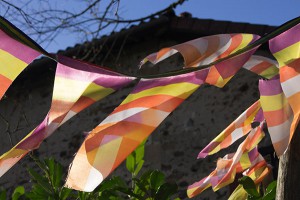 Many things were needed: heating and radiators for a start. Massive staircases had to be constructed; walls removed or replaced in different configurations; a kitchen that could feed up to 300 people; an office; a computer and a phone line: many toilets and showers as well.
During the first three years the place was pretty much a building site. People kept turning up to help and stayed on because the group bonded strongly in the cause of getting things rolling. There was so much to do and people felt so good to be working together for the one goal of having a beautiful land center. The beauty of the land and the space was so inspiring that it magnetized creative, practical and tireless workers who all wanted the same thing.
In between barbecues and lovely dinners under the stars and swimming in the river, there was the first dathun. Programs started to happen and people came. They donated everything from ancient garden tools to sewing machines, a car, a few tents and endless boxes of dishes and curtains and cooking pots. A very large tent was rented to host the first program with the Sakyong.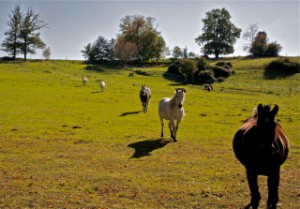 At one point, the rain was so hard and so loud that we couldn't hear him and he couldn't hear himself. There was just pure joy and laughter in the tent. In order for the phenomenal world to be bound together in great bliss it soon became clear that we needed a proper shrine room and not a tent. The beginnings of what was to become Drala Hall started to take shape. The plan was to turn three separate barns into one amazing space with a kitchen, three dormitories, men's and women's showers, five toilets – including the one for disabled visitors with their own shower. And so the plans unfolded and the budget for this huge project came into being. With much help from our sangha sisters and brothers across Europe we raised the money for the work to start.
It was a tremendous effort lasting a year. Massive machinery arrived, steel beams were put in to hold the structure of three barns under one enormous roof. Solar panels were installed along with under-floor heating, and the eco-friendly lime and hemp walls were finished by hand. The design of the windows allows the natural light from the first moment of dawn to fill the shrine room until the last rays of sunset. The light is there throughout the whole day. It is truly a magical place for practice.
Since Drala Hall was finished we have also built a highly efficient eco-sewage system for the land, a totally organic garden, a space designed for children throughout the summer, and the kitchen serves only organic food. The summers see our tents spring up in three different camp sites plus another one for the staff. There has been lighting installed along the paths for evening walks. Fifty small trees were planted around the land early in 2015. The cemetery has been cleaned and will have a bench put there soon. In fact benches will be in place this year as part of our 20th year celebrations. We want people to be able to sit and enjoy the lake view and other beautiful spots at Dechen Choling.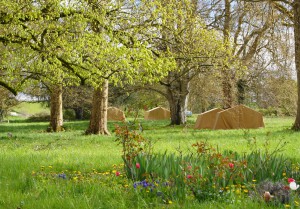 Happily we are nearly at the end of some of our legal and economic problems. It has been a struggle at times, but with continuing hard work and dedication to keep this beautiful center up and running, we have the support from so many people.
Our neighbours are wonderful. This part of France is not developed economically but the people in the valley are honest and helpful and kind. Our group from Limoges, which meets each month on the first Sunday and on Thursday evenings, is growing steadily. Our 20th anniversary will see us inviting the local Mayor and many of those artisans who have helped to create and sustain Dechen Choling over the years. We will have a festival as well and open days for the public to come in and see what we have on offer.
There are future plans, of course, for a larger kitchen and dining room to be built. Also there is talk of moving all the administration into the chateau, and building more accommodation space for participants and staff. Improvements are always a subject for the management team. Slowly it keeps growing and coming together and year after year we have families returning for Family Camp. Watching these kids grow up over the years is truly exciting and rewarding. They are now grown (well some of them) with their own families and we have another generation of young warriors to host and nurture.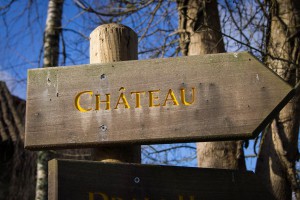 As this is a special year, our director, Konstanze Brockstedt, has provided us with the challenge of creating 20 projects to improve and enjoy and to commemorate this occasion. There is a new cut flower garden in the shape of a crescent moon and sun created in the permaculture style. We are planning to upgrade the lovely Marpa room with it's bay window overlooking the lake and the future Stupa by replacing the bay window with a wonderful new window providing insulation for the winter months, as well as replacing the balcony off the Sakyong's room above the Marpa room. The rose porch will be repaired and painted. We have six gorgeous new benches to place around the estate so that people can sit and enjoy the beautiful scenery. We will have a fence around our eco purification site, and new roses have been planted. Other small and large improvements are awaiting our attention. Some very necessary work to the roof is also being done as well as new pillows for our guests.
We are looking forward to a wonderful summer and autumn with the Sakyong coming here again to give us his warmth, humour and wisdom and hopefully you will be able to join us. If not this year, then in the very near future….
Learn more about Dechen Choling by clicking here.
Post Tags:
Dechen Choling