Sunday
Featured Stories, Scene and Heard
Full Moon over Boulder
On the night of an extraordinary full moon, Boulder Shambhala Center offers the Shambhala Sadhana
by Elaine Logan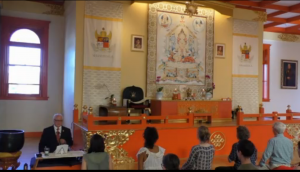 I walk into the main shrine room at the Boulder Shambhala Center on the full moon, Sunday, August 30, for the Shambhala Sadhana practice. Achary Dan Hessey sits up front, surrounded by expectant folks. I sit at the back, facing the shrine. The shrine room feels full – so many people showed up!  Something different is happening. People came out of their homes late on a Sunday afternoon, just to do this sadhana, just to be here with folks of like mind and to chant about basic goodness.
Acharya Hessey introduces the sadhana. While I listen, I look around the room. I see old friends, and I see new faces. I see young couples. I see children. I see young teenage friends sitting beside me in the back. Later I ask one young man, "What brings you here? Are you Buddhist?" He says, "No. I just came with my friend."
In front of me a woman and her daughter sit on red gomdens. During the sadhana, mother and daughter share a magenta scarf. The daughter pulls the scarf from her mother's shoulders and stretches it over her arms. A radiating tattoo of dots and triangles wraps around the mother's arm like a sleeve.  She wears red lipstick – a look I love.  Black springy curls surround the daughter's face. She looks ten years old. During the sadhana, I see the daughter is chanting too. I am impressed. What's it like to feel basically good right from childhood?
During my own chanting, I hear an old Scots voice, "Who the hell do you think you are to be so good?" Regardless of this voice I chant, "I am basically good." After the practice, we all retire to the community room for a spread of refreshments topped by two huge homemade pies: apple and pumpkin! I love to mingle with my favorite folks on the planet, the Basically Good Guys!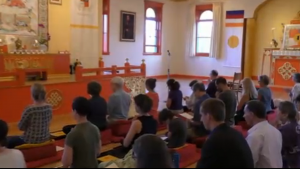 Now Shelly Webb, the Boulder Shambhala Member and Volunteer Coordinator, asks me to write something up about this event. "We had at least 74 people here tonight. We'd like to put something into the Times about it." Sounds great, but by this time almost everyone has gone. So, I followed up with some calls. First, I asked Melanie Klein, the Shambhala Center's new Executive Director. Melanie was delighted: "A wonderful blend of senior and brand new students, some even brought their children along. Folks told me that practicing the Sadhana was just what they needed."
To find out more about this whole shebang, I called Les Schafer, who coordinated the event. "How did it feel to see so many people?" "Wondrous," Les said. "Pato [Valderrama] and I were coordinating. Noel Smith said 'Set up for 20.' We set up for 30. Then Noel went and set up for 40. Then more and more people kept coming and we kept putting out more and more cushions, chairs, and support cushions. Everybody was so wonderful. Everybody helped!" Les went on to describe what happened later: "Pato and I were downstairs putting away food and Eileen Malloy comes downstairs and says, 'Your cushions are all put away in the post-meditation hall.' We didn't ask anyone. They did that on their own. Everyone was compassionate and good-natured. Pato and I thought we'd be there till 9:00!"
I followed up with Bill Haas, a colleague from Seagate Technology. How did Bill find the evening? "It was heartwarming and encouraging that so many people showed up," said Bill. "Man, we pretty much filled the place up.  More and more people are connecting to the magic of that practice. It is so to the point. It so speaks to the whole situation, individually, and globally, and everything else in between. The other thing I like about it is that it's not exclusive. We exclude no one. If you've never done it before, you're welcome. If you do it all the time, you're welcome. That warms my heart."What makes it magical?" I ask Bill. "Well, it helps because there is group energy. We are not just individuals. We transcend the boundaries of our bags of skin."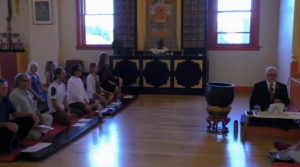 I caught up with Acharya Dan Hessey driving to another teaching event. What did the Acharya think of this event? Acharya Hessey said, "This was an exciting and pivotal event. It provides context where the entire community could hear, contemplate, and meditate on the core principal of Shambhala which is Basic Goodness. This has a new level of inclusivity."
Inclusivity? "When people hear about Basic Goodness at any point in the path, two things take place: a deep intuitive inspiration that it's possible that Basic Goodness is at the heart of every being in the world and the world itself, and at the same time our doubt about that is brought up to the surface. The group sadhana provides a community to experience basic goodness and contemplate their doubts and hesitations. What a wonderful path!"
Aha! Yes. I remember that Scottish doubting voice.
I feel happy with my work. Too bad I don't get a chance to chat with that mother and daughter who sat in front of me. Then, just this past weekend, I assistant directed a Shambhala Training Level One in Boulder. Steve Seely, the director, is my old meditation instructor from the 1984 Vajradhatu Seminary, and I decided to reconnect.
When I walked into the Shambhala Training Meditation hall Saturday morning I found, not just the mother who sat in front of me at the Shambhala Sadhana, but her daughter too. This daughter loves her Mom so much she likes to meditate with her. On Saturday, we meditated with Paloma. We walked with Paloma, and saw her hands perfectly joined in the walking meditation mudra. In the aimless wandering exercise, Paloma was the first one to look behind the curtain that says, "Don't look behind this curtain." And we all looked with her.
Before we leave that day, Larissa Godat, Paloma's mother, tells me about their full moon Shambhala Sadhana, "We went by accident," she says. "We thought it was the Basic Goodness mantra chant. We really enjoyed that chant when the Sakyong visited. And the email said it was a family event. But there was no childcare, or we missed it somehow. We ended up in the shrine room, expecting a different practice. Then I realized I had brought Paloma to something really advanced. Some parts she could do easily, like 'I am basically good.'" Larissa apologized to her daughter; they didn't find out until later that there had been a whole game room set up just for kids. But Paloma impressed her mother: "She did the whole sadhana. She hung in there! I was just so mindblown that we had done it, that she had done it. I was just so completely impressed with her!"
I ask Paloma Godat herself, what does she think of that whole shebang? "It was full of complicated words I couldn't understand."
Were there words Paloma did understand? "Yeah! Heart, and Buddha."
How about Basic Goodness? Does Paloma feel that she is basically good? "Yeah – sort of." Another pause … "But mainly – I'm basically bored!"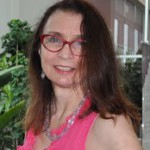 Elaine Logan ​was thrown out of Scotland in 1984 for being too cheerful. She works for Seagate Technology, writing the documents that make the whole world sing. ​Elaine volunteers for hospice and the Boulder Shambhala Center​, and she is writing a memoir of life in Scotland, called "Who, Me?" Elaine's daughter, Rowena Lair, teaches history in New York City.​
Post Tags:
basic goodness
,
Boulder Shambhala Center
,
Shambhala Sadhana