Monday
Featured Stories, Scene and Heard
Appreciations and Farewells
An appreciative farewell gathering is held to honor the service of outgoing Shambhala leaders Carolyn Mandelker and Anna Weinstein
by David Brown, with photos by Terry Rudderham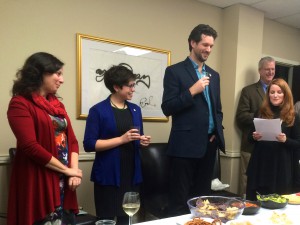 On December 18th the staff of the Halifax Kalapa Centre hosted a farewell gathering in appreciation of Carolyn Mandelker and Anna Weinstein on their final day in their respective positions as Executive Director and Director of the Office of Center and Group Support. Wendy Friedman, Director of the Office of Culture and Decorum, presented gifts from the Sakyong and Sakyong Wangmo with their love and blessings: a statue of Jetsun Drolma (or "Tara") for Carolyn, and for Anna a Trident calligraphy by the Sakyong. 
Gifts from the staff were offered, including a safari helmet for Carolyn, who is now on safari in Africa, and a 19th century dagger for Anna, Sergeant-Major of the Dorje Kasung. Toasts were raised, and out of the many messages of appreciation received, these two from Acharya Moh Hardin and the Sakyong were read aloud, capturing many of the warm feelings of their colleagues:
From Acharya Moh Hardin:
Carolyn: Never losing heart, always moving forward, the vision of the Great Eastern Sun emanating from your heart, cheerful, skillful, brave, open, taking the time to listen, always a good friend—these are just a few of the words that come to mind when I think of you and of your leadership of Shambhala. For the weight you have carried for all of us and for the enrichment you have given us, my gratitude is unending. You are a bright and brilliant example of warriorship. Thank you with a deep bow of respect.
Anna: You are a remarkable person. Your skill, energy, and unhesitating engagement in resolving problems have touched and inspired me deeply. Your vision and support for regional development has provided direction and encouragement to many. You have tremendous depth in your being. My admiration for you is far beyond what words could express. I will miss working with you very much, and wish you the best of good fortune in all that you do.
Letter to Carolyn Mandelker and Anna Weinstein from the Sakyong
With a warm and open heart I would like to show my appreciation for Carolyn Mandelker and Anna Weinstein for their long and devoted years of service. This is a momentous day for both of you because it concludes your service within a seminal period in the development of Shambhala. Through this time you have supported me in what I believe to be one of the most critical times in the development of Shambhala Vision altogether.
The period in which you have served has allowed for the unfolding of the Shambhala Terma as the profound and brilliant path of the Scorpion Seal and thus the actual arising of the Shambhala Lineage so that it is now clearly within the center of our mandala. Also, great strides have been taken in stabilizing the finances of Shambhala and the ground-breaking work of establishing unified giving, establishing leadership and regionalization, and within the Dorje Kasung the opening of the Trident teachings.
Even though many people have participated in and contributed greatly to these developments it is the tremendous conviction, inspiration and lungta of both of you that has helped keep this ship steady. In particular it is your attention to detail and cheerfulness on a daily basis that has kept things together so that the next stages of development within Shambhala can occur. It is through your tremendous dedication that the most fundamental evolution of Shambhala vision has come about in the establishment the Sakyong Potrang.
Therefore on this day we celebrate your accomplishments. And even though many things are still yet to be done it is important to mark this occasion. I appreciate personally your loyalty and selflessness in dedicating yourselves to this vision which I hold so dear in my heart. I have no doubt that even though this is a poignant moment on your journey, in the future you will continue to serve and participate in establishing the vision of the Great Eastern Sun.
Today is a great transition for you and for Shambhala Vision itself. Therefore in good Shambhala tradition take great cheer in what you have accomplished which will lay the ground for future success. On this day I also extend the best wishes and deep appreciation from the Sakyong Wangmo for all that you have done.
With profound gratitude, much love and blessings,
The Kongma Sakyong
Post Tags:
Kalapa Council
,
Shambhala Vision