Saturday
Featured Stories
Making Diversity Personal
A Shambhala Center responds to the death of a black teenager in their neighborhood, killed by a white police officer.
by Shastri Mark Blumenfeld and Miriam Hall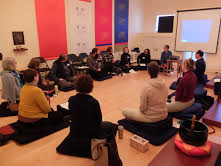 On March 6, 2015, Tony Robinson, a nineteen-year-old black teenager, was fatally shot two blocks from the Madison Shambhala Center. This was the result of an altercation with a white police officer, who had been called to investigate reports of violent and erratic behavior.   While the officer in charge was cleared of any wrongful actions, the death of a young neighborhood man was shocking and devastating. As a boy, Tony had been a schoolmate to sangha members' children.  Black Lives Matter included Tony's death in their protests that spring, and a local organization called Young, Gifted and Black galvanized around the shooting.
The neighborhood surrounding our Shambhala Center was deeply traumatized. The questions of how could we provide support for the community was an emotionally energetic topic at our Executive Council meetings that spring.  We held a special practice session of tonglen dedicated to the neighborhood, and asked ourselves repeatedly how we could be more supportive to the community just outside our doors.   What could we offer to more directly alleviate the pain and suffering caused though racism and inequality?  What could we, as an organization with so few people of color, do that would be helpful?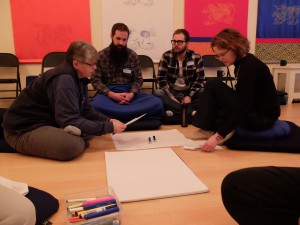 Our center director at the time, Ann Hall, took this contemplation deeply to heart. She wanted to find mindful ways to work with her own blind spots around racism, as well as to help the neighborhood and local larger community. She started a conversation with our current center director, Tuyet Cullen,  Shastri Mark Blumenfeld, and Miriam Hall, a Shambhala Arts & Miksang teacher who also actively works with gender equality issues. After listening to Ann's vision for our center, Miriam mentioned an activist group called Groundwork. Groundwork runs programs in Dane County for primarily white organizations and institutions that want to work toward achieving racial justice and equity. It also works in collaboration with organizations led by people of color, to engage with white people around issues of racial justice.
Through the fall, Miriam and Mark met with representatives of Groundwork to design a workshop for Shambhala members. We discovered through planning that we wanted to start a conversation on racial justice, privilege and the lack of diversity within our Shambhala community.  We held our first workshop for Shambhala Center members only, including most of our center leadership, with facilitators from Groundwork on February 13, 2016. The participants were primarily white, with a notable exception — our new center director, Tuyet Cullen, is first generation Vietnamese-American.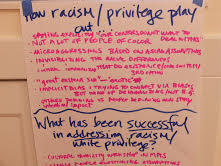 Our workshop began with a meditation on feeling led by Shastri Blumenfeld. From there, two skilled and sensitive facilitators from Groundwork, Laura McNeill and Tracy Stewart, led us through a series of conversations and exercises that got us closer and closer to difficult conversations around race.  We started with an exploration of the reality of racism in our culture, looking at how racism manifests on the personal, interpersonal and institutional levels.  We looked into the lingering impact of institutional racism, supported by the laws of our society for all but the last fifty years.  We gave ourselves the space to genuinely explore the hurtful pain and suffering caused by racism.
Tracy and Laura gently led us through examples and stories that showed how the front line of countering racism is creating change in the attitudes of white people.  As white people, we could work to own our responsibility to counter racism.  Through a commitment to see things honestly and directly, we engaged in genuine and direct dialogue with one other, speaking to how the cultural history of racism emerges in ourselves, and in the people with whom we share our lives.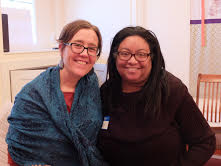 We worked in small groups to look directly at how we have seen racism play out in Shambhala and our own experience.  There were frank and sometimes difficult conversations, which led to heartfelt understanding and insight. It was especially powerful to bear witness to Tuyet's descriptions of her struggles, and also to hold how much pain racism causes even for white sangha members.
Through further dialogue and discussion we looked at real ways we could counter racism, starting with ourselves, then expanding out through our natural sphere of influence to family, friends, colleagues, and beyond. Instead of being overwhelmed by the seeming impossibility of defeating racism, we felt a connection to the true cultivation of goodness. We knew that the conversations we were having with each other were genuinely helpful and important.
The Shambhala members agreed on importance of starting these conversations.  If we aspire to have the Shambhala teachings reach beyond our present community of largely white European members, then we to have begin by looking at ourselves and being honest about what we find.  In following up, we will be presenting another introductory workshop, then some deepening workshops with Groundwork. We are also starting a book group exploring Paul Kivel's Uprooting Racism: How White People Can Work for Racial Justice.
The members of the Shambhala Center of Madison strongly encourage other centers to pursue this important line of conversation within their memberships.  Please feel free to contact us for more information:
Tuyet Cullen, Center Director
Miriam Hall, Shambhala Arts Teacher
Mark Blumenfeld, Shastri
Miriam Hall has been a practicing Shambhalians for the last twelve years. She is the second most senior teacher in the Nalanda Miksang Society for Contemplative Photography, and co-author with John McQuade of Looking and Seeing and the forthcoming Heart of Perception. She is also a full Shambhala Art teacher, and an in-training Shambhala Training director. She has been director of the Madison center in the past and is currently the membership coordinator there. She has the great honor of teaching contemplative arts for a living. She loves her wife, cats, and direct, compassionate honesty.
Shastri Mark Blumenfeld became a student of Shambhala in 1979 when he began studying with Chögyam Trungpa, Shambhala International's founder. In the 1990, Mark moved to Madison, Wisconsin and worked with the community there to found the Shambhala Center of Madison. In 2012 Sakyong Mipham Rinpoche appointed him as the Shastri for the Madison Community. He is a former center director and has taught programs in meditation, mindfulness, Buddhism and Shambhala for over twenty-five years. He is retired from a successful career as an information technology executive and management consultant. He is married to Dr. Lora Wiggins and has three adult children.
Groundwork on the Web: GroundworkMadison.Com
Post Tags:
activism
,
diversity
,
Madison
,
privilege
,
race
,
racism
,
social justice