Monday
Sakyong and Family
A Birthday in Boulder
Jetsun Yudra celebrates her third birthday, on a windy day in Boulder, Colorado
article by Steve Sachs
photos by Michael Levy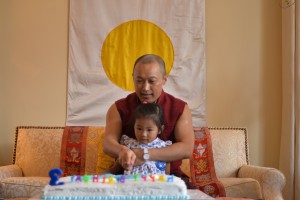 On the afternoon of Monday, March 14, Jetsun Yudra celebrated her third birthday at the Kalapa Court in Boulder.   A chilly wind off the Rockies led to festivities being held inside, but the gaiety continued unimpeded!  
Once everyone had played and settled in a bit, food was served.  There was then a treasure hunt where the children went from one room to another discovering little gifts that were hidden there.  Jetsun Drukmo took the lead, deciphering a number of the clues.
Everyone gathered in the Great Room where the Sakyong gave a toast to Jetsun Yudra and all children of Shambhala.  The presentation of the birthday cake was exciting as it was skillfully decorated with a turquoise horse hand-crafted by Machen Marivn Robinson.  As "Happy Birthday" was sung, Jetsun Yudra gleefully blew out all the candles with help from the Sakyong.
Cake eating was followed by songs from Nina Rolle and Master of the Court Mark Thorpe.  To Jetsun Yudra's delight, the Sakyong Wangmo then spontaneously offered a Tibetan children's song. Following her mother's lead, Jetsun Yudra merrily led the party in singing "Baby Beluga" together.
The party concluded with the Shambhala anthem and the opening of presents.   Horses were a major theme of the celebration and of the gifts received by Jetsun Yudra.  May she continue to gallop delightfully through her life and through ours!
Post Tags:
Jetsun Yudra
,
Sakyong Wangmo