Sunday
Featured Stories
Wake Up Chicago!
An upcoming event with Sakyong Mipham Rinpoche, Ani Pema Chodron and other wisdom leaders plants the seeds of enlightened society
by Sai Wei
Many of us have followed the media as it documents the violence in our country and the world. The protests in Baltimore, Laquan McDonald, Black Lives Matter, all hold jarring scenarios clearly communicating that something is not in harmony within society. Shambhala has always endeavored to create enlightened society in the here and now. The question that seems to be hanging in the air is: how can Shambhalians participate in these on-the-ground issues with our aspiration to create a good human society?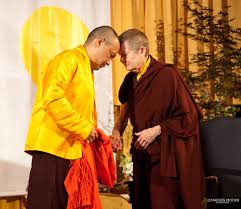 Here at the Chicago center, we have begun to educate ourselves on social issues, and have build relationships with a variety of non-profit organizations and other initiatives. We have been offering our experience and expertise in mindfulness and meditation, while they have been offering their years of experience in political activism and working with issues like violence and poverty.
In an effort to begin a more collective effort and to gather Shambhalians with other-like-minded individuals, the Chicago Shambhala Center invites curious and brave warriors for a unique and special three day event at the University of Chicago. From Friday April 29th to Sunday May 1st, 2016, Chicago will be hosting Sakyong Mipham Rimpoche and Pema Chodron to plant the seeds of enlightened society. Acharya Gaylon Ferguson and Shastri Sharlene Leung will be teaching as well. However, entwined with the classic big name teachers of the Shambhala community are those wise  teachers outside of Shambhala.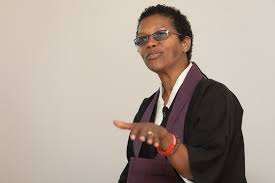 Angel Kyodo Williams, the renowned African-American Zen dharma teacher, will be a keynote speaker and will also be releasing her new book: Radical Dharma: Talking Race, Love & Liberation. Rev. Dr. Michael Pfleger, a well-known social activist and Roman Catholic priest, will be holding a panel session with Damon Williams, an activist with Black Youth Project 100, to discuss social engagement.
The Sakyong will be presenting a talk on Friday, April 29th, and Pema Chodron will be concluding the event on Sunday, May 1st. Sandwiched between these two venerable teachers are panel sessions and workshops to add arrows to the warrior's quiver.  Workshops include "UNtraining: Healing Racism and Internalized Oppression," "Mindfulness & Resilience for Helpers & Healers: A Youth Homelessness Panel, "Extremism, Refugees, and Islamophobia," "Bridging the Divide to Create Safer Communities: Police and Residents," and many more cutting-edge spaces. For a full schedule of breakout sessions and keynote presentation, the Awaken Chicago website provides an online agenda.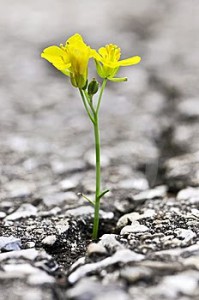 What makes this three day event so refreshing is the rich collection of diverse and powerful voices gathered together and connecting on a heart level. What is being offered is not so much  information on how to be "better" as the possibility for a shift in mind-set. This event offers the opportunity to relate to change differently, letting those who come to this conference shape their own way of thinking in a space of compassion and openness. This space is an effort to bring together the Shambhala community with the wider world in order to work together to create a more compassionate and enlightened society.
The image in my heart of what Awaken Chicago is initiating and what it represents is the flower that blooms in the harsh cracks of the sidewalk. Despite the anguish and suffering one experiences in the streets and homes of an unforgiving world, one still longs for the sunlight. Though no one intends to plant a seed in inhospitable ground, it is where you have fallen. Drawing upon nourishment that is unseen, you bloom in the face of an imperfect world.
Sai Wei is the intern of Social Engagement at the Chicago Shambhala center. She is currently studying at Shimer College with an emphasis on philosophy. 
Post Tags:
Chicago
,
Pema Chodron
,
Sakyong Mipham Rinpoche
,
Wake Up