Wednesday
Featured Stories
Deconstructing the Myth of Separation
Awaken Chicago. The Power of All People. Together.
by Debra Hiers
During the first keynote address on Friday morning at Awaken Chicago, the Rev. angel Kyodo williams, Sensei spoke to the power of deconstructing the myth of separation. "It is our innate nature as human beings to have curiosity for each other." That curiosity drives us to connect not disconnect, separation is not what we are driven by.
The problem lies within the systems that are meant to separate us. "Many of us grow up in circumstances that do not reflect 'oneness.'" And these systems of separation thrive on our acquiescence. So if we choose to connect with each other, to prioritize that effort in our lives, then "we can disrupt the systems of oppression" that keep us separate and in fear of each other.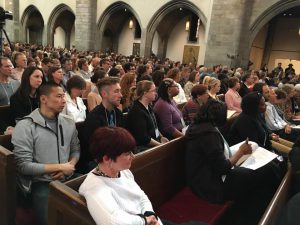 Rev. angel led us in an exercise designed to bring us in touch with our edge, to sense that place of discomfort in our bodies, at the moment when we want to turn away from the experience of an external pressure. As one person placed a hand on the shoulder of the person sitting next to them, the person receiving the pressure acknowledged the presence of the other, then Rev. angel asked for the person applying the pressure to increase it until the receiver indicated they had reached their edge of discomfort.
The point of the exercise in this controlled and safe environment is to feel the discomfort in your body and not react out of habit, but to stay with it long enough to get some information from the situation.  She suggested that, based on what we learned, we could "think about what happens when you leave here and the unexpected happens." Where do you go with that discomfort? When you can actually lean into it, you can, as one participant offered, "no longer experience [the person applying pressure] as the other, but just as part of my own experience."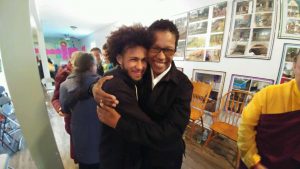 When we try to ignore that discomfort, or become numb to it, we are actually disengaging with our own selves, and "it is that disconnect with ourselves that is most important," says Rev. angel. "So often we have a desire to be part of the solution, to fix the external problem, but "as long as we keep trying to fix the other … we give momentum to the myth of separation. There is no 'fixing' the system, there is only disrupting it. We disrupt the system by disrupting the sense of separation in ourselves. The best path forward is to include ourselves." That means including our feelings of loss, anger, loneliness, and separation. This is what enables us to come more fully into relationship with who we are, which increases our capacity to be in relationship with others.
How we respond to circumstances that seem outside our control can be changed, by building our capacity to "reseat ourselves in our basic goodness" rather than responding in conditioned or habitual patterns that maintain this myth of separation. "You have to choose over and over again to reclaim your space. … Your choice is an energetic field." When we cave into oppression, "when we acquiesce and say it's just too much, we create a vacuum."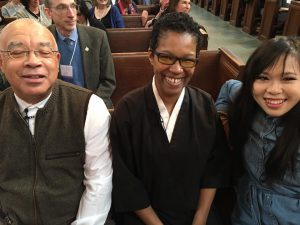 The question is "Can we experience our full humanity and stay engaged moment to moment?"
Sensei williams offered that "Liberation is not about where I am going to get to, but how I am going to get there. … We were not meant to awaken to this myth of separation. We can choose to connect and engage particularly at the moment of the most pressure … to expand and explore what new information emerges from there." That's how we employ mindfulness and develop the skillful means to disrupt the systems that keep us separate.
Debra Hiers is a freelance writer and editor currently based in Atlanta; she has been involved with  Shambhala for about two decades.  
Post Tags:
awakening
,
connection
,
relationship
,
separation