Monday
Featured Stories
Staffing as Service
Tsöndrü Joy Nicholson of the Boston Shambhala Center shares thoughtfully and beautifully about her service experience at the center.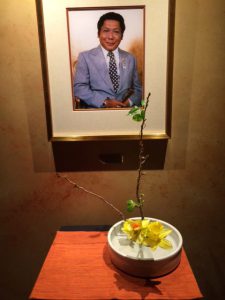 Q: What service practice do you feel most connected to and why?
A: Each form of service can be profoundly moving in its own way, and I've been involved in ikebana, shrine-keeping, Dorje Kasung service, staffing, and keeping gate for programs. In the end, the goal of all service is to help people wake up.
Q: What inspires you about service as path?
A: [Being able to help create] a container that is both safe and uplifted, and by helping to enable the teachings. Anything I can do that may help the teachings to be heard is deeply rewarding.
Q: What challenges arise for you around service?
A: Time, time, and time. I can't do all of the things that I want to, so I must choose only a few. For the ones that I do, it's important to set aside enough time for each one, so that I can bring my full self to the moment and not be rushed. Injecting speediness is counter to the teachings that I am working to enable.
Q: How did you first become involved with ikebana service at the Boston Shambhala Center?
A: During a year living in Kyoto, Japan, I had the opportunity to attend an Ikebana show, displaying dozens of arrangements by dedicated practitioners. Learning that each arrangement had an underlying form which represented Heaven, Earth, and Humanity helped me to understand that these were more than just pleasing arrangements flowers, they were expressions of one's view of the world — like any other piece of art.
I was told the these flowers are cherished all the more, in Japan, because their very nature is ephemeral — impermanent. The Japanese culture is influenced by Buddhism on many levels and, although I had not studied Buddhism at that point in my life, this resonated deeply with my own perspectives on life.
It was well over a decade before I took my first Ikebana class, a four week series at the Kaji Aso Studio in downtown Boston, and I immediately began practicing this art in my own home. With a life and career made up of primarily computers and math, it was mind-changing to work creatively with a visual art, and I was somewhat shocked to learn that I had an affinity for it. I can relax into the structure provided by the principles and "rules" of Ikebana, which allows me to more comfortably explore myself; much like how the structure and discipline of a Dathun can create a relaxation which allows for deepening of practice.
Eventually, I was brave enough to call the Boston Shambhala Center and ask whether there were opportunities for me to contribute to the Ikebana displayed at the center, and soon enough I was involved in the Ikebana rota.
Q: Did/Do you have any mentors in treating service as practice?
A: My very first time arranging at the Boston Center was alongside Mary Lang. I came in afraid that I didn't have enough training and that my attempts wouldn't be good enough, but she greeted me with both trust and gentle guidance. I left that day feeling worthwhile and that my efforts were valued.
I coordinated the Spring Kado Retreat at Sky Lake in 2015, where I had the amazing opportunity to learn from Marcia Wang Shibata, the founder of the Kado School of Ikebana and official Artist to the Kalapa Court. Ms. Shibata is a true ikebana artist and a moving teacher who helped me see how the entire universe can be represented within one container.
Q: How has your perspective on service evolved?
A: One gains self-esteem by doing esteem-able acts. Being recognized and thanked for doing something as simple as [arranging flowers] goes a long way.
In Shambhala, I've come to see service as serving the greater goal of helping to enable the teachings, and I can't imagine something more worthwhile than helping the world hear the message of Basic Goodness and manifest Enlightened Society.
Q: How has staffing as practice affected your personal meditation practice?
A: Service is Meditation in Action at its best. I've learned to practice sitting meditation before beginning work on Ikebana or Shrine Keeping, and then to bring the clarity of that meditation into the post-meditation practice which follows. As a result, I've come to see how sitting meditation can directly impact how I approach a concrete task, whereas before I saw it as "only" improving my general well-being.
I've also learned that one's mindset while approaching a task is as important as training or skill. This means that sitting meditation is at least as essential to my life as studying and learning new skills.
Q: Are there any staffing myths you'd like to dispel?
A: Everyone and anyone can contribute. Everyone has something that they can offer. Experience is not as important as an open heart.
Q: What is one cool fact you've learned by being involved in service?
A: The inside of the chalice for the tea offering on the Protector Shrine should only be cleaned once a year on Neutral Day, the day before Shambhala Day. However, the outside of that chalice, as well as the rest of the paraphernalia on that shrine, should be cleaned and polished regularly.
Q: Is there anything else you'd like people to know about service at local centers?
A: There are many, many opportunities for service at Shambhala centers. Many, many. Just do it. You'll feel good about yourself when you do.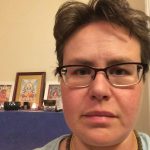 Tsöndrü Joy Nicholson is an ikebana practitioner, shrine keeper, and Dorje Kasung. She is a frequent participant in service at the Boston Shambhala Center.
This interview was originally published on the Boston Shambhala Center website.
Post Tags:
boston shambhala center
,
ikebana
,
meditation-in-action
,
service
,
shambhala centres