Friday
Featured Stories
Meritorious Service Award
Dr. Laurie Mallery receives high honor for her work in health care and geriatric quality of life
by David Brown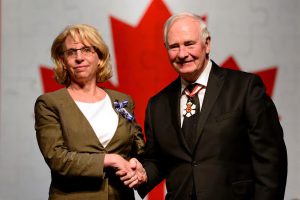 Laurie Mallery, MD, FRCPC, MSM, has been awarded the Meritorious Service Award by Her Majesty Queen Elizabeth, through the Governor General of Canada, in recognition of her ongoing work in health care and geriatric quality of life.
A geriatrician and full professor at Dalhousie University in Halifax Nova Scotia, Dr. Mallery co-founded a program for frail older adults, called Palliative and Therapeutic Harmonization (PATH), which helps patients and families make care decisions that consider the impact of frailty. She travels throughout Canada conducting teaching seminars, lectures, and training on PATH protocols to heath districts. PATH protocols and training have already been implemented in Nova Scotia, British Columbia, Ontario, and Alberta.  
Beyond improving the quality of care of frail older adults, PATH protocols build efficiency and lower costs. In Nova Scotia alone, for the first 635 patients who completed PATH, the process resulted in cost savings of over $4.5 million. Applying the PATH protocols to other provinces is expected to reduce costs and improve quality throughout the Canadian Health Care System.
Dr. Mallery is a long-time student of Shambhala. Trained in internal and geriatric medicine, she is committed to implementing Enlightened Society in the field of healthcare and quality of life for elders. She moved to Nova Scotia with her family in 1988 to support the establishment of Shambhala and develop her professional career. A leader in the path of patronage as a Kalapa Patron, she is also a Scorpion Seal 8 practitioner.
Dr. Mallery was head of the Division of Geriatric Medicine at Dalhousie University from 2003- 2015. In order to further her work with PATH, she stepped down from her leadership position at the Queen Elizabeth Hospital.
The PATH experience was brought to life in Laurie's work, "The Salami Salesman and His Daughter Falafel: What an Older Man's Death Can Teach Us about How and How Not to Care for the Frail and Dying" http://www.geripal.org/2011/04/book-review-salami-salesman-and-his.html, which chronicles the story of her father's frailty and dying process and offers help to others dealing with difficult health situations.
Working tirelessly for the benefit of others, Dr. Mallery has personally cared for and provided care to multiple community members and their families, including in emergency circumstances.  She consults regularly with those who have serious, life-threatening health issues, helping them maneuver the health care system and understand their options.
Dr. Mallery has been recognized with several other national Canadian awards (gold categories): the IPAC/Deloitte award for the Health Leadership, and the 3M Health Care Quality Award.
The Meritorious Service Medal "recognizes a deed or an activity that has been performed in a highly professional manner, or according to a very high standard: often innovative, this deed or activity sets an example for others to follow, improves the quality of life of a community, and brings benefit or honour to Canada."
Post Tags:
Award
,
elder care
,
service