Tuesday
Featured Stories
Near to the Heart, Part One
Part one of a two-part interview with Surmang Foundation founder Lee Weingrad, who spoke with us about topics near to his heart: Surmang, the Foundation, and the Forbidden City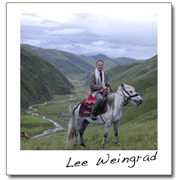 With two talks by Lee Weingrad coming up in September at the Halifax Shambhala Center, it seemed like a good time for a Shambhala Times interview. He will be presenting an illustrated talk on Friday, September 9 covering the work of the Foundation. The following day he will share photos and fascinating details on one of his favorite places: China's Forbidden City. We caught up with Lee just before his latest trip to Surmang.
ST: What inspired you to start your work with the Surmang Foundation?
LW: That's a complex question, since there was more than one impulse. For one thing, by 1982 our center Karma Dzong in Boulder was robust and thriving, with over 1200 members. There was a lot of practice going on, and we were hosting many programs. I'd begun to see an amazing array of teachers come there: HH Karmapa, HH Dudjom Rinpoche, Tulku Orgyen, Jamgon, Shamar and Situ Rinpoches, HH Dalai Lama, and Kobun. I started to see Trungpa Rinpoche in terms of how he was perceived and venerated by other great teachers, by his peers. Then the next question I asked myself was "what happened to those people back in Tibet, a whole political region, who looked at him as governor, lama, father?" That question began the journey that brought me to Surmang.
I did a lot of research. Like a 30's communist searching for forbidden information, I became a regular denizen of used bookstores, since so little was known about Eastern Tibet. I started a connection with the travel guide company Lonely Planet, which was just starting up at the time. I also connected with the late Galen Rowell, the dean of mountain photography. Traveling to Tibet, and taking photographs there, became an itch I just had to scratch. As the Tibetans say, I entered the mouth of the crocodile, where the teeth only point in.
It was also a good time for me to go –by 1986 the scene in Boulder was no longer quite so bright and shiny. Rinpoche was mostly gone, and the rich social life was starting to be a remnant of its former self. People were moving to Halifax. I was entering middle age and had to answer the question of what I wanted with my life. I had ended up selling Hondas after my work as a gemstone merchant went bust, and I just couldn't see myself on that track for very much longer.
ST: Many people would be daunted by all of the obstacles in such a project; did you have to overcome doubt and fear in your work? And how did that feel for you? What was that experience like for you?
LW: The trip in 1987 had certain inadvertent signs, all pointing in the right direction. I got an invitation from the Chinese Government in Beijing to talk to them about Surmang. My beloved restored Porsche 912 sold for my asking price, and easily too; it went to the very first person who came to look at it — the same person I had bought it from! I got to know the Consul General of the Chicago Chinese Consulate at a reception at Kalapa Court, Rinpoche's residence. (Years later I was to meet, by chance, the daughter of the then Chinese Ambassador who had been the guest of honor at that reception.) The signs were clear; I sold everything and was ready to go to China.
But Rinpoche's death and cremation put those plans on hold. After the cremation, at Karme Choling, Marty Janowitz and a few others gave me a styrofoam container filled with the salt that Rinpoche's body was preserved in prior to the cremation. After that, my journey started to look like an out-take from the movie "Raiders of the Lost Ark."
I was in Beijing for about 6 weeks studying (or trying to study) Tibetan. I failed at finding the right person in Beijing to grant me a travel permit to go to Surmang, which was a major difficulty since it was in an area closed to foreign travel.  Nevertheless, I went on to the city of Chengdu, a common launching point for journeys to Tibet. I felt very confident that something would happen to get me to Surmang, and sure enough, it did!  I basically lived in the Jin Jiang Hotel for about a month, just waiting. After three weeks, I met Penor Rinpoche who was just returning from his first trip to Payul since the late 50's, traveling with interpreter/translator extraordinaire Sangay Kondrol. Rinpoche gave me use of his car, which had to go back to Lhasa, and gave me very precise instructions on its use. I took that car almost the entire width of the Tibetan Plateau: from Chengdu to Surmang, from Surmang to Kokonor, from Kokonor to Tongula. At Tongula, the highest paved road in the world, (17200') the engine on our car basically exploded — after that, the driver soon parted company.
ST: A project like Surmang must take a lot of your time and energy — how do you fit in study and practice with your many responsibilities? 
LW: There is no difference between my practice sessions, with incense and candles burning or without them. In a formal sense, I have to be disciplined with practice. Luckily I had friends who could inspire me that it was possible to practice every day. Even though there are obstacles, through regular practice I had faith that Trungpa Rinpoche's wisdom was and is accessible. As long as I was open to obstacles as they arose, I knew that his compassion would shine through. It's not always easy. I'm not Padmasambhava.
ST: What are the most challenging parts of your work with Surmang? 
LW: This is a very difficult question to answer. It's all challenging. It's like that Elvis Costello song, "Everyday I Write the Book."
The physical challenges of traveling in Tibet are daunting, yet the easiest to overcome. Cultural challenges are a little bit more difficult. But I live in China, and have married to a Chinese woman for nearly 25 years. Although it may not be politically correct to say this, I find that the Chinese and Tibetan cultures are much closer than, say, American and Tibetan cultures. Even so, Tibetan culture is very hidden in some ways. Working with representatives of multinational corporations, by comparison, is a much much bigger cultural reach for me, encountering a much more alien culture. Working with the Chinese government has been good – but it's a work in progress. Most of the government people we work with in Qinghai Province are Khampa Tibetans.
ST: What part of your work brings you joy?
For one thing, seeing the way the project has been accepted and internalized by our patients. For another it's the people who are on staff. Dr. Phuntsok has been with us over 16 years; Dr. Drogha 14 years. It's their life's work too. We are very close. My next challenge is to find someone to take the reins, since I won't live forever apparently.
ST: What would you say to others who have a dream project they would like to bring to reality?
Don't be afraid if you have mixed motivations to do something. Don't pre-edit yourself. Let the project speak to you and as it unfolds, it will. Don't pay too much attention to experts. For me, some experts–particularly on the marketing side—have been spot on. For other experts, those on the public health or international development side, it's been about 50%. I was recently criticized for saying that 6000 Tibetan women die each year from pregnancy and childbirth-related causes, implying that I made it up, when in fact the statistic had come from the World Health Organization. You have to be willing to keep going even in the face of criticism, and to trust what the project itself says to you, more than what the experts say
Post Tags: