Friday
Featured Stories
Fresh from the Garden
Acharya Arawana Hayashi Teaches Level One at Sky Lake
by Lisa Freedman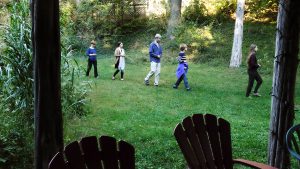 "We like our own garbage. It's important. We use whatever comes up in meditation. When we listen to fear and difficulties, they can serve as stepping stones." ~ Acharya Arawana Hayashi.
It didn't make sense for me to travel up to Sky Lake from the city to staff Acharya Arawana Hayashi's Level One weekend (September 23 – 25) and then write about it for the Shambhala Times. I had too many essays to read and give back to my creative writing students, a dog with too many allergies, and too overflowing a "to do" list to justify taking time off. Plus, I'm not a real journalist, so who was I to say yes to writing this article? But my fellow volunteers said I could arrive Saturday morning, and I decided to leap.
On Friday evening, while I struggled to get organized and had to wonder if I would ever access enough dignity to be a sacred warrior, the Acharya and Level One participants arrived at Sky Lake, a retreat center in upstate New York, celebrating its 15th Anniversary this year. The road up to the center, with the pines, maples, and oaks getting denser and the houses dwindling as you rise, sets the stage for getting quiet. Getting out of the car and walking toward the retreat house, you can feel things loosening up. The highway buzz is gone. Instead, there are the sounds of branches rustling, footsteps displacing gravel, and birds flapping their way back to nests. The door's been freshly painted. Now the four lavender, yellow, and orange flowers engraved in the wood feel warm and welcoming. Once inside, you'd have smelled jasmine rice with lentils and onion, prepared by Matt Lipkin, resident cook, along with tomato and corn salad, and roasted eggplant with feta.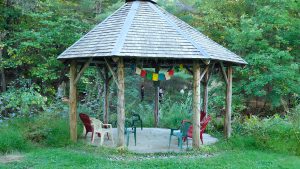 As people arrived, they filled their plates and found seats out on the deck. As it got darker, the lake faded from view and the festive white lights in the rafters seemed brighter. By the time the gong sounded to guide everyone in to the shrine room, connections had already started to take root.
With the windows open, cricket chirps punctuated Acharya Arawana Hayashi's talk. She started by asking people to consider what had motivated them to come and devote their whole weekend to Level One:
"I have spent half a century feeling defective. I love the Shambhala concept of compassion for self and other."
"To not be enslaved by my emotions."
"Life moves so quickly. I want to be able to hit pause and show up for it."
"I chose this over a sought-after chance to do a late-night comedy gig. I chose just sitting over performing."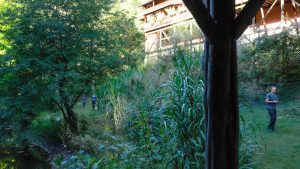 Acharya Hayashi shared with the group that she had originally come to meditation because she was irritable and couldn't get along with other people. Going through Level One led her to recognize her own perfection. "That's right. You are all perfect. And, you could use a little improvement," she said in her sparky, wise-hearted way.
It's okay to be irritable and stressed sometimes, to paraphrase the teacher. At least we care enough to experience irritation. When someone in the group said he sometimes wonders if he is doing it right, being a good role model for his kids, Acharya Hiyashi said this is a good question. "It shows you care. But what if, instead of thinking in terms of this is what it means to be a good father, you might think in terms of what does it mean to be a good father now? now? now? You don't have to relate to your kids from a blueprint," she explained. "You can be in relation with them in the now. Then things lighten up. There's more spaciousness. Stuff happens, but we stay with it."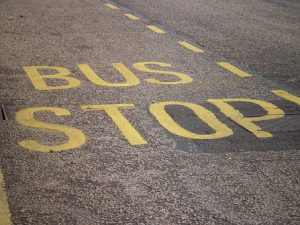 Stuff happened on Saturday morning: I overslept and missed the bus I had intended to ride up to join in on the teachings and to staff the weekend. And, right about the time my original bus was taking off, the driver of a truck on the Thruway near Harriman, New York, veered into a guard rail and overturned his tractor trailer. No one was seriously hurt, but a flammable chemical used to make glue leaked out, and authorities closed the highway in both directions for many hours in order to clear away the danger. Lucky for me with my shaky confidence and decent but not stellar meditation practice, I had no choice but to sit on the bus stopped in traffic and stay with the situation. I noticed my thoughts: I'm irresponsible; I always run late; I'm not trustworthy; I'm too frazzled. How did my skirt get so wrinkled? It'll be lunchtime by the time I arrive. I'm supposed to be a reporter? And, really now, how can a mess like me be fundamentally good?
When we meditate, we're building the capacity to free ourselves to be who we are. How do we sit together and help one another gently hold the space for things to unfold, both for ourselves and for one another?  ~ Paraphrased from Acharya Hayashi's afternoon talk.
Meanwhile, back at Sky Lake, Acharya Hayashi was giving meditation instruction, and people were doing rounds of seated and walking meditation. When I arrived after my 4-hour long bus ride (more than twice as long as it usually takes), I had the good fortune to walk into a new sangha of sorts. These Level One students were already engaged in the subtle process of weaving together a cradle of loving kindness, of holding space for their own genuine experiences and for others' as well. Meeting them and chatting over lunch, I found my bus thoughts – that I don't deserve to be here – dissipating.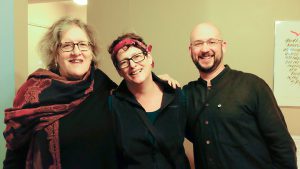 Acharya Hayashi put the power of her students' presence into perspective. During her late afternoon talk on Saturday, she told them they looked different, more open and relaxed, than they had when they started sitting at nine that morning: "We need before and after photos!" She also said that thinking in our old ways, according to our habitual patterns, as I had been doing on the bus, is like eating canned vegetables. Not thinking, just showing up and being present, as the Level One students I talked with at lunch time over a deep green salad were doing, is like eating fresh vegetables from the garden.
Sarah Vogwill, a graphic designer and visual artist and Level One participant, told me over that night's dinner at a local restaurant that the Acharya's teachings felt like "a real transmission. I have never gotten such clear instruction, and her gentle, compassionate demeanor is a great support."
Lila Low-Beinart said, "I've been with great teachers in the past who made me feel like I had room to be myself. Now, with Arawana's instructions, the precise words she used, I can go home and create this space on my own as well as with others."
I wrote comments on my students' essays during my uneventful bus ride home. In contrast to last week's canned green beans, this week they got hearty feedback – think fresh, organic, B-12 rich, deep green kale.
---

Lisa Freedman teaches creative writing at the New School in Manhattan. She's grateful to have been led to Sky Lake and the Shambhala path in 2014. She's also thankful to Acharya Arawana Hayashi, Irene Woodard, all the Level One students, David Daub, Sara Eckel, Robert Durlak, and everyone else who made the Level One weekend so fun, tasty, and nutritious.
Post Tags:
Acharya Arawana Hayashi
,
Level I
,
Shambhala Training