Wednesday
Featured Stories, Practice Centres
A Million Miles Away
Reflections on a Shambhala Training retreat at the Karmê Chöling land center
by Michal George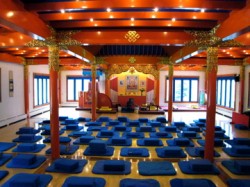 The time I recently spent at Karmê Chöling in Vermont taking Shambhala Training Levels I–III was so filled with teaching and opportunities to practice that I left the center with the sense I had been there for much much longer than a week. I was ushered into the Shambhala vision of creating an enlightened society through beautifully presented teachings; but to see the dharma in action at the centre had an even more profound effect.
Karmê Chöling is a microcosm of that ideology in practice. A living organism. It is the very first Shambhala center, dating back to the early '70s. I sat quietly in the exquisite shrine room. I listened attentively when the elders of the organization shared their insights. I interacted with the core staff and other participants as a member of a group of people whose wakefulness translates to a sense of being real and alive. Wakefulness—as I am discovering—doesn't necessarily translate to being a better person, or even a happier person, but rather to radiating a sense of confidence in one's authenticity.
I was offered instruction that has deepened my practice, and tools that enrich my other practice—the practice of life. In the process, and within the safety of the setting's container, I was given space to go deeper into my own sense of self, where I could directly apply these transformative teachings. I also had the chance to sleep in a tent and commune with nature. I ran the Rigden Ridge Trail and the Tiger Trail through the beautiful land. I got to do the recycling, add to the compost heap, and take out the garbage. I got to chop onions in the kitchen and cry.
This all left me with a sense of awe and wonder, and I left with a feeling beyond simple inspiration. Yes, it is possible to live the vision. And there is proof that it is possible, the proof of my own direct experience.
The morning of my last day at Karmê Chöling I wrote this in my journal:
I sense that I am on the verge of discovering something profound. Yet I have a feeling that it will be something very, very simple and ordinary. Something I have always in fact known. I'm on the threshold, and at the same time a million miles away from it. It's everywhere and nowhere, like the center of the universe. When I look for it I miss it. But I see it everywhere.
Editor's note: click here to see a list of upcoming programs at Karme Choling for this spring and summer, including Shambhala Training retreats.
Post Tags:
Karme Choling
,
Shambhala Training