Thursday
Featured Stories, International Programs
Mukpo Institute: Taking a Leap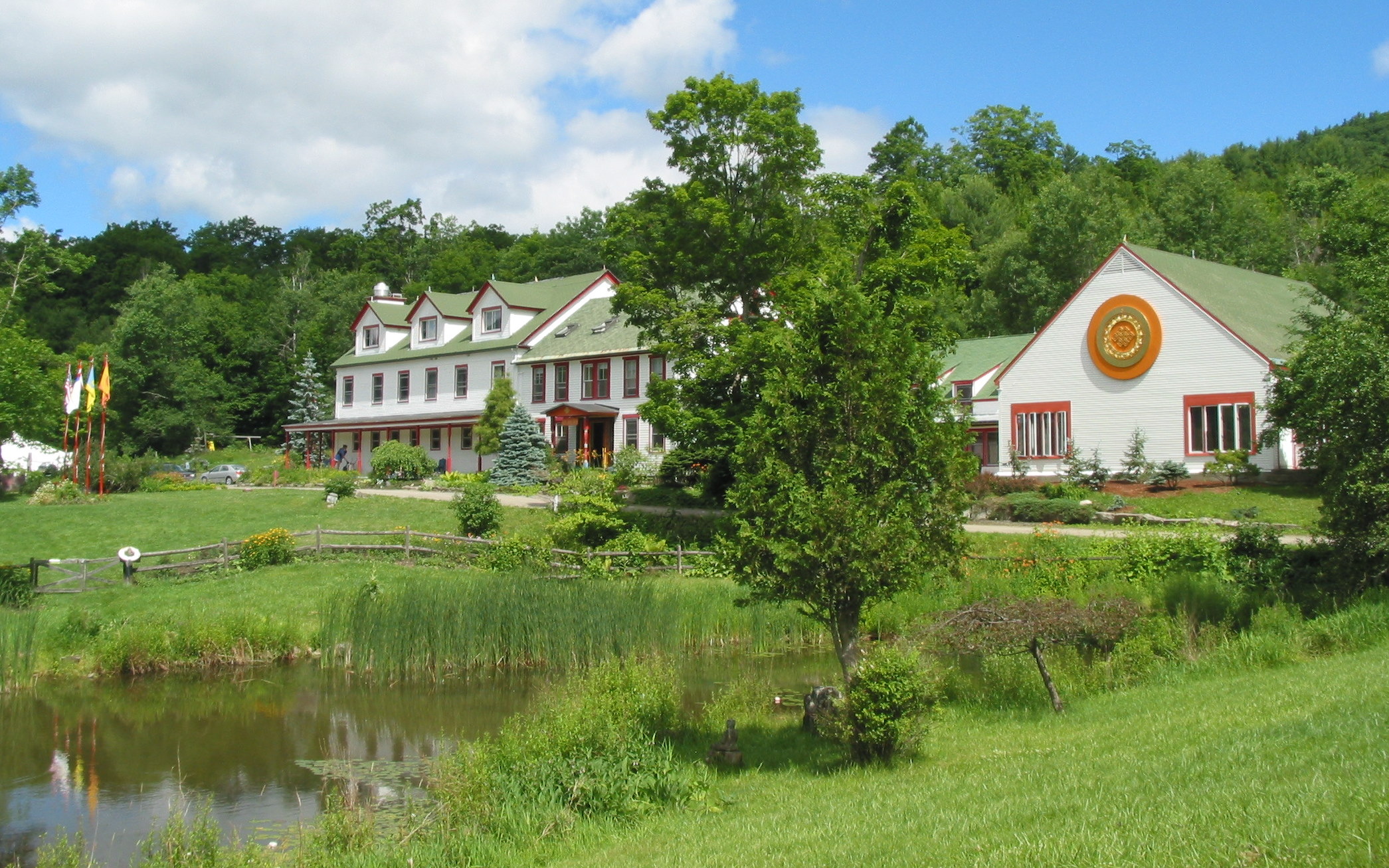 It is nearly six thirty in the morning. As I lie in bed waiting for a conch to blow and a gatekeeper to come down the hall ringing a wake up bell, I think about the day ahead in the Mukpo Institute at Karme Choling. In some ways, the repetitiveness of the schedule is a bit like the movie, Groundhog Day. There is a lot of structure to the daily routine. For me, that's not a bad thing. There is much support for my dharma study and meditation practice. Most obstacles to daily practice have been removed. Morning chants and sitting are just down the hall. There is no place else that I have to be. No morning commute to face. No email to deal with. How wonderful to start each day chanting lineage supplications and the Heart Sutra!

When I enrolled in the Mukpo Institute last fall, I had no idea that it would be such a rich experience. Some space had opened up in my life and I was looking for a place to chill out for a few months. I didn't realize that the Mukpo Institute was more about "cooking" than chilling. It's a deep immersion into Shambhala Buddhism.
The fall and spring semesters each consist of a month of study followed by a month-long meditation intensive (dathun) and another month of study. The courses are from three to eight days in length and cover a wide variety of topics. There is a good balance between Shambhala Training classes, buddhist studies and Shambhala Art programs. Other classes include an introduction to qigong and a leadership training program based on Shambhala principles. Students also receive instruction in ikebana, shrine keeping, umdze duties, gate keeping and drumming.
The study programs and dathun complement and reinforce each other. Meditation instructors are assigned in each program and dharma talks are an integral part of dathun. By the time dathun begins, Mukpo Institute students have spent a month immersed not only in dharma studies but also in daily shamatha meditation practice. The aches and pains on the cushion have been worked through and minds are a little less wild. Mukpo Institute students are able to settle into dathun very quickly and our "settledness" is beneficial to other dathun participants. At the end of dathun, we have the luxury of spending another month integrating the dathun experience with our studies while living in a dharma center environment.
Each Mukpo Institute student has a faculty member as meditation instructor. This relationship is one of the pillars of support that the Institute provides. Being mentored on a regular and continuing basis by a senior teacher is invaluable. My meditation instructor shows patience, compassion and humor in helping me to work with a number of situations in which I had completely lost track of those qualities.
Another support structure is the weekly practicum. Each Wednesday, students have lunch with Mukpo Institute coordinators and at least one of the faculty members. This is an opportunity for everyone to touch in and talk about how things are going, discuss any issues that have come up, make suggestions and review the upcoming schedule. The faculty and coordinators are dedicated to the welfare and successful learning experience of the students.
Living in community is exasperating and illuminating. It's like living in a house of mirrors. There's no shortage of feedback on one's mindfulness (or lack thereof), one's projections and one's habitual patterns. It is also very enriching; over the months, I have developed a deep sense of belonging to the community. The Mukpo Institute students (we call ourselves Mukpopas) have become very close. Dear friendships have also developed with Karme Choling staff. Because of our tenure, the Mukpo Institute students become almost like staff, but not quite. It's a bit of a hybrid status between staff and short-term participant.

There's also a playful and fun aspect to being in the Institute: most programs include a festive dinner or banquet. These celebrations provide opportunities to practice Shambhala culture, including giving toasts and making offerings of song, dance and poetry.
Karme Choling sits on 800 acres of forest in the Green Mountains of Vermont where there are plenty of opportunities for contemplative walks and vigorous hikes. Being from California, it was quite amazing for me to find out that there are actually four seasons in the year. Now, minus 30 degrees Fahrenheit is more than just a concept.
Each semester, there's a Mukpo Institute boating / BBQ adventure at a nearby lake. And because there are one- and two-day gaps between programs, there are ample opportunities for trips to nearby St. Johnsbury and contra dancing in Montpelier.
The whole of the Mukpo Institute is greater than the sum of the parts. There is a definite synergy that takes place between study, practice and living in community. We know that Shambhala warriorship is a 24/7 proposition; Mukpo Institute is definitely a 24/7 experience. For me, spending two semesters here has been nothing short of profound and life changing.
The spring semester graduation day was bittersweet. It was sad to see the experience dissolve and fellow students pile their belongings into their cars. At the same time, there was a deep appreciation for all that had taken place and an excitement about new beginnings. We had the tremendous good fortune of being able to meet Sakyong Mipham Rinpoche that day. He reminded us of what a rare and precious opportunity it is to be able to spend so much time in this environment for study and practice. He strongly encouraged us to take advantage of the changes that have occurred for us and to keep the momentum going as we return to our communities.
Post Tags:
Karme Choling
,
Mukpo Institute