Thursday
Featured Stories, Mandala Projects
Radiating Our Best Intentions to the World – 100,000 Aspirations at a Time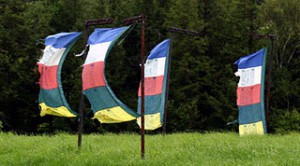 Tuesday, The Sakyong Foundation, in collaboration with Karme Choling, launched '100,000 Aspirations,' an online community (website and Facebook) to support the Stupa that Conquers All Directions.
Currently being built at Karme Choling, at the request of Sakyong Mipham Rinpoche, the stupa embodies wisdom and compassion in the world.
The goal of 100,000 Aspirations is to energize the stupa with the best intentions of 100,000 people and to enable a large community – within and beyond the boundaries of Shambhala – to engage in its construction. (A stupa is an architectural construction that promotes peace – for people of all cultures, religions and backgrounds to enjoy.)
In support of this effort, Acharya Pema Chodron has provided a brief video teaching about the power of aspiration. She has auspiciously offered the first aspiration, followed by other great teachers and members of our community.

[kml_flashembed movie="http://www.youtube.com/v/DY8cyJfrc_w" width="425" height="350" wmode="transparent" /]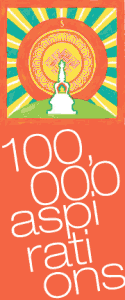 We're counting on you and our Shambhala community to help us create the momentum to magnetize 100,000 aspirants! Offer an aspiration and share this project with your friends and networks. Your aspiration will be placed in the stupa!
Making an aspiration does not require a donation, but we hope that you will choose to deepen your connection with this project by making a financial contribution. You can make a donation at www.100000aspirations.org.
The most important way you can help us reach our goal is to make an aspiration and share the vision of manifesting peace and creating a better world with your family, friends and colleagues!
Building the stupa is the beginning of an expansion project at Karme Choling – to reach more people and practitioners with deep meditation programs and trainings.
Please join us by offering an aspiration at: 100000aspirations.org
Post Tags:
1000000 aspirations
,
Karme Choling
,
Sakyong Foundation
,
stupa
,
Video