Thursday
Featured Stories, Mandala Projects
Shambhala Vision, Forward Vision
By Lisa Johnston
At the Sakyong Foundation we delight in matching a donor's passion with the aspirations of the community to make a difference in our Shambhala world and beyond. As a community, we pulled together to get Shambhala out of central operating debt. We did it again the following year, pulling together to strengthen our local Shambhala centres and groups by increasing membership dues by $34,000 a month. Now the Sakyong has requested The Sakyong Foundation to collaborate with Shambhala once again, spearheading a third challenge campaign to support an initial group of priorities that will contribute towards making our mutual Shambhala Vision manifest.
We were still in the midst of closing out our last matching campaign, gleefully stuffing grant checks and thank you posters into mailing tubes to send to the 94 Shambhala Centres and Groups that participated, when we started planning for the next major campaign that will impact our worldwide mandala: the Shambhala Vision campaign. This campaign will be an annual event, intended to fan the flames that will magnetize resources on a greater scale, over time bringing sustainability, richness and growth to every corner of the global Shambhala world.
In 2009, the Shambhala Vision campaign will consist of a $300,000 matching campaign allocated among four projects. The Sakyong made the following series of short video messages to share his inspiration with us regarding the highest priorities in this year's Shambhala Vision campaign.
Priorities for Shambhala Vision Campaign:
The Sakyong made the following comments to share his inspiration regarding these projects which we are funding this year through the Shambhala Vision campaign.

Video: The Sakyong on the importance of the Rigden Lineage Thangka
Video: The Scorpion Seal Retreat Cabins
Video: Establishing the Kalapa Centre
Video: Shambhala Mountain Center: Making Peace Possible

Watch a related video on the The Making of the Rigden Lineage Thangka.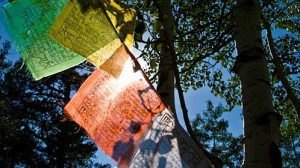 The vision of Shambhala is vast. May we never find ourselves in the position of having exhausted all that we aspire to accomplish as a community. Having worked closely with centres and groups this past year, I am joyfully aware of the many ambitious projects brewing all over our mandala. These include on-going development at all our practice and retreat centres, as well as major projects in large cites like New York, Paris and San Francisco. It also includes important projects such as Shambhala Archives, Konchok Foundation, and the Nalanda Translation Committee, and expansion at local centres in smaller towns like Burlington, Durham, and the South Shore of Nova Scotia. They include plans to support the growth of Shambhala in Asia, Eastern Europe and Latin America.
So here we go! If you are attending a program with the Sakyong this summer, that would be the best time to make your offering. To learn more about the Shambhala Vision campaign or to make an online donation, please visit our website at: http://www.sakyongfoundation.org/shambhala-vision-campaign/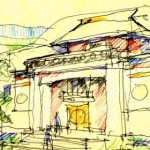 Related Articles:
Interview with Steve Baker on the new Kalapa Centre
Living Peace Message from John Barbieri
Post Tags:
Sakyong Foundation
,
Shambhala Vision Campaign