Monday
Community Articles
From Ukraine to Vermont 1
The Journey of a Shambhala Teen, Part One of Two
by Cara Thornley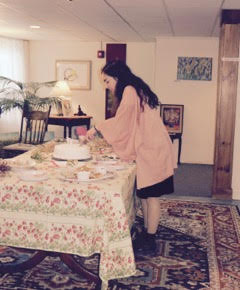 How Dali Kapanadze got from Ukraine to Vermont is a story of auspicious coincidence, parental aspirations, civil unrest, untimely death, Dali's inspiration, and immense sangha generosity taking the form of both financial and personal support.
In 2000 at the time Shambhala teachers began coming to Ukraine, Dali was born to Ira Vorobiova and Temo Svierly, founders of the Kiev Shambhala Center, who regularly hosted Shambhala Training teachers in their tiny apartment.
In 2006 Ira and Temo attended Vajrayana Seminary at Dechen Choling where the family was part of a  meeting with the Ukrainian/Polish group and Sakyong Mipham Rinpoche.
In 2008 Dali went to family Camp at Dechen Choling where she participated in the Rites of Passage ceremony with Shibata Sensei.
Also in 2008, Ella Reznikova, a Ukrainian friend of Ira and Temo, and an "auntie" of Dali's, visited Kiev with her husband, Bill Brauer, (then director of Karme Choling, now a Shastri) who taught a Shambhala Training level. Ella translated for him and re-connected with Dali.
This was the first of several teaching trips Bill and Ella made to Ukraine over the next eight years.  Remo was a classically trained, enormously talented artist. When Bill and Ella returned to Vermont after their first trip, they connected Temo with the Vermont Studio Center in Johnson, Vermont, the largest international artists' and writers' residency program in the United States.  The Pollock Foundation awarded Temo a scholarship to attend this program in February 2010.
Around this time Bill and Ella also hosted Temo at their home in Barnet, Vermont. They began introducing Temo and his art work to the local sangha, and also enjoyed taking him sightseeing around the area.  During one outing, they visited the St. Johnsbury Academy, https://www.stjacademy.org/ where Temo voiced the wish that his daughter, Dali, might one day be able to attend school.
In November of 2013 two events irrevocably changed Dali's family life. The first was the beginning of the Revolution of Dignity in Kiev, sparked by then-President Yanukovych's refusal to sign an agreement with the European Union, around the issue of entering an alliance with Russia.  "For many of us," Ira wrote, that "meant a return to the Soviet Union of Ukraine. Believe me, it's worse than a prison.  Students took to the streets in protest. They were severely beaten…the revolution began…"
As described by Ira, the protesters gathered, put up tents, and lived in the Maidan, a square in the center of Kiev. They seized several buildings, in which they set up a kitchen and a medical center. In the Maidan gathered the best people of the country. Ira remembers the energy, drala and lungta being incredibly high. The protesters manifested discipline and courage, a sense of humor, and caring for one another.
In her mother's words,"When Dali, 13 at the time, wanted to come to the Maidan and be a volunteer in the kitchen, Temo and I were not against it. We felt it was a real glimpse of an enlightened society. Sometimes Dali worked in the kitchen very early in the morning. Literally she grew up in one winter."
In that same period of time came a second and more devastating life-changing event for their family:  Temo's progressive illness, eventually diagnosed as pancreatic cancer. He wrote of the incredible pain of realizing that he would not be alive to support his wife and daughter. He died at the age of 50, in October of 2014, eleven months after the Revolution had begun.
---

Cara Thornley has been a resident of St. Johnsbury, Vermont since 2010 and previously lived in Barnet where she was employed by Karmê Chöling Meditation Center. Cara served as Director of the Atlanta Shambhala Center during the planning and building of the new meditation hall. She has been practicing meditation since 1978.
Post Tags:
Kiev
,
shambhala
,
Teens
,
Ukraine