Wednesday
Community Articles
From Ukraine to Vermont 2
The Journey of a Shambhala Teen, Part Two of Two
by Cara Thornley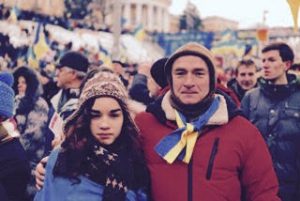 Shambhalian teen Dali Kapanadze was already experiencing a major life changing event, the Ukranian Revolution of 2013, in which she was participating with the permission and support of her parents. The second and more devastating life changing event for their family, in that same period of time, was her father Temo's progressive illness, eventually diagnosed as pancreatic cancer. He wrote about the incredible pain of realizing that he would not be alive to support his wife and daughter. He died in October 2014 at age 50, eleven months after the Revolution had begun.
To read tributes to Temo, from the Ukranian, European, and American sangha, and the artistic community in Ukraine, you can click here: https://shambhalatimes.org/2014/10/26/painting-the-sky-2/
In the December following Temo's death,  Bill Brauer and Ella Reznikova invited Dali and her mother Ira to spend the holidays with them in Barnet, Vermont.  While there, Dali attended the 2014 Winter Teen Retreat at Karme Choling.  Ira wondered what Dali's experience there would be, especially since Dali had been clear that despite her upbringing as the child of two Shambhalians, she was not certain about her personal connection to Shambhala.
After the retreat, Dali told her mother: "At Karme Choling I started to feel good for the first time during a long time.  I was in such a beautiful place with such beautiful people. While practicing and communicating with the other teens and the teachers, everything finally fell into place.  I could accept the feelings that had been accumulating inside of me for a long time.  I got to know many new people and acquired in a very short time an experience which is very important for me." (Since then, Dali has participated in another winter retreat, a social meditation program and Shambhala Training Level I at KCL.)
During that 2014 visit, Bill and Ella also arranged an interview at the St. Johnsbury Academy, the school where in 2010 Temo had voiced his hope that Dali could attend some day.  It was almost as if he had been prescient about Dali's connection to the Academy. When asked why she wanted to go there she wrote:
"There I will have the opportunity to put into practice all my knowledge – I can be taught how to invent, create, and explore. Also there are many courses we don't have in Ukrainian schools such as STeM, foreign languages, and different kinds of arts.  I will have more time for other subjects because I can study at one place and not have to travel to different parts of the city in order to study different subjects.  The educational opportunities in Vermont are incomparable to those available in my country."

Dali, a brilliant student, was at the top of her class in the school for young mathematicians and physicists in Kiev. It was not surprising that the Academy accepted her, and awarded her a generous partial scholarship.  During her sophomore and junior years at the Academy, Dali has learned new things and has succeeded in different areas beyond the basic curriculum.
She has taken two Advanced Placement science classes, joined a school math team, and also trained in drawing, culinary arts, and fashion design.  A member of a community service club, Dali volunteers weekly with elderly members of the Saint Johnsbury community. She also joined the Model United Nations, and participated in their conference at nearby Dartmouth College. Finishing her junior year on the honor roll, she is looking forward to her senior year, and then to college, where she plans to major in neuroscience.
Back in Kiev in the summers, Dali helps raise funds for the world famous Mikhail Bulgakov museum, baking pastries for the coffee shop and providing service for the guests.
Her mother works full time for the Museum both as a researcher and as Director of the Charity fund.  However, the average salary in Ukraine is around $200-$300 per month, so Ira supplements her income to help cover Dali's expenses by selling Temo's art work ( www.svirelyart.com  and on  Facebook:  @temosvirelyart ). My own house and many of our friends' houses are graced by having Temo's brilliant work on their walls.
Despite DaIi's scholarship, and the art sales, there is a yearly deficit of $10,000 in covering her school expenses.  At this point the deficit for her senior year has been reduced to $6000. During her birthday party tears welled in Dali's eyes as Bill Brauer, self-described as her "North American uncle," recalled the gratitude he has heard Dali express for the Shambhala Community's support of her education.
As her party came to a close, Dali looked on with Patricia Anderson, one of her St. Johnsbury "aunties" who is a great friend and mentor.
Post Tags:
Karme Choling
,
Teens
,
Ukraine