Friday
Community Articles, Mandala Projects, Northeastern States
Drala in Karme Choling's Garden
By Sue Gilman
What we need to do is more hard work. Both with the Vidyadhara and His Holiness Penor Rinpoche, what made them who they are and what they were, is hard work. This particular transmission of hard work and no quick fix is actually a transmission. The transmission is the notion of drala. It's actually looking at the interdependence of everything. — Sakyong Mipham Rinpoche, April 4, 2009
The garden at Karme Choling in Barnet, Vermont, is a brilliant display of interdependence and is always working, even when it's quiet and still and covered in snow. For example, last year's food scraps, composted all through the winter, will be used to fertilize this year's crop. And when last year's kale, roots and stalks were left in the ground, they stabilized and nourished the soil all through the frozen winter. By early April Karme Choling staff and guests had already enjoyed the first food from the garden—spinach and parsnips that were planted in the fall and harvested when the snow melted.
Planting of the first seeds occurred at the beginning of March. Because Vermont springs can be very cold, the new seedlings live for several weeks under artificial light in a warm, moist environment in the basement of Ashoka Bhavan, Karme Choling's guesthouse in Barnet. When the seedlings are strong enough, they are moved to a small greenhouse near the garden. There they rest while they acclimate to natural light and cooler temperatures. They then move to the larger greenhouse, where they get stronger and wait to be transferred into the ground.
Meanwhile, the ground is thawing, slowly warming to just the right time to be turned and prepared to receive the plants.
Jan Enthoven, Karme Choling's master gardener, uses a no-till farming method, employing no machinery to turn the soil when it's time to plant. This is possible because this particular soil has been nurtured and cared for by Jan and a series of dedicated gardening students for almost 20 years. At planting time, only the top two inches of soil are turned, allowing the living network below to remain intact.
"I've never seen so many worms! It's a great sign of happy soil," Sonja Tobiessen proclaimed as she explained that the first time she saw the garden at Karme Choling a few years ago, she knew a master gardener was at work. She vowed then to find a way to return and learn from him. Sonja came to Karme Choling from Anchorage, Alaska, to work in the garden; she plans to spend the summer at Karme Choling, delighted by the unique opportunity to practice meditation and work with a master gardener.
Gardeners work very hard, undertaking difficult manual labor, day after day, year after year. Why do they do it? Megan Connolly, who has returned for a second season in the Karme Choling garden, said, "It's the fundamental connectedness to the food and how we get our food. So much suffering happens around food. Also sweating and being outside. There's nothing else I'd rather be doing!"
The Composting Cycle: Never-Ending Magic
"There's a critical window in the spring when the temperature starts rising. You have to capture that moment when the table scraps that have been collecting in the compost pile all winter are just barely thawed, that moment when they are still full of life but the pile is thawed enough to be workable, movable with a pitchfork," Sonja said. "That's when we begin to prepare the compost for next year's garden."
The process is all about careful layering. It begins with wooden pallets on the ground, on top of which a layer of straw is spread. Because ventilation is very important Jan places a layer of three-inch PVC pipes with holes drilled in them for airflow. The kitchen scraps go on top of that. "Any plant material still containing life force has nitrogen and will work," Sonja said.
At Karme Choling the primary life force for the compost pile is kitchen scraps from tomatoes, carrots, onions, all kinds of greens, whatever fresh food the cooks discard when preparing meals. After the kitchen scraps comes a layer of fresh cow manure, then a layer of straw. The straw layer is watered lightly to keep it moist and uniform. A dried-out compost pile won't work well; there has to be just the right amount of moisture. As the process of layering is repeated, the pile gradually gets snugger and thicker and warmer and cozier—the secret to organic, high-quality fertilizer. Last year's compost piles (there are actually three of them) have been "cooking" all winter under the snow. The temperature in the middle of the pile is 100 degrees, even in January.
The first plants went in the ground in mid-April this year. Timing is crucial. Jan practices patience and wisdom—waiting until the ground is ready. He knows well that after a hard Vermont winter the earth needs to rest and warm to reach the perfect alchemy that, when joined with excellent compost and cared for with mindfulness and awareness, will result in healthy, glorious plants.
__________________________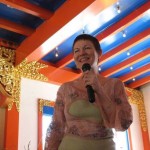 Sue Gilman is the director of development for Karme Choling and a former director of Sky Lake Lodge. In between those posts she was the marketing director for Sustainable Business Partners in Atlanta, Georgia, where she worked in sustainable architecture, erosion and sediment control, solar energy, rainwater harvesting and electronics recycling. She has written articles on Florida's coral reef and on the Sustainable Food Lab, an international initiative studying worldwide food production and distribution.
Post Tags:
gardening
,
Jan Enthoven
,
Karme Choling
,
Protecting the Earth
,
sustainability