Sunday
Community Articles, Northeastern States
Of Tea Mugs and Compost in Boston
By Sarah Lipton
When I took on the role of center coordinator in Boston two years ago, after a failed recycling initiative at my previous job with a large university, my pump was primed to help bring sustainability to the Shambhala Center. Upon walking into the center with my new coordinator hat, I realized with horror that the center was not recycling.
My first step was to get out the duct tape to patch up the old blue recycling bin someone had tossed in a closet. Once that was again open for its intended business, I took a trek to the nearby Department of Public Works to get a shiny new blue bin. Proper signage in place, and powered with two recycling bins in a city that recycles almost all paper, cardboard, plastic, glass and aluminum items, we have significantly reduced our center's garbage waste. In addition, we are now composting tea bags (there is still room for improvement in this area—do you know how much tea people drink at a Shambhala Center?!), coffee filters, and fruit and vegetable waste. Thanks go to community member Harry Farmer, who has been keeping a compost bucket at the center to take home and feed to his compost pile.
I was walking to work one chilly autumn day thinking about how much our community gathers around hot tea and coffee, and how much resulting waste (fiscal and physical) there is from all those paper and plastic cups, when it occurred to me to commission my brother, Jeffrey Lipton (a successful young potter who resides at the Watershed Center for Ceramic Arts in Newcastle, Maine), to make us 30 handmade ceramic mugs. As this was his first big commission, he agreed. The mugs made their debut at a Harvest of Peace event, and were offered at $25 apiece to "support the greening of the Shambhala Center." A portion of the proceeds went to Jeffrey, and a portion went to the new Boston Shambhala Center Sustainability Fund. The mugs all sold fairly quickly, with the only downside being that people couldn't take them home. The mugs have been working for us for the past six months with great success—everyone loves them, and our garbage bags are no longer full of paper and plastic cups!
In addition to cutting its waste, the center has greened in other areas as well. We use 100 percent wind power for our electricity—hats off to previous Center Director Lodro Rinzler and community members for making that possible. When we get our carpets cleaned once a year, we use Joseph Sullivan Green Carpet Cleaners. We use only green cleaners and dish soaps, our printer paper is 100 percent recycled, and we get all of our paper supplies from Green Home.
Greening the Shambhala Center has uplifted our space and community tremendously. We are also fortunate to have the support of the Touching the Earth working group too, in the form of David Delcourt and Bosley Hiss. Now please excuse me while I go fill my beautiful mug with some much-needed tea.
______________________________________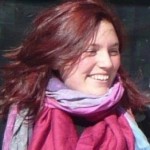 Sarah Lipton is the full-time coordinator of the Boston Shambhala Center. She manages publicity for the Shambhala Center and coordinates much of the behind-the-scenes activity to help the Shambhala community flourish in Boston. Sarah's favorite thing is to play with presence. She lives in Jamaica Plain with her husband and small furry creatures.
Post Tags:
Protecting the Earth
,
recycling
,
sustainability