Thursday
Featured Stories
The Journey Home
An update on progress at Columbus KTC as they recover from last year's fire at their center 
by Lama Kathy Wesley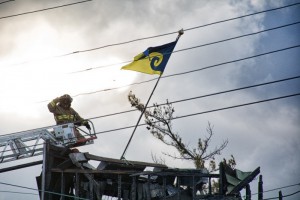 Rebuilding a Dharma Center, in some ways, is like creating a Chorten, or Stupa – one of those beautiful Buddhist monuments you see in photos of Tibet, India, and parts of the United States.
The stupa – a square base topped with a vase and spire – is composed of geometric forms that represent the Buddha sitting in meditation. Inside, the stupa is stuffed full of dharma treasures – rolls of mantras, a full set of Buddhist scriptures, fragrant wood, and a packet of relics attached to a central wooden post, called a "life tree" that is itself inscribed with scriptures and mantras in gold.
The Three Jewels – the Buddha, his Teachings, and the Sangha – are represented in the stupa, and circumambulating it (walking around it in a clockwise direction) is said to nurture a virtuous mind state in the dharma pilgrim.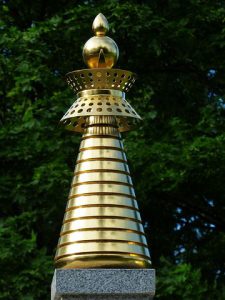 Well, the Columbus KTC building will be just like a stupa; it will contain a large image of the Buddha, a full set of Buddhist Dharma scriptures, and representations of the enlightened buddhas, bodhisattvas and masters who comprise the exalted Sangha. There will be a circumambulation path around it, and inside there will be a classroom, library, offices and a spacious meditation hall.
Behind the scenes for the last few months, the KTC Board – Director Kim Miracle, Assistant Directors Tanya Schroeder (who left office in April) and Michelle Evans (who took office in April), Treasurer Steve Phallen, Secretary Justin Fitch, and Member At-Large Eric Weinberg – has been working on ushering our project into its next phase.
We've obtained provisional approval from the East Franklinton Review Board for zoning changes to build a new and larger building on our existing lot at Rich and Grubb Streets in Franklinton. We've also engaged a contractor, Centerpoint Construction, to work on the plans for building this amazing new building.
The design by Milwaukee architect (and dharma patron) Keith Spruce is being transferred this month to a local Columbus architectural firm, as an Ohio-licensed architect is needed to create plans for actual construction of the center. Keith's beautiful designs now will be developed and brought to realization. We can't wait to share the "next generation" plans with you in a month or two!
Meanwhile, Khenpo Karthar Rinpoche has been busily designing the KTC shrine. He recently showed us the two-foot-tall images of the long-life Buddha Amitayus and a precious metal stupa that will flank our Buddha image, and the 18-inch statues of Marpa, Milarepa and Gampopa that will sit in front of our Buddha image.
As for the Buddha image itself, Rinpoche smiled and showed us the length of his forearm and said, "this is how tall the lotus flower underneath your Buddha statue will be."
All I could think of was "WOW." Days before, I'd been thinking that it would be wonderful to have a larger image of the Buddha for our shrine hall – an image that when you saw it would make you stop and catch your breath – and image that would touch your heart and uplift your mind. Don't know what it will look like just yet, but it will be at least four feet tall.
The Amitayus statue, stupa and guru statues are from Khenpo Karthar Rinpoche's personal shrine at Karme Ling. He's also donating his personal set of Buddhist scriptures to Columbus KTC. Khenpo Ugyen Tenzin of KTD is sponsoring a new set of cloth covers for the books, and when they're "dressed and ready" we will bring them to Ohio to await their new home at a rebuilt Columbus KTC.
Lama Karma Drodhul, Khenpo Rinpoche's nephew and chief attendant, has started a GoFundMe campaign among his own dharma students to help KTC. He's calling it "Khenpo Rinpoche Single Wish" and he hopes it will inspire his students in Asia to help us with the rebuilding campaign.
Locally, KTC Capital Campaign honorary co-chairs Nanette Maciejunes of the Columbus Museum of Art and Stephen Hayes of Quest martial arts have held brainstorming meetings. And the KTC Rebuilding Campaign team has been working behind the scenes here in Central Ohio to secure leadership pledges for our campaign.
Our current goal is $1.3 million. To date, we have $848,000 to apply to the cost of the new building. This includes insurance money, received donations, and money pledged to the rebuilding effort. The leadership pledges will help us reach the $452,000 goal we still need.
Whether you're building a stupa or a shrine building, the benefit and merit are the same; Khenpo Rinpoche says society in general is benefitted by seeing images of the Buddha and connecting with the scriptures and relics. So if you think about it, you will accumulate virtue for yourself and provide an opportunity for many others to cultivate virtue by supporting the Rebuilding of Columbus KTC.
However you may be able to assist or support us, we thank you for your help and inspiration. May all beings benefit!
Post Tags:
Columbus
,
fire
,
KTC