Tuesday
Regional Announcements
New San Francisco Director
Announcing the appointment of a new Center Director for San Francisco
by Kathryn Rile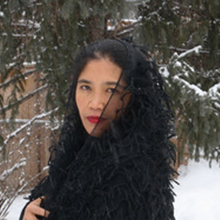 We are delighted to announce the appointment of our new Center Director for the San Francisco Shambhala Center, Ms. pearl ubungen.
Appointed by His Majesty, the Kongma Sakyong, Minister of Government Jane Arthur, and our Regional Board, Ms. ubungen will formally take her oath as center Director on October 1st at Sharchen Dzong.
As Shambhala aspires to further embody enlightened society, Ms. ubungen brings a wealth of experience and inspiration as a performing artist, choreographer, cultural activist, and educator as well as a teacher and master of ritual in Shambhala.
A fourth-generation Filipina American born and raised in San Francisco, Ms. ubungen is an award-winning choreographer and cultural activist, known for her innovative community-based dance-theater works and large-scale site performances that explore place, history, and critical social issues. She continues to evolve an embodied artistic praxis that integrates the view and practice of meditation with improvisation and composition.
In 2002, Ms. ubungen relocated to Boulder, Colorado, to deepen her practice and study of Shambhala Buddhism with Sakyong Mipham Rinpoche. Ms. ubungen served as Chair of Performing Arts at Naropa University and developed an innovative interdisciplinary BFA in Performance, that centered critical theory and cultural studies while integrating conservatory-style performance training with Naropa's foundational contemplative practices.
A senior Shambhala teacher, Ms. ubungen has led many Shambhala Training levels and courses, as well as unique programs in response to urgent community issues such as Sacred City in 2016 and A Taste of Troubled Times dharma talks at Sharchen Dzong in 2017.
As Regional Chöpön, Ms. ubungen has trained directly with the Sakyong and his attendant lamas, and with Shambhala Chöpön Corps Director Andrea Doukas. She continues to offer in depth ritual training to members around the region.
As Center Director, Ms. ubungen aspires to further manifest the vision of Shambhala in San Francisco through nurturing community practice in tandem with outreach and programming reflective of San Francisco's unique cultural influences. She will initiate a shared, dynamic curatorial process that strengthens and expands Sharchen Dzong's profound offerings through meaningful dialogue, partnership and collaboration.
Post Tags:
California
,
Northern California
,
San Francisco