Thursday
Community Articles
Werma Arrows
The Dawn of a New Generation
by Jacquelyn Schneider and Dale Hinchey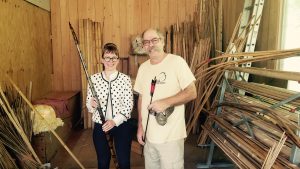 During the final days of Magyal Pomra Encampment in 2015, through auspicious coincidence, Jacquelyn Schneider and Dale Hinchey were discussing Kyudo, ya (arrows), and ritual implements. Jacquelyn inquired about the Werma Arrow she noticed on the shrine during her Golden Key program, and took a noticeable interest in the ritual implement, asking how it is made, the process, and history. She mentioned that her family had a jewelry business; after hearing this joyous news, Dale exclaimed, "I have been looking for someone like you!" He then offered Jacquelyn the last arrowhead he had at Encampment. Jacquelyn recalls the exchange happening so quickly: "Dale handed me the arrowhead and as NCO I was leading calisthenics that very morning. Within moments, I was leading jumping jacks on the parade ground for the entire assembly. It was like holding on to a lighting rod and all I could think about was 'please, do not let this arrowhead fly out of my pocket!'"
The process took two years to develop what has become the second generation Werma Arrow. The effort has been a unified effort among Jacquelyn Schneider, her father, craftsman Jaap Koppedrayer of Yumi Bows (pictured above with Jacquelyn), and Dale Hinchey of Shibata Meadows. The Werma Arrow has a 14 karat gold plated tip with a satin lustrous finish. The arrow shaft is constructed of lacquered bamboo harvested from Georgia, with swan feather fletching. These shrine treasure arrows are heirloom quality, and with proper care they will last a lifetime.
The origin of the first generation Werma Arrow dates back to 2007. In 2007 Dale had attended his son's wedding at Masumida Jinja (Shinto shrine) in Ichinomiya, Aichi Prefecture, just after making a pilgrimage to Ise Jingu (Japan's national shrine to Amaterasu Omi Kami). At that time Dale visited Yurindo, a traditional Kyudo shop next to Masumida Jinja, which had many ceremonial objects on display that  they had accumulated over countless generations. The present design of Werma Arrow occurred on the spot at Yurindo, originated and completed by Dale. The arrowhead bears the umabachi plum blossom pattern, which signifies loyalty to enlightened kingship. At that time 12 original Werma Arrows were created and delivered to Dale's home a few months later. In June of 2008 Shibata Kanjuro XX, Sendai, conducted a Kyudo program at Karmê Chöling. Dale, as lead instructor, offered one of these arrows as a gift to Sendai. He accepted with a great deal of delight. Little did Dale know what was to come nearly a decade later.
The day after Sensei had received the original Werma Arrow from Dale, Sensei announced that the entire program would visit the purkhang in Karmê Chöling's  upper meadow to clean and weed the area, and to honor the Vidyadhara, Chogyam Trungpa.  Sendai held Chogyam Trungpa in the highest esteem as his Dharma King. About forty sangha members trekked up the hill to the purkhang; prior to cleaning, all of the program attendees lined up as Sensei placed the arrow on the purkhang shelf facing to the east. They all bowed. After cleaning and weeding, they all lined up again for a moment of meditation. Sendai retrieved the arrow, blew his breath on it from tip to feather, and held it up to the sunlit sky. He spontaneously announced, "Dale Hinchey is selling these arrows to both the Shambhala sangha and the Kyudo sangha. How much are they, Dale?" Dale was completely gobsmacked, but had the presence of mind to blurt out, "One hundred and eight dollars each!" None of this had been planned at all.
Dale had only a few of the original 12 arrows left, having gifted many to sangha friends for Werma practice. Sensei authorized the production of 500 such arrows and Dale, with the help of his son Dugan, managed to find a way to have them made in Kanazawa, Ishikawa prefecture, Japan. With great kindness, the Sakyong Mipham Rinpoche subsequently gave his permission to make these first generation arrows available to the Werma sangha in 2009 at the first Scorpion Seal held at Karmê Chöling. An additional 500 were made and the arrows were sent all over the world. By 2015, all the arrows were sold, and now Dale and his partners have embarked on the process of crafting a new second generation Werma Arrow, made entirely in the West, continuing radiantly in the Great Eastern lineage of Shambhala Ancestral Sovereign, Shotoku Taishi.
Portions of the proceeds are donated to the Sakyong Potrang to help ensure the circle of blessings endures, so the lineage may continue to flourish. Jaap Koppedrayer is also building a dojo, and uses his share of the proceeds for this special project.
May all beings benefit, may these arrows continue to invoke the blessings of both our Shambhala Lineages and our Kyudo lineage for many generations to come!
---
Editor's note: The terms "Werma Arrow" and "Sunlight Chariot" carry a copyright designation, and should not be used without permission. Werma Arrows are available for order from Sunlight Chariot.
Post Tags:
Kyudo
,
Shibata Sensei
,
Werma