Wednesday
Featured Stories
Karmapa Summer
My journey with the 17th Karmapa's first Canada tour
by Sora Wei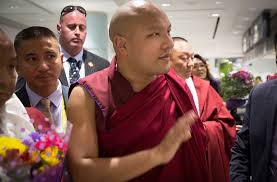 The autumn chill is filling the air, and leaves are falling to the ground; the vivid red of the leaves reminds me of my journey traveling to see the Karmapa for the first time. The Karma Kagyu Association of Canada's logo is a red maple leaf engraved with the classic symbol of the proclamation of the Buddha's teaching, a dharma wheel surrounded by two deer. This is the symbol that appeared wherever I traveled in Canada, following the Karmapa as he made his first Canadian tour. I want to share a little about that journey, which happened this past June and July.
The 17th Gyalwang Karmapa, head of the Karma Kagyu lineage of Tibetan Buddhism and a young man in his early thirties, traveled and taught in the cities of Toronto, Calgary, and Vancouver. And I, a burned-out college student, took the leap to see for myself what all the excitement was about. I traveled to both Toronto and Vancouver. The teachings took place in a wide variety of venues, from the large and dignified Thrangu Monastery, with its delicious vegetarian meals, to buildings on university campuses with students taking classes and milling about on the large swathes of green grass.
It's always interesting to reflect on the cultural flavor a journey takes on. As someone who was used to low-key Shambhala retreats and classes, I was struck by the sheer diversity of the people who showed up to listen and learn. The Karmapa is an ordained monastic, and whenever he taught there was always a group of Buddhist monks and nuns seated nearest to the stage, as well as white-robed yogic practitioners. A more family-oriented culture characterized these events. Entire Tibetan families with grandmothers, grandfathers, children, parents–all came to attend, and at every talk one could expect the occasional wailing of a discontented child.
There was also a much stronger Asian presence. Specifically, I saw a lot more Tibetans and Chinese people in attendance than I was accustomed to seeing, and there was often a Chinese translator alongside the English translator. As a Chinese-American myself, I felt more comfortable being part of the crowd instead of sticking out like a sore thumb. On the other hand, I also had to navigate cultural barriers–like not understanding Tibetan, and acclimating to that salty drink apparently called "Tibetan butter tea." Plus, there were these amazing sweet barley flour dough balls that were out of this world. But I digress. On the whole, it was refreshing to participate in a mixture of rich cultural traditions. At Thrangu monastery, there was a marked influence from Chinese Buddhism with cooks being Chinese nuns. They served up a mixture of Chinese vegetarian cooking with various tofu products and Himalayan dishes like spicy curries, alongside a large thermos of butter tea and Chinese pu-er tea.
I also began to experience a whole 'nother level of "stardom" that always comes into play with a high-ranking lama. Here, I was initiated into the realm of hysterical stress around making it to the teachings, the brusqueness of security guards, the resentment of students about not being able to meet the Karmapa personally, and the art of intense scrutiny (borderline stalking) of where the Karmapa would turn up next. It felt at times simultaneously sacred and precious and also incredibly ego-oriented, all at the same time. I myself and those around me had all our insecurities bubble up and explode around a teacher whom I felt  was both someone terrifying, and someone I wanted to get closer to and understand.
There was something about the piercing eyes of the Karmapa, the way he didn't appear to be swayed by praise or blame like ordinary people are. There was this one time, while in dialogue with a Theravada monk, Ven. Bhante Saranapala, who jokingly praised the Karmapa's youth and handsome looks and sighed in admiration. Under such circumstances, when the audience laughed and an ordinary person would have been flustered or at least have some sort of change in facial expression, His Holiness remained utterly unmoved. It was an incident that always comes back to me when I attempt to describe what the Karmapa is like to others.
The sheer volume of information being conveyed was enormous during these weeks, and I'm still in the process of digesting and contemplating all of it. If anyone is interested in learning more about what the Karmapa taught, click here. The Karmapa taught on a variety of topics, but generally speaking, his focus was on three general topics: activism, mind-training, and giving Vajrayana empowerments. I was particularly struck by somehow being able to understand something very easily when he explained certain facets of Buddhism. Whatever he said was very fresh and clear.
For example in terms of being a practitioner, he said:
"People interpret ways to practice the dharma. Some people think of practice as ritual activities like prostrations, some people think about studying sacred texts, or the practice of meditation. It is crucial for us to develop a clear understanding of what a genuine practice is."
The Karmapa placed dharmic activities under scrutiny of the question, "Are you a good person?" If your dharmic practice isn't making you a kinder, more compassionate person, then perhaps the entire intent of Buddhist practice has somehow been missed.
My idea about being Buddhist is not just about being a strange person doing strange things. The main part of being a Buddhist is trying to become a good person, cultivating a positive attitude, a more spacious heart and mind. Being a Buddhist, is about making changes to the negative aspects of our personality. Not having an attitude of "This is who I am." No, it is just your personality, and you definitely need to change it. Being a Buddhist is about initiating change, using remedies to negative emotions, with great strength of heart and decisiveness.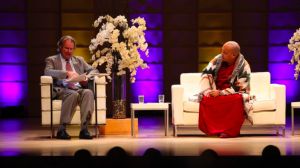 It would be very difficult to consolidate all the wisdom that I heard from this tour in a single article. Coming out of this journey of following the Karmapa, I feel that despite having heard the information being imparted to me, it is important to continue to apply exertion in contemplating and meditating on the meaning of the teachings, continuously applying them in one's own life. Otherwise, all the effort I had put in fundraising, traveling, and listening to these teachings would be all for naught. Oftentimes, I think that I come out of programs without having much memory of what I even learned! Therefore, one could almost say that the teaching is merely the beginning; the rest relies on the student's part to mix their mind and life with the dharma.
Going on this journey, I met a lot of wonderful people, teachers and friends, and I made quite a few auspicious dharmic connections. The world of pilgrimage is its own sacred world, for which I left the mundane world that I had habitually known, to meet like-minded, devoted people who knew and understood my values. I was utterly nourished by the warmth and richness of the dharma community. Talking about tulkus on a bus while the sun set behind green mountains, laughing wildly over mishaps on the dharma path, eating at a Nepali restaurant while retelling why and how we came to Buddhism, these are just some  of precious memories I formed with my dear vajra friends, all because I went on this wild adventure.
For me, meeting the Karmapa, creating new friendships, and experiencing new and different places was very meaningful and helpful for this journey called my life. It widened my horizons, and all that jazz. But right now, even this amazing thing has become only a memory. It's just one stop along a road where hopefully I won't become addicted and tricked by samsara, but instead take one solid step forward towards a more compassionate and aware worldview. May everyone be happy.
Post Tags:
17th Karmapa
,
Canada
,
Dharma Teachings
,
Kagyu