Friday
Featured Stories
Meet the Nuns of Surmang
A day in the life of a wonderful community of nuns in eastern Tibet
by Jessie Litven and Gaye Carlson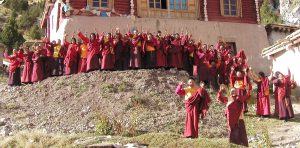 Surmang Nunnery is a special place—in the vicinity of Surmang Dutsi Til, the home monastery of the Vidyadhara, Chögyam Trungpa Rinpoche, in eastern Tibet.
We feel so fortunate to have known these warm and enthusiastic Surmang nuns long enough to watch them grow their nunnery over the last twenty years. Starting out as a few retreat rooms in a cave, Surmang Nunnery is now a fully functioning dharma practice center, with 120 nuns in residence, 60 school children getting a basic education, and a significant number of lay practitioners climbing the steep hill to practice there.
Having built upon the site of a much earlier nunnery, this present group of dedicated and diligent nuns are getting the same traditional Buddhist education that monks receive. There is a special emphasis on intensive retreat experience. Their typical day, which includes 8 hours of practice and study, plus 6 hours of work, begins at 5 am and ends at 11 pm. Their studies begin with learning to read and write Tibetan. From there they go on to learn reading, chanting, Chinese, Tibetan grammar, poetry, math, and other subjects, in addition to basic Buddhist literature and meditation practices.
Nuns typically follow a Kagyu-Nyingma study and practice curriculum, beginning with meditating for four months on the Four Reminders. Once they pass an exam, they enter retreat to complete their ngöndro, or preliminary practices, consisting of 100,000 repetitions each of prostrations, refuge and bodhichitta vows, mandala offerings, Vajrasattva sessions, and guru yoga sessions.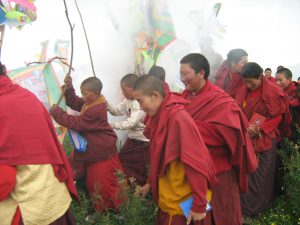 From there, they deepen their experience of Mahayana/Vajrayana with sadhana and chöd practices, often going on even longer retreats of three to six years, with some even dedicating themselves to life-long retreat. Practices include Tara, Manjushri, Guru Trakpo, Vajravarahi, Chakrasamvara, and Krodhikali, as well as Karmapa Rolpe Dorje's Dorje Namjöm practice and others. It's only after all of this rigorous training that nuns delve into Dzogchen, or "Great Perfection," meditation and retreats. Furthermore, this year the Vidyadhara's nephew, who we will call Surmang Rinpoche, gave the empowerments for the unique practices of the Surmang Hearing Lineage. Over two hundred monastics and laypeople were present. Since the empowerment, Rinpoche plans to incorporate these practices into the nuns' curriculum as well.
Day-in-the-Life
Though the two of us have traveled to Surmang Nunnery at different times over the years, we have witnessed many of the same things. The following is a day-in-the-life description of Surmang Nunnery that might help you to get a taste of the the simplicity, dedication, and beauty of life there.
Their daily routine begins well before dawn with melodious drumming and chanting, heard all over the nunnery. At this time of year with its cool temperatures, the early morning session will be held in the shrine area of each residence. With the coming of dawn, one nun lights the lhasang (smoke purification), and the chanting and drumming becomes louder. The kitchen stoves are stoked up, fueled by yak dung and used to heat the residences, and tea is made for a simple breakfast of tsampa (roasted barley) with bread or yogurt. The conch blows, and the morning session of practice and study in the lhakang (main shrine room) begins.
Normally, one of the three khenmos—women holding a degree in higher Buddhist education—leads this teaching, followed by a discussion of the reading by the group of nuns. Twice, when Rinpoche was there, we had the special honor of distributing texts that donations from the Western sangha had helped produce. The morning session ends with singing chants, followed by lunch in the nuns' quarters. Lunch is the main meal; it consists of cooked greens, and sometimes meat, with rice or noodles.
The afternoon session begins around 2:30pm, which is a teaching session if Surmang Rinpoche is in residence. On the center of the shrine in the front of the room is a framed photo of the Vidyadhara on horseback, and Rinpoche teaches from a simple throne with the Sakyong's picture on its back. It feels very much like home to us, and we feel fortunate to have had a chance to practice in their presence. All the nuns sit on the wooden floor in front, with full attention directed to what Rinpoche is teaching.
There is usually a short break before afternoon chants begin. Cymbals, four types of horns, and many drums accompany these chants, which are closed with nine repetitions of emptying the tea offering and blowing the conch. After the conch is sounded, the umdze (hall keeper) holds the conch in front of each nun, who blows on it, and the music begins again as the umdze moves down the line to the next nun. It is a lovely way to end this afternoon session.
There is usually a little gap in the schedule at this time for doing chores. Laundry and other tasks are all done by hand, and there is now electricity and water faucets provided by the government. The nuns are incredibly self-sufficient, roasting and milling their own barley on a hand-powered wheel to make tsampa, and culturing their own yoghurt. They also make building repairs, tend their gardens and do other types of manual labor. The only choice of toilet is either the few low-lying bushes, or a make-shift platform of wooden planks perched over a small gorge. Life is rustic, but straightforward. As the afternoon melts into evening, there is also occasional time to socialize. During our visits, nuns would invite us into their personal houses for family-photo-sharing sessions and dinners of noodle soup.
Chanting and drumming is again heard all over the nunnery, as the nuns finish the day with their evening practice. Some nuns continue their meditation practice throughout the night, sleeping upright in a meditation box.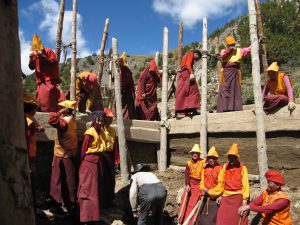 A Vibrant Community
The nuns are incredibly dedicated to the dharma. They live, sleep, and breathe the teachings. They built the nunnery by hand from local rocks and mud, surviving and thriving off minimal resources, just to be able to live life according to Buddhist principles—and to practice the dharma, including the terma (revelations) of Chögyam Trungpa Rinpoche. They are strong, resourceful, independent, intelligent, caring, funny, and although all receive the same training, each is very different and individual from one another, creating a vibrant, engaged community of people.
If you would like to be part of the life of this nunnery, please join in helping to build a new lhakang (shrine hall) for the nuns!  Visit the Konchok Foundation website to make a donation, and to learn about our new matching grant campaign, based on generous donations by the Pema Chödrön Foundation and anonymous donors.
---
Jessie Litven is a second-generation Shambhalian who has spent time as a Tibetan translator. She first visited Surmang Nunnery in 2007, and is currently on the board of the Konchok Foundation. This summer, she travelled to Surmang Dutsi Til, and visited VCTR's birthplace with KF board members Gaye and Lyndon Comstock. She works as a dance teacher and a web designer, and is currently building her own tiny house on a trailer.
Gaye Carlson has been a student of Shambhala since 1987. She has traveled to Surmang five times since 1995, is a student of Surmang Rinpoche, and has been a  supporter of Surmang nuns since 1995. Gaye is an electrical contractor and backpacker who loves traveling, teaches vegetable gardening, and has two grandchildren. She lives in the hills above Stanford University.
Post Tags:
Chögyam Trungpa Rinpoche
,
monks and nuns
,
Surmang
,
Surmang Foundation