Saturday
Featured Stories
Peace NOW Symposium
Celebrating a successful event in Vienna, reflecting on the experience, and laying plans for the future
by Joanna Francis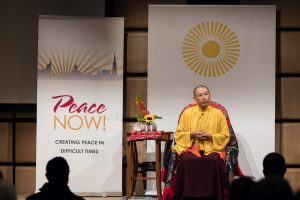 Sakyong Mipham Rinpoche had no hesitation when he was asked when peace should happen during the Peace NOW Symposium in Vienna, "Creating Peace in Difficult Times." The answer was NOW. In his opening talk, the Sakyong posed these questions: "I want to explore a deeper notion of peace, a deeper sense of who we are. Who are we at a fundamental level? Is humanity at an innate level at peace with itself, or is it at war with itself?"
The Symposium was over four years in the dreaming and planning.  We gathered for discussions and spoke of obstacles; we searched the city for a suitable venue, and imagined how we could create a container allowing participants to experience a glimpse of enlightened society.  We divided into teams to look after the many details:  finding speakers and workshop leaders, finance, publicity, venue, registration, decoration, and translation.  A Facebook page was established by a supporter in Switzerland, where they continue to post great articles on creating peace.
At once it was clear we had caught people's interest.  We had many offers to lead workshops and in the end had over twenty choices including Hungarian folk dance (with live music), nonviolent resistance, working with your body to find peace, a drala walk, Mindful education initiatives, and the prevention and healing of trauma in Syrian children.
On the main stage a range of topics were presented. The Sakyong opened on the Friday evening with Shambhala Meditation, and the reminder that peace is not a passive state, but rather is infused with joy.  Other speakers from Shambhala included Acharya Arawana Hayashi, Acharya Susan Chapman, and Dr. Martin Ramstedt from the Max Planck Institute.  They were joined by Christian Felber from Economy for the Common Good, Barbara Preitler talking about preventing violence through psychotherapy for refugees, and Michael Aguilar from a human rights committee in Europe.
A late addition to the schedule was an inspirational project working with homeless people and offering them unconditional acceptance.  This was presented by founder Cecily Corti in conversation with Acharya Mathias Pongracz.  Our closing panel asked how this synergy of ideas could be carried forward into developing Vienna as a compassionate city.   And the Sakyong rounded it all out with a call to raise our confidence and continue to nourish our relationships.
The overall atmosphere was infused with joy, with the meeting of many old friends and new.  The Austrian Buddhist Society expressed their deep appreciation that Buddhism could show such a socially engaged public face.  The event also was featured on a television show.
Now after some time of resting, digesting, and reflecting on this event the feeling in the sangha is very positive.  There is a lot of energy to move forward with our connections to the wider community.  We have new and existing partners to network with in Mindful Education, Mindful Economy, and nonviolent communication, among others.
We are going forward to celebrate 40 years of Shambhala in Vienna with a new public relations group called Garuda.  Our longstanding artists will create an exhibition called "Flower Power and More"– combining Ikebana, Miksang, Mudra, music, and poetry reading.  A series of movie nights has already begun with a showing of the film Crazy Wisdom.
We also need time for ourselves as a sangha to build trust, and to strengthen and deepen our commitment to helping this world. In the New Year there will be a retreat focusing on opening our hearts to the world, followed by a vision day. The whole process of the Symposium opened us to our surroundings, and encouraged us to have more confidence in what we offer to society.
To see more photos of the event have a look here.
If you are inspired to listen to the talks, thanks to Kalapa Media they are available for now on Shambhala Online.
---
Photos of the Sakyong by Breton Hoagland/BHH Studios; all other photos by Johannes Kittel.
Post Tags:
peace
,
Peace Now
,
Sakyong Mipham Rinpoche
,
Vienna