Sunday
Netherlands, Regions
Four Pillars Gathering
Representatives of the four pillars of Shambhala Netherlands meet in Deventer
by Fred van Welsem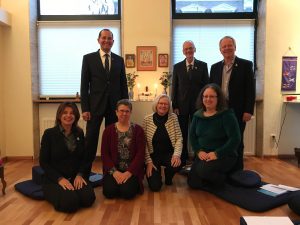 On December 23rd in Deventer, the Netherlands regional representatives of the Four Pillars met together: Practice and Education, Government, Protection, and Economy. The main purpose of this meeting was to brainstorm on the question of what it means to create enlightened society, particularly what it means in relationship to the Four Pillars, the basic organizational structure used by Shambhala leadership and government. In an inspired and relaxed atmosphere of friendliness, we exchanged our understanding of this grand vision. We started with the inspiration from the last Kalapa Garchen gathering in May 2017. From that basis, we continued dreaming and concretizing what this might mean in our region.
Interestingly enough, most of our dreams were hard to fit into just one of the pillars and most of them connected more closely with the domain of culture (see the chart below with our results). This is the domain of the Sakyong Wangmo, whose presence permeates all activities. Not something that can be pinned down, but unmistakably present wherever enlightened society occurs.
This was the second meeting of this kind for us, initiated for the first time in 2016 when Ministers Jane Arthur, Minister Christoph Schönherr, and Deputy Minister Jani Glavina visited The Netherlands. We hope to continue holding many of these brainstorming sessions in the future. For us, these gatherings offer a chance to learn what it means to manifest and express the Sakyong's vision, and to prototype an alternative social reality–one that serves as an expression of basic goodness.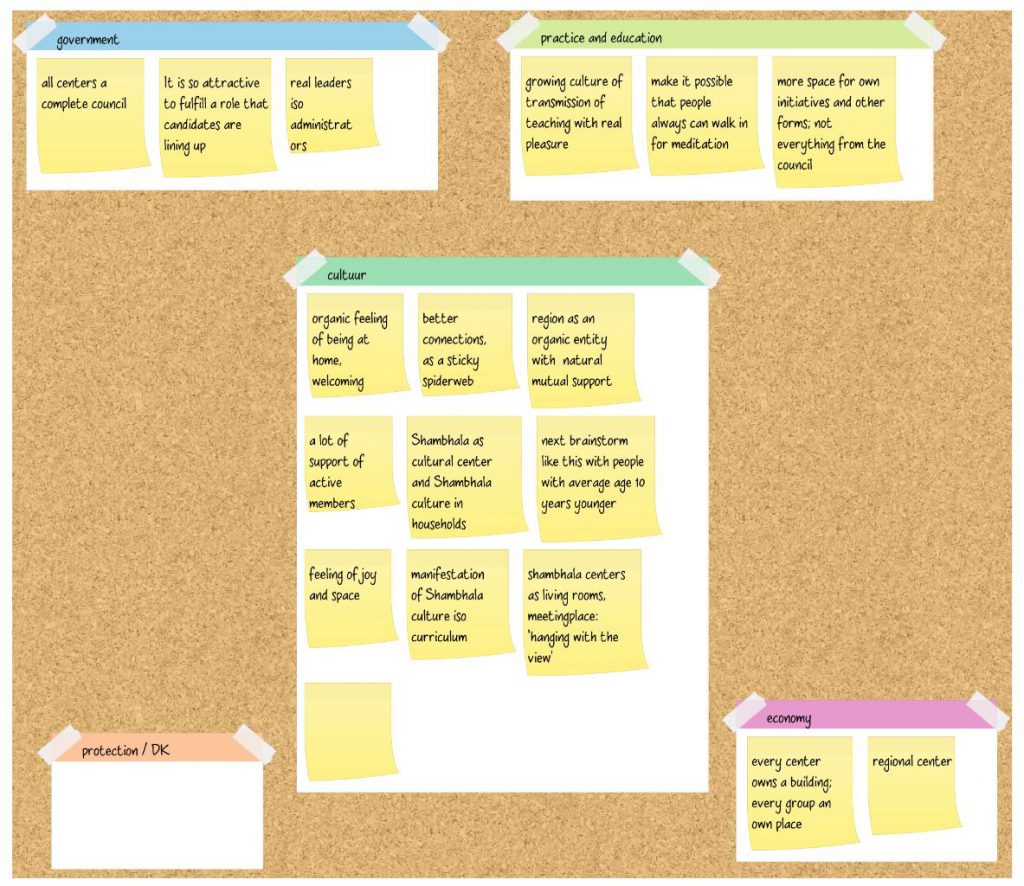 ---
Fred van Welsem serves as the Director of Shambhala Netherlands.
Post Tags:
basic goodness
,
Creating Enlightened Society
,
Enlightened Society
,
Netherlands
,
Shambhala Governance
,
Shambhala Governance Gatherings