Wednesday
Community Articles, Eastern, SE Europe, Northern Europe, Regional Announcements
The European sangha meets during its first 'European Forum'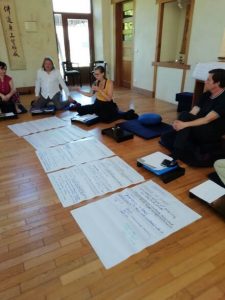 The European sangha is composed of different regions with their own cultures and languages. The establishing of these regions and their collaboration takes time and is in process for years. Some regions exist for more than 20 years. Some others are relatively new. The European Regional Directors and Coordinators (ERDC) meet regularly, using zoom. They find inspiration and learn from and with each other in these calls.
From Thursday May 29 until Saturday June 1, 2019, European Shambhalians from all directions gathered in Dechen Chöling for the First European Forum. The seeds for this meeting came from various conversations at the Kalapa Garchen in 2017 and the German regional meeting in 2018. They were further developed in the conversations of the ERDC.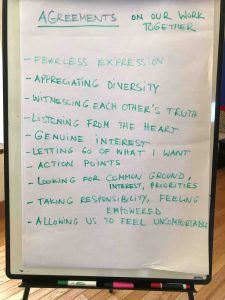 The designers and facilitators of the Forum, Konstanze Brockstedt, Dian-Marie Hosking, Grit Turnowsky and Fred van Welsem, wanted to create a process in which participants: felt empowered and able to talk about whatever topics they wanted, could connect with each other, and could (re)connect with their inspiration, lungta and the magic of Shambhala.
The website https://shambhala-european-regions.weebly.com/ shares something of what we did and how we did it, along with the emerging ideas and projects.
Editor's note: We'd like to share a small excerpt from this website's report here:
THURSDAY, DAY 1: evening meeting after dinner.

Talking circle: Why are we here; what motivates us?

After the usual introduction of Dechen Chöling the participants contemplated the question what made Shambhala so important for them. Why they had travelled and made costs to be present at this Forum. What had touched them in Shambhala and why did they care so much for its future?
Answers were very diverse. To mention a few, some were drawn in by the warmth, openness, acceptance, challenge, genuineness and freshness they found in Shambhala. Others talked about their connection with both Sakyongs. Another group mentioned the preciousness of the Shambhala teachings of basic goodness and enlightened society and how important these are (although manifested in an imperfect way) in a world dominated by aggression, money and power.

Pair Work: Getting to know another in their variety and complexity.

After the circle participants were invited to pair up with someone whom they did not know. They were asked not to speak about the issues in the sanga but, rather, to speak about themselves so as to get to know each other as human beings. The sleep many of us longed for after a long day of traveling made us end this first evening early, to get up fresh the next morning for the lhasang.

FRIDAY, DAY 2

A lhasang and the practice of Sadhana of Kindness laid the ground for the continuation of our meeting.
Circle: Who is in the room?
Each person wrote on an A4 sheet, their name, country, role(s) in Shambhala, and other identities they felt they brought with them. Standing in a big circle, participants were invited to walk to the front in response to questions such as: who here is a center director? Who is member of the dorje kasung? and more personal questions such as: who here is a child of divorced parents? And other intriguing questions…In this way, we learned a lot about who was present. After this, we all arranged our sheets on the floor in a map of Europe – which clearly showed the painful absence of some regions, mostly from the more Eastern parts. This laid the ground for the felt need to have a second Forum in that part of Europe.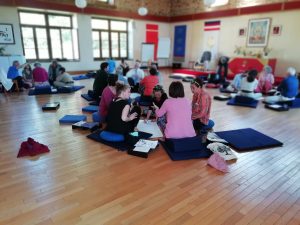 The ERDC is contemplating a second European Forum, which might be organized in a more Eastern part of Europe. These Forums might grow out to a tradition, where European Shambhalians regularly meet to connect with each other and the sparkling of Shambhala. So, please feel invited to come and join this fresh initiative.
The website will be constantly updated. With new activities in the European maha-region, like the second European Forum. Participants are invited to use the blog page to share how they further developed and co-created emergent projects, etc.
We hope that also others in Shambhala can find something of benefit in the practices and processes described, as well as some of the ideas discussed. Please share your inspiration on the blog of the website, using the page get in touch. 
For the ERDC,
Konstanze Brockstedt
Dian-Marie Hosking
Grit Turnowsky
Fred van Welsem
Post Tags:
community
,
Europe
,
forum
,
governance
,
Regions
,
report
,
sangha