Monday
Community Articles
Pilgrimage in Honor of Ashoka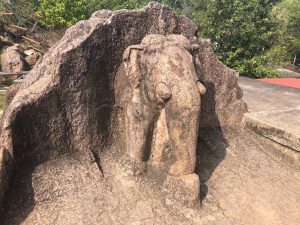 By Joanna Francis
Back in the times when borders were open, planes were flying and the Indian railways were still running, Tessa Watt and I made an intrepid journey to India to explore some of the more remote Buddhist sites.  We arrived in Bhubaneshwar in January in time for a local music and dance festival in this ancient temple city.  Despite heat, traffic pollution, and jetlag we delighted in the local culture and food – spending time visiting temples, Jain caves and a daytrip to the zoo where safaris were offered to see the bigger animals.
At nearby Dhauli an impressive elephant is carved into a rock to mark the place where Ashoka conquered Kalinga and unified most of India.  It is said that he saw a monk walking peacefully across the bloody battlefield and was converted to Buddhism.  His famous edicts are carved onto the rockface here and in numerous places across the country giving guidelines for how to create a good human society.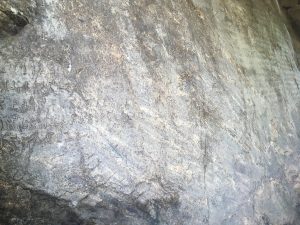 A peace pagoda was built nearby to commemorate this event and one of the carvings shows Ashoka prostrating to a monk (with ubiquitous dog resting in the shade).
We also visited an exquisite 64 Yogini temple in the surrounding countryside – an open-air circular structure dedicated to 64 female goddesses, each depicted riding an animal and honored by daily offerings from a priest.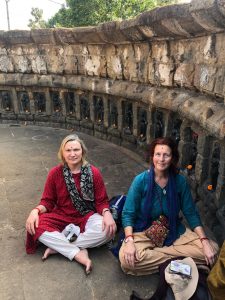 Once we had somewhat adjusted to the joys and stresses and overall noise of India we headed off with guide and driver for three days exploring the Diamond triangle: four archeological sites about 100km from Bhubaneshwar.
Many local tourists were also enjoying daytrips and the attached museums were full of treasures, including Buddha relics that had been found there.
At Langudi archaeologists were still working to excavate this massive hillside and we gained a sense of the scale of Buddhist presence in the 8th-12th century in this area as well as being shown around and enjoying tea with the site manager.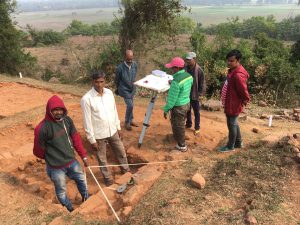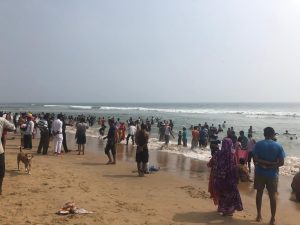 After these intense days in the blazing heat we stayed in a beach hotel in Puri, a famous pilgrimage site for Hindus where a dip in the ocean is seen to be purifying.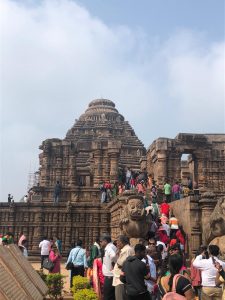 The nearby Sun Temple at Konark showed more examples of the skill of local craftsmen, with similar styles in both the Hindu and Buddhist art.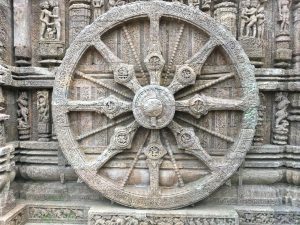 Our first Indian train took us further down the coast of Orissa past a massive lake which local myth claims as the birthplace of Padmasambhava on a lotus.  We heard many stories of Orissa being Oddiyana, and certainly many of the mahasiddhas did come from this area.  We spent five days on semi-retreat at the impressive Padmasambhava Monastery established by His Eminence Namkha Drimed Rinpoche.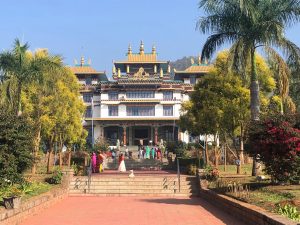 The Tibetan art, architecture and stupas were breath-taking and last year a statue of Padmasambhava was carved in the local style and consecrated on the lake near the stupas. The Tibetan settlement at Chandragiri, set in beautiful rolling hillside, marks the return of a living Buddhist tradition to Orissa and is extremely popular with local tourists.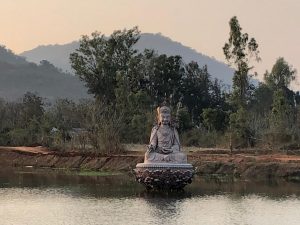 An overnight train brought us further south to Vijayawada in Andra Pradesh, which is famous amongst other things for spicy food.  Meals were so hot that we had to seek an a Western style restaurant for simple pizza one night. Even then chilli was brought as a condiment! Amaravati Stupa was built here in the 3rd century BC and was the largest stupa in India.  We had been inspired by the exhibition in the British Museum to make this journey and see the place itself.  Ironically most of the exquisite sculptures are elsewhere and the remaining site looks more like a large brick pancake than a stupa.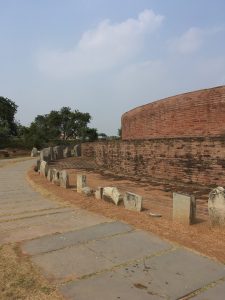 The nearby museum had a model showing how it might have looked.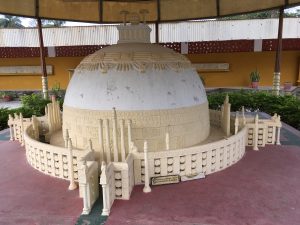 And we found more examples of this unique style of Amaravati sculpture in the Chennai Museum where we spent a hot and happy day at the end of our journey.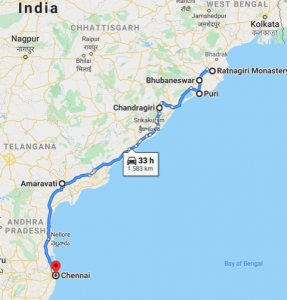 Overall we had a most remarkable time and feel immensely fortunate that we could explore this magical country with such freedom and good health.  Now we feel great compassion for all those people and businesses who are struggling under a fierce lockdown.  If you have enjoyed this story and would like to help people in need in India to receive meals please donate here:  http://apneaap.org/
Here is an article sharing just how serious the need for aid is right now.
---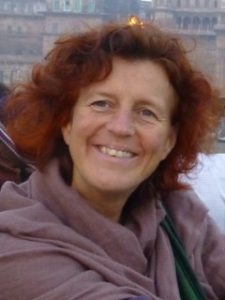 Joanna Francis has always been interested in Buddhism and travelled to India to explore this culture at the earliest opportunity.  Over the years, she has been called back to this magical land many times to study and practice, including organizing a group to do Shambhala Ngöndro in Bodhgaya for a month in 2010.  
Post Tags:
ancestral sovereigns
,
archaeology
,
Ashoka
,
history
,
India
,
journey
,
lineage
,
pilgrimage
,
shambhala
,
travel