Thursday
Community Articles
Parinirvana Day 2021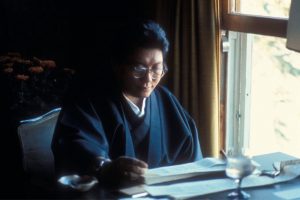 Events, Resources & Offerings
The Parinirvana, or passing, of the Vidyadhara, Chögyam Trungpa, Rinpoche is commemorated on April 4 each year. It is a day for the Shambhala sangha to gather together to celebrate the life and teachings of the Vidyadhara.
This year, Lady Diana Mukpo will host a special online presentation & conversation about the life of Chögyam Trungpa as part of the Shambhala Sunday Gatherings series. Please read on for more information about this special event, along with more opportunities to gather online, and special offerings from the Shambhala Archives.
If you are planning an event for your group or center, please click here to access a resource page with additional information for event planning.
Special Events
Sunday Gathering with Lady Diana Mukpo
Sunday, April 4 at 3pm ET
Hosted by Shambhala Online
Join Lady Diana Mukpo for a special Shambhala Sunday Gathering that marks the Parinirvana Day of Chögyam Trungpa Rinpoche. Lady Diana will share reflections, stories, and insights as she guides people through a chronological slideshow of the remarkable life of her husband Chögyam Trungpa Rinpoche. This event is free and open to all. Click here to register.
Sadhana of Mahamudra Online Retreat Weekend
Friday, April 2 – Sunday, April 4
Hosted by Karmê Chöling (online)
Join us to explore the relevance of the Sadhana of Mahamudra in our lives. Acharya Suzann Duquette will continue the exploration that she began last year, with additional teachings on the relevance of the five skandhas to the Sadhana. Click here to register.
Sadhana of Mahamudra Online Feast
Sunday, April 4 at 5pm ET/ 6pm AT

Hosted by the Halifax Shambhala Centre (online)
Everyone is invited to practice the Sadhana of Mahamudra, including the feast offering, to commemorate the passing of the Venerable Chögyam Trungpa Rinpoche, founder of the Shambhala Buddhist lineage. That feast practice is open to all on this special occasion, but please register to help HSC plan for attendance numbers. Click here to register.
---
Offerings from the Shambhala Archives
Video Offering: Skillful Means and Wisdom on the Buddhist Path
Each year on Parinirvana Day, the Shambhala Archives offers a video teaching by Chögyam Trungpa Rinpoche from their archive.  This year, the video offering is the Exertion and Meditation talk from the Skillful Means and Wisdom Advanced Training Session seminar in 1976.  Click here to access the video.
---
Support the Shambhala Archives
As we mark this important moment and celebrate the life of Chögyam Trungpa Rinpoche, please also consider a donation to the Shambhala Archives and their work to preserve the teachings, artifacts, and legacy of this remarkable person. Click here to donate.
Post Tags: