Friday
Shambhala News Service
Community Conversations on Sharing Shambhala
In September, the Shambhala Community Conversations team met in conversation toward an inclusive Shambhala. We first met within three groups—people studying with the Sakyong, not studying with the Sakyong, and unsure about our practice relationship with the Sakyong—and asked ourselves what our own needs and aspirations were within those groups. We then shared these with the other groups, and together explored how we can be together as a community that supports one another's aspirations. We found the conversation very powerful and helpful, and we will be offering this conversation to the broader Shambhala community beginning in October. If you are interested, please visit https://shambhalaonline.org/community-engagement-initiative/ to register.
Shambhala as an organization continues to change rapidly, and we in the Shambhala sangha have an important role to play. It is up to us to consciously decide how we want to be together as a diverse community.
Since this summer, the Shambhala Community Conversations team and our 30 volunteer conversation facilitators have been exploring ways to open welcoming, inviting spaces for our community to connect around core questions we face: How do we want to be together as a sangha? What does sharing Shambhala look like and feel like? In mid-September, our team gathered to pilot a pair of conversations intended to open such a space for the community. This article reports on what we tried, what we learned, and what comes next.
Sharing Shambhala Part 1: Listening to ourselves and each other
Our first conversation was designed to give space for individuals with different current relationships to the Sakyong and Shambhala to identify their own needs or heart-wishes in the community moving forward, and what they want other groups to know about those heart-wishes. We created three spaces – one for individuals studying with the Sakyong, one for individuals ambivalent about their relationship to the Sakyong, and one for individuals not now studying with the Sakyong. Each participant chose to join the space where they felt most comfortable expressing their genuine feelings and experiences.
In these welcoming and confidential spaces, we shared our emotions and our aspirations. We then discussed what was important for others in the sangha to know about us. We gently reminded each other to come back to our hearts when we were tempted to move from experiences to prescriptions or strategies for achieving what we wanted. Being with a supportive group, committed to listening to each other, provided many an opportunity  to process through layers of reactions to find deeper truths.
At the close of this first conversation we reconvened as a full group, and shared briefly what each group wanted others to know about their needs and their longings. It was clear that within each group there was a spectrum of experiences and concerns, and also that none of us was alone in what we were thinking and feeling. We parted with tenderness, a sense of relief, and a mix of sadness about forthcoming changes and inspiration about what we heard.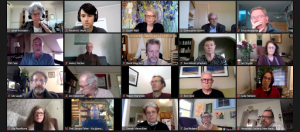 Sharing Shambhala Part 2: Learning, contemplating and moving forward together
Our second conversation was designed to contemplate together what we learned from our first conversation, and to brainstorm useful steps we could take to support staying in relationship with each other. In this second conversation, we did not divide into subgroups. We began the conversation by reading together the summaries of what each group in the first conversation wanted us to know about its needs and wishes.
After reviewing these summaries, one person observed that, based on the needs expressed by each group, he could have belonged in any of the sub-conversations. Many of us were surprised by others' expressed wishes, which helped us notice how much we had stereotyped those whose relationships with the Sakyong and Shambhala differ from ours. We also saw clearly that participants from all three groups wanted to stay connected with community members from the other groups.
Many participants in the second conversation felt that the situation now calls for a time of open dialogue. There was a sense that we can accommodate each other, but we don't want that to come at the cost of failing to recognize underlying issues that are difficult to confront. We also felt that the Shambhala teachings don't reside in an organization, they reside in us, and that our relationships and interactions with each other express the richness of this realization.
Because we were all conversation facilitators, some of the action steps we identified were related to the container we want to create to encourage reflection and dialogue across Shambhala. These conversation containers need to feel safe and non-aggressive, so that each of us can recognize our fears, as well as our anger and grief around loss and change.
We also identified the power and promise of local, ground-up conversations happening within our community. We concluded with a sense of inspiration to encourage open connection within our Shambhala community, without an agenda about what the outcomes will be.
Offering to the Community
We are now opening these conversations to the Shambhala community at large. We will be offering multiple opportunities for Sharing Shambhala Part 1 conversations in October 2021, and multiple opportunities for Sharing Shambhala Part 2 conversations in November. If there is continued interest, we will repeat this cycle in December and January. You can find links for registration for these conversations here. 
A final thought from our conversation: We are often saddened by conflict and division within our community. However, if as a Shambhala sangha we learn how to work together with these divisions and difficulties, we will have something precious and inspiring to offer the world.
Post Tags: