Thursday
Uncategorized
Wallace the Brave, a book review for Touching the Earth, Children's Books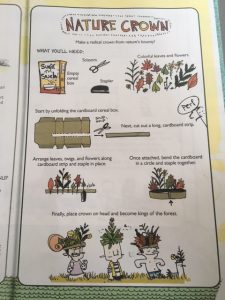 I heard about Wallace the Brave, where I source most of my extra sustenance, Public Television. In May, this 5 minute piece showed itself on the evening news, and consequently I took all three of these books from the local library: Wallace the Brave, Wicked Epic Adventures, and Snug Harbor Stories. The author, Will Henry, seemed so likable I assumed these children's books would make me happy. They do!
Here is an excerpt from the interview…
"The main character is Wallace. He's a — just an energetic, happy, very positive kid. He's the main character. His best friend is Spud, who's kind of the neurotic — he's a weird kid. And he's very self-conscious of those "weird" things. But Wallace celebrates them. And I think that's what makes them click."
Here is the whole interview…
The books are compilations of individual comic strips, and at the end of each there are several, outdoorsy activity projects.
I am recommending these, because I found I was being introduced to a little boy, and his neighborhood buddies, who I liked; kids that said funny things, noticed squishy surfaces, and seemed to be content in who they were. I also liked the author, who created a world on a drawing board that he made available to the public in a daily feast of a few pictures and bubbles with words. One of my favorite excerpts, from Snug Harbor Stories, is when the characters take time to watch a web being built.
I'm thankful to the cartoonist, Will Henry, for his appreciation of the phenomenal world.
Post Tags:
book review
,
Children
,
children's books
,
Family
,
friendship
,
outdoors