Tuesday
Community Articles
Social Action Work in Shambhala
Social Action Work in Shambhala
The Shambhala Global Services Communications Team would like to share some of the social action initiatives of Shambhala members, Groups, Centers, Shambhala Online, and Shambhala Global Services. As the Shambhala community continues to move in the direction of "social action as dharma path", we want to share these endeavors and help affirm how social action and activism intersect with our path as dharma practitioners. We invite you to read more below about the important steps in this direction that are taking place in the Shambhala community. 
We'd like to offer our heartfelt thanks to all those who are committed to creating a diverse and inclusive Shambhala. From creating BIPOC spaces in our community to engaging in the work of understanding white conditioning and privilege, you are making enlightened society possible. And we would like to note that while the work described below is primarily about the BIPOC community, Shambhala supports social action work being done to raise awareness for all underrepresented groups –  all are welcome as members of the Shambhala community. 
+++++
Sacred Activism – Shambhala Online
Shambhala Online is pleased to announce the Sacred Activism Series, an ongoing series of courses and retreats that will explore how social engagement and activism intersect with the Shambhala Teaching and the Buddhadharma. "Activism Is Dharma" is the first in this series and is coming up soon on December 10, 2022. The intention of this first retreat is for participants to leave with a stronger sense of what sacred activism means to them and how one might engage in the world with this deeper understanding. Please click here to read more about this one-day retreat that includes guided meditation and explorations on what sacred activism – and activism without aggression – can mean both individually and collectively. 
In March 2023, the series will continue with Janet Ryvlin and Denise Blanc leading the four-week "Exploring White Conditioning" course. Next up in 2023 will be Gabe Daley presenting on "The Four Dignities of Investigating Whiteness and Racism" in October/November. More information on these courses will be coming soon.
Racial Minority Meditation – Shambhala Gainesville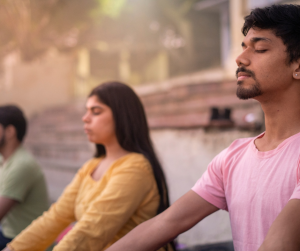 Shambhala Gainesville offers a Racial Minority Meditation (online / in-person hybrid) on the 1st and 3rd Saturday of each month. A welcoming and inclusive space, this meditation group is open to racial minorities regardless of religious background, sexual orientation, gender identity and expression, and socio-economic background to meditate and share experiences. For more information, please email [email protected]. Shambhala Gainesville also offers a White Awareness Book Study Group that meets once a month. For more information, email [email protected]. To learn more about the Shambhala Gainesville Centre please watch this short video!
Collective Liberation – Shambhala Chicago
Shambhala Chicago offers a Collective Liberation Online Discussion Group where participants gather—virtually—on the first Saturday of each month at 10:00 a.m. CST. Facilitated by Bea Bosco, Alice Dan, and Jean Marie Robins, their site states: 
"Our intention is to explore the sticky issues of race and other forms of self-deception that lock our Basic Goodness behind invisible layers of culture / habitual thinking." 
To read more and register click here!
Sitting in Solidarity – Shambhala Seattle
Shambhala Seattle holds an online Sunday morning meditation: Sitting in Solidarity, for those who stand against racism. According to Rachel DeMotts: 
"The Solidarity Sit began in the wake of George Floyd's murder and has since been used as a space to encourage reflection on our individual positionalities and responsibilities to act, especially in the context of a predominantly white dharma community." 
The practice consists of guided shamatha and tonglen practice. For more information on Sitting in Solidarity and Seattle Shambhala, please click here. Along with Sitting in Solidarity, Shambhala Seattle provides a consistent and safe space for Black, Indigenous, and People of Color to meditate. The BIPOC Group meets online the first Sunday of every month from 1:00-3:00 p.m. PST. Read more here about the Black, Indigenous, and People of Color Meditation Group.
Individual Liberation to Collective Liberation – A Resource Guide
While many actions are being taken at a local level, there are also efforts being made to provide accessible social engagement resources to all Centres and Groups within Shambhala. Members of the Shambhala community: Charlene Leung, Gabe Dayley, Joy Gutierrez, and Janet Ryvlin, through interviews with over 40 people in Shambhala, created the From Individual Liberation to Collective Liberation Resource Guide. This important guide is an incredibly rich resource for the community and our deepest thanks go out to the authors and the people they interviewed. Their incredible work will benefit many! Read the guide in its entirety here.
Sunday Gatherings – Shambhala Online Podcast
Shambhala Online is committed to regularly hosting Sunday Gatherings that are related to inclusion and diversity. You can access these through our Shambhala Sunday Gatherings Podcast. Previous topics have included:
Social Activism Funding in Shambhala
In 2021, the Shambhala Board put out a call for local Centers and Groups to submit grant applications for diversity and inclusivity initiatives. Projects that were funded included, but were not limited to: the Establishing the Path of Inclusivity Warriorship & Social Liberation project that led to the creation of the From Individual Liberation to Collective Liberation Resource Guide, as well as a grant for Examining Whiteness, a facilitator training for Shambhala teachers to facilitate a course that investigates whiteness and racism with the heart of warriorship. We invite you to read more about the details of the Shambhala Board grant initiatives here.
+++++
If you would like your Centre or Group's social action initiatives to be featured in the SGS Newsletter or on the Shambhala Times, please reach out to Jillian Johnson at [email protected]. We want to share the good work you are doing to create inclusive spaces for all.
Post Tags:
activism
,
BIPOC
,
collective liberation
,
funding
,
meditation
,
racial minority
,
sacred activism
,
shambhala board
,
Shambhala Online
,
social action
,
solidarity
,
sunday gatherings
,
underrepresented groups
,
warriorship