Thursday
Filed underDharma Teachings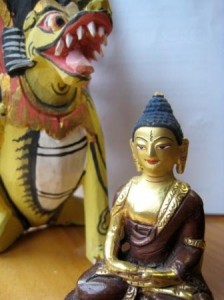 In this article, Acharya Michael Greenleaf dives fearlessly into the solidity of depression and offers insight into causes, describes what is happening in our minds, and shows how meditation practice can lead to the strength and composure of true tenderness
Alone
It's hard to count on anything. These days even the earth may move under our feet. The weather is unpredictable. Finding true friends is hard. If we stop to notice, everything is changing, which leaves us vulnerable.
We too experience ups and downs. They are hard to pinpoint. What do we really feel? If we wanted to say how we really feel, could we? When we try, the effort seems to fall short. While our experience touches us, it can't be fully shared. We are alone in that way, which is sad.
A Lonely Feeling
Trungpa Rinpoche calls this experience of aloneness the "genuine heart of sadness." Aloneness isn't alienation. It's a clue. We spend all this time trying to manage life, trying to secure ourselves, trying to maximize. But who are we really? Have we ever really looked?
On the path of meditation, this sad feeling isn't a fault. We may look for ways to shield ourselves from our vulnerability, but treatments with drugs or therapy wouldn't help and wouldn't be the point. In fact, according to Suzuki Roshi, for the practitioner of meditation, the sad and lonely feeling "grows and grows," until it becomes enlightenment. Continue…
Author Archive
Website Development by Blue Mandala using Wordpress MU.
All content and source Copyright © 1994-2019. Shambhala International (Vajradhatu), Shambhala, Shambhala Meditation Center, Shambhala Training, Shambhala Center and Way of Shambhala are registered service marks of Shambhala USA