Friday
Dharma Teachings
Salt Minding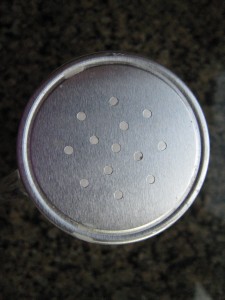 On the Samadhi Cushions blog, Acharya Michael Greenleaf offers a true-to-life metaphor for the way we reach for thoughts.
The other day, I had a chat with my friend Amos, a doctor. He told me about a study looking at salt in the diet. Excess sodium in our food has been linked to high blood pressure and heart disease among other debilitations.
Habitually reaching for the saltshaker, or for potato chips instead of carrots, we make a potentially life changing, if not life-threatening decision.
In the practice of mindfulness meditation we settle our mind by bringing our awareness to the cycle of breathing. Being with ourselves, we arrive face to face with the habits that drive us. Some we acknowledge as our own, some routines seem borrowed from elsewhere, from parents or perhaps colleagues.
The first stage of sitting meditation practice is an almost scientific inquiry. What have we been doing? What have we been thinking, feeling? How are our feelings habitually experienced, expressed? Like the salt in a saltshaker, how do our thoughts get out, onto and then into our life?
Flavor's Provenance
One day the chill in the air heralding the fall season suggests new beginnings, the next day the thought of summer ending leaves us cold. Does life have a taste of its own, before our reaction to it? What is that taste? How does life taste—now?
Habitually, we might feel the temperature, think about it, reach for a sweater, think again, comment on the chill, move, feel something else and think again. All of this happens seamlessly, almost unconsciously. There is a sense that we need to manage our experience, like a smoky campfire threatening to go out.
Settled on our meditation cushion, we notice this mental busyness, this speed and momentum. The pace of life has shaken up our thoughts and feelings. But what about the impact our thoughts and feelings have on the world as we experience it? Which came first—the world or our feeling about it?
What's On the Menu?
Like habitually following thoughts, meditation is something we do. It is proactive; it is engaged. When the mind wanders from the sensation of breathing, we gently bring it back. When a thought happens ("peanut butter—salted") and the body starts to move (toward the fridge), we let go of the thought, gently coming back to the sensation of our body breathing. A familiar thought might trigger a familiar emotion and a pattern is revealed.
In the process of slowing down in meditation, natural clarity dawns. Initially in sitting practice, we might be startled by the sheer volume, intensity and speed of our thoughts. Up until now, we had associated intensity with our experience of life's ongoing challenges. Quietly alone on our meditation cushion, a question emerges: how much of life's flavor comes from our thoughts and feelings about it? The idea of ourselves as a free and distant agent, managing and sampling life's menu, is exposed as a myth. We also begin to notice a kind of continuity to our experience—whether salty or sweet.
Chef's Surprise
In the openness allowed by sitting meditation, we discover a white-knuckle grip on the handlebars of life. There is tension, tightness, as we move from moment to moment. Every experience is judged as helpful, challenging or irrelevant. Saddled with the imposition of our commentary "this is good" or "needs work," we are left with a sense of struggle and anxiety–as if the job each moment was to consume our experience, correcting the seasoning as we go.
Unaware of the intensity of this struggle, our own energy returns to confront us as a challenge. Preoccupied with our agenda, we miss life's messages–subtle shifts in flavor are overlooked. Then, seemingly out of nowhere, life serves up a surprise.
All of sudden, an acquaintance is seductive; the presumed answer we were waiting for never arrives, shocking us; others' mistakes besiege us or life works only to undermine a sense of ease. We may find ourselves inexplicably alone and underappreciated.
Clearly, things happen in life that can't be anticipated. In the dramas initiated by our habitual patterns however, we quickly find our own feelings and reactions at center stage. Having ignored our friend, why our how he or she became so beguiling remains a mystery. Our reaction to the sudden attractiveness is what stuns us, leaving us dazed and confused. We feel helpless in the face of our own feelings and impulses which we witness as private, overwhelming, inevitable and out of our control. There is a sense of familiarity, we have been through this all before, we're just not sure where or when.
Looking for the Shaker
In sitting meditation we make time to slow down and examine the recurring habits that color our relationship with ourselves and our world. Seeing our thoughts clearly for the first time, we also see the subtle actions that follow from our thoughts and how they flavor and vivify life. The security of the status quo is challenged; nothing is "just who we are." Everything we do is a decision, every thought we follow an action, a shake of the shaker.
If thoughts are a reaction to an external reality, how do we understand upheavals experienced when we are alone with nothing but our own thoughts reacting to themselves? If we can conjure reality and suffer or enjoy it by ourselves, when does our conjuring end and "real reality" begin?
Meditation is radical. It sets in motion an inquiry that has no immediate answer. Where does our experience come from? What part is from "us" —what part from "them"? Experience recognizes the poles of "me" and "my world." Our attention is always moving. Sometimes we are concerned with the "me" part, sometimes with the "my world" part. But who exactly makes that journey between these two?
Life has a taste, only we can say if it's sweet or salty. How did it get that way? Who holds the saltshaker that seasons our life? Who selects the quality of the seasoning? What tastes are we after and why?
Seeing the Hole
It is common for practitioners of meditation to report on how helpful the practice is to their life and work. With mindfulness, what challenged us before now comes easily. Our workday flows. Efficiency and effectiveness are increased. We feel less stressed. We are present for others, including of course, those we care about.
This is logical, empirical. Once upon a time a reaction made sense, it was in response to the reality of the situation at hand. But how could that response be accurate today, the 100th time we enact it? Once perhaps our body craved salt and we added it to an otherwise bland dish. But today we forget to taste our food before we salt it. We prefer the security of a false understanding—that we already know what our experience has served up and what is needed to make it right. In contrast, living moment by moment, we admit what we don't know. Life presents itself as something larger that the world dictated by our appetites.
Oh, and the outcome of the study? According to my friend Amos, the key factor influencing the amount of salt in our diet wasn't found to be knowledge of the risks, geographic region, or demographics. They all came in second. The number one factor: the size of the holes in our saltshaker.
__________________________________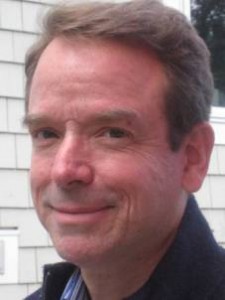 Acharya Michael Greenleaf lives in West Barnet, Vermont. He is a faculty member of the Mukpo Institute at Karme Choling, a rural meditation center in the Shambhala Buddhist tradition, and a volunteer blogger at Samadhi Cushion's Blog
Post Tags:
meditation
,
motivation
,
practice
,
Shamatha