Wednesday
Community Articles
Meditation Practice to Help You Through Dental Treatment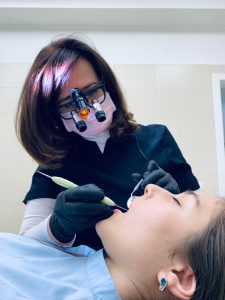 By "Jackie Writing Jackie"
Anxiety about dental treatment and fear of the dentist affects 16% of people. For many, it causes so much worry that they avoid going for a checkup, or getting work done when they really need to. In the long term, this can be bad for your health, and may cause further issues with your teeth and gums. Fortunately, you can use Shambhala's practices of meditation to help ease you through your dental treatment. 
Going for a check up
Ideally, you should visit your dentist every six months for a general checkup. This is to look for signs of cavities, make sure you have minimal plaque, and check your general oral hygiene. If you experience anxiety when you have a dental appointment, remember one of the key points of the Shambhala vision— there is goodness in everyone. The dentist isn't somebody to be feared: they are ultimately working for the benefit of your health and well-being. They are there to look after your teeth and gums, and they are on your side to make your life better. 
Using meditation at the dentist 
Mindfulness and meditation are an important part of Shambhala, and they can help you to achieve calm and inner peace. They also help you to maintain breathing techniques to slow your heart rate and lower your blood pressure. A 2018 study that was published in Neurology showed that meditation improved the symptoms of stress and anxiety, and in turn helped to lessen pain. 
When you're having dental treatment, spend a few minutes meditating in the waiting area. It will help you to banish negative thinking and settle your mind. Meditation also helps to control the amygdala part of the brain— the fear center. The amygdala triggers the adrenal glands, which produce cortisol as a response to perceived danger or fear. Scientists also found that meditation helps to rewire the medial prefrontal cortex (MPFC). This is the part of the brain that processes information about yourself, including worrying about the past or the future. When you have anxiety or stress in your life, then the MPFC becomes extremely active, making the worry worse. Meditating and deep breathing before a dentist's appointment will help your brain to remain calm. 
Taking your children to the dentist or orthodontist
It is very common for children and teenagers to get braces fitted or need specialist dentistry so that they have straight teeth as adults. Talk to them about the treatment before you go, so that they understand the bigger picture. Think about Shambhala philosophy—this dental treatment is a necessary process for them to be able to move forward in life. Ultimately, the goal is to be able to share their beautiful smile with others. Before you take your children to see the orthodontist, spend some time with them practicing the meditation techniques you learn in Shambhala, so that they can use this to relax the mind and body. Sakyong Mipham Rinpoche said that you can meditate for only five or ten minutes, and it will still be extremely effective. Once we are calm, that sense of agitation and stress melts away, and our energy slows down. These are the techniques that we practice at home and at the meditation center; however, they are also perfect for helping you to focus on your breathing and heart whilst you are in the dental chair. 
The Shambhala vision can be brought into all areas of your life to help you deal with situations that might ordinarily cause you worry or anxiety. Through breathing and meditation techniques, you can dispel any fear about going to visit the dentist or orthodontist. You can meet the challenges that life brings with grace, courage and dignity. 

After taking a career sabbatical to become a mother, Jackie now writes full time on topics ranging from health and wellness, right through to news and current affairs. She has, in the past battled problems with anxiety and panic, and in her spare time she volunteers for a number of local charities that support people with mental health issues.
Post Tags:
anxiety
,
breathing
,
Children
,
dental
,
dentist
,
dharma
,
meditation
,
mindfulness
,
parenting
,
practice
,
reduction
,
stress