Monday
Community Articles
How Can Meditation Improve Heart Rate Variability?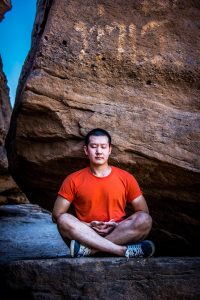 By "Jackie Writing Jackie"
The focal point of Shambhala – the idea that all human beings have a fundamentally good nature – can play an important role in the way human beings live, eat, breathe and meditate, enabling them to improve their heart rate variability. As stated by academics at the Mayo Clinic, heart rate variability is an important measure of a person's heart and overall health. When individuals are stressed, their heart rate goes up, but their heart rate variability (HRV) goes down. Through the powerful practice of meditation, an important component of the Shambhala life, HRV can be improved, and one's resilience to stress can be strengthened.
What Is HRV And Why Is It Vital To Heart And General Health?
HRV is essentially a measure of the time between heart beats. When the mind and body are calm and focused, the heart is ready to respond to life's demands. Therefore, the space between heartbeats varies every so slightly in accordance with one's needs. When you become stressed, HRV suffers, and this in itself is linked to an increased risk of cardiovascular disease when it goes unmanaged. Tracking HRV provides information on stress and heart health. This check can be easily done with a smartphone. There are many apps that let users know whether or not their HRV is on point.
What Is The Connection Between Meditation And HRV?
There are many reasons why HRV levels may be poor. These include dehydration, hormone cycle fluctuations, overwork, and of course, stress. Being tense, having too much work, or trying to fulfil too many demands can affect lifestyle choices, and thus contribute to the problem. For instance, it is common for stressed executives to skip out on quality sleep, drink too much caffeine, or aim to 'relax' through alcohol. One natural way to lower stress, get better sleep, and embrace a more mindful way of living that encompasses everything from mindful eating to taking part in breathing exercises, is meditation. This cornerstone of the Shambhala way of life has been found in recent research to boost HRV.
Meditation, Yoga And Tai Chi
Meditation is not the only practice that is linked to a better HRV. Other holistic practises such as yoga and Tai Chi have been found to have similar benefits for stress reduction. Studies carried out on these practices have found that even short-term practice reduces levels of the stress hormone, cortisol. These practices can also help improve mood and vitality, and help fight the fatigue and depression associated with difficult times in life, including cancer recovery.
A Key Study On Meditation And HRV
A 2018 study by the US Army Research Laboratory showed that meditation has a highly beneficial effect on HRV. Researchers state that this is the first study of its kind to quantify stress and to show how much it is reduced when people meditate. Their research showed that HRV is "very sensitive to changes in the physiological state of the brain," and that a new measuring system called DST can quantify the exact amount of stress reduced by meditation. They found that the long-term practice of meditation makes positive changes permanent. That is, it is key for practitioners to make meditation a regular part of their lives for optimal HRV benefits.
Having a good heart rate variability is a matter of enjoying good sleep, eating healthily, and taking part in holistic, stress-busting activities such as meditation. Stress reduction can be seen as a cornerstone of healthy HRV because it is so intricately tied in with lifestyle choices. Meditation, when practiced daily, can help increase HRV, improve mood, and help individuals enjoy a better night's sleep.

After taking a career sabbatical to become a mother, Jackie now writes full time on topics ranging from health and wellness, right through to news and current affairs. She has, in the past battled problems with anxiety and panic, and in her spare time she volunteers for a number of local charities that support people with mental health issues.
Post Tags:
health
,
heart rate variability
,
mayo clinic
,
meditation
,
mindfulness
,
practice
,
stress
,
wellness