Monday
Filed underOpinion Pieces
A theologian explores the relationship of two concepts key to Shambhala and Christian teachings
by Steven Shippee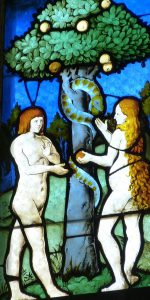 In Shambhala, the view of basic goodness is sometimes sharply contrasted with the Christian doctrine of original sin. The purpose seemingly is to highlight how much the view of basic goodness differs from the feeling of wretchedness that plagues so many of us, and for which we assume the teaching of original sin is to blame. I have noticed how many Shambhalians resonate with the contrast, and so I have no intention of dismissing any person's negative experience of Christian teachings. One can only regret any harm done under a religious guise.
As a Christian theologian, however, I have always been disappointed both by the contrast itself and even more by the caricature of original sin (that we are basically bad) that often follows. There are at least two reasons to correct this. The first is that the Shambhala community has played a distinguished role in establishing authentic Buddhist-Christian dialogue. Trungpa Rinpoche and some of his students actually spearheaded this dialogue with a series of meetings at Naropa in the 1980s. These were marked by deep respect and mutual learning. Continue…
Author Archive
For the Vidyadhara
no responses - Posted 04.27.09
A poem by Steven Shippee, written on the Twenty-Second Parinirvana of the Vidyadhara, Chogyam Trungpa Rinpoche   Chokyi Gyatso, you are like a phone call in the middle of my favorite show, like a doorbell when I'm drifting off, like that falling dream that startles me awake in the middle of ...
continue
Website Development by Blue Mandala using Wordpress MU.
All content and source Copyright © 1994-2017. Shambhala International (Vajradhatu), Shambhala, Shambhala Meditation Center, Shambhala Training, Shambhala Center and Way of Shambhala are registered service marks of Shambhala USA