Friday
Filed under Uncategorized
Reposted with permission from Lion's Roar
She's a powerful teacher—and a prolific one. There's a Pema teaching for every stage of your life. Here are some of the best.
When Things Fall Apart: Heart Advice for Difficult Times
Shambhala Publications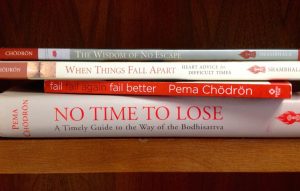 Difficult moments abound in life but we can meet them with confidence and grace. The key, Pema Chödrön says, is having the courage to rest in the open space of uncertainty, instead of trying to put things back together when they fall apart. This classic feels in some ways like the pep talk we all need sometimes, but there's plenty of practicality, too, thanks to concise meditation instructions and teachings on compassion, nonaggression, and non-attachment.
Fail, Fail Again, Fail Better
Sounds True
Pema Chödrön's newest book presents her 2014 commencement address at Naropa University, in which she shared tips in the "fine art of failing." Also included is a Q&A in which Pema addresses failure and success, motherhood, why she became a nun, and more.
The Wisdom of No Escape
Shambhala Publications
Drawn from talks at a one-month retreat in 1989, this bestselling book presents Pema at her upbeat best, teaching on loving-kindness, satisfaction, and the joys of committing to the Buddhist path. "Whatever life you're in," she says, "is a vehicle for waking up."
No Time to Lose: A Timely Guide to the Way of the Bodhisattva
Shambhala Publications
The Way of the Bodhisattva by Shanti-deva is a classic Mahayana Buddhist text for all those who aspire to be more fearless and compassionate. Pema reveals how its lessons apply to working with anger, developing patience and joy, and coming to terms with heartbreak and death, all in plain language and with good humor.
Karma: Finding Freedom in This Moment
Sounds True
Famed as a teacher, Pema nonetheless remains a student. Here, in this audio, she joins her teacher Dzigar Kongtrül Rinpoche for a discussion that explores karma and all the ways we might relate to it—and how karma impacts our present and future.
Be Grateful to Everyone: An In-Depth Guide to the Practice of Lojong
Shambhala Audio
Pema has said that when she first encountered the lojong ("mind training") teachings, she was struck by their presentation of life's unwanted aspects as "raw material necessary for awakening genuine uncontrived compassion." In this seven-hour course, she unpacks the fifty-nine lojong slogans, leading meditations and exercises to deepen our interaction with them.
About Pema Chödron
Note: Pema Chödrön is a course presenter for the upcoming Shambhala Online course, Meditation: The Way of the Buddha. For more information, click here.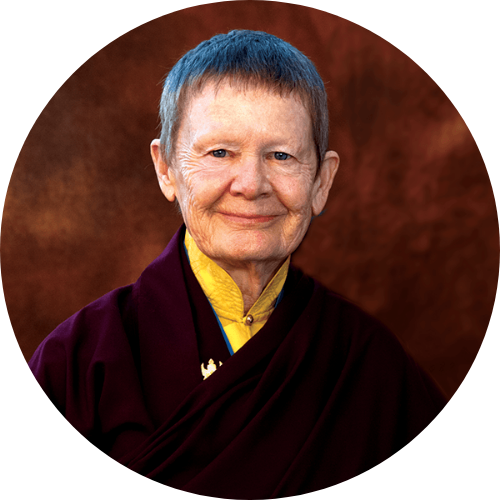 Ani Pema Chödrön was born Deirdre Blomfield-Brown in 1936, in New York City.  She attended Miss Porter's School in Connecticut and graduated from the University of California at Berkeley.  She taught as an elementary school teacher for many years in both New Mexico and California. Pema has two children and three grandchildren. While in her mid-thirties, Ani Pema traveled to the French Alps and encountered Lama Chime Rinpoche, with whom she studied for several years. She became a novice nun in 1974 while studying with Lama Chime in London. His Holiness the Sixteenth Karmapa came to Scotland at that time, and Ani Pema received her ordination from him. Pema first met her root guru, Chögyam Trungpa Rinpoche, in 1972. Lama Chime encouraged her to work with Rinpoche, and it was with him that she ultimately made her most profound connection, studying with him from 1974 until his death in 1987.  At the request of the Sixteenth Karmapa, she received the full bikshuni ordination in the Chinese lineage of Buddhism in 1981 in Hong Kong. Ani Pema served as the director of Karma Dzong in Boulder, Colorado until moving in 1984 to rural Cape Breton, Nova Scotia to be the director of Gampo Abbey.  Chögyam Trungpa Rinpoche gave her explicit instructions on establishing this monastery for western monks and nuns. Ani Pema currently teaches in the United States and Canada and plans for an increased amount of time in solitary retreat under the guidance of Venerable Dzigar Kongtrul Rinpoche. Ani Pema is interested in helping establish Tibetan Buddhist monasticism in the West, as well as continuing her work with western Buddhists of all traditions, sharing ideas and teachings.  Her non-profit, The Pema Chödrön Foundation, was set up to assist in this purpose. She has written several books: The Wisdom of No Escape, Start Where You Are, When Things Fall Apart, The Places that Scare You, No Time To Lose, Practicing Peace in Times of War, How to Meditate, and Living Beautifully. All are available from Shambhala Publications and Sounds True.
Entries filed under book reviews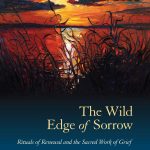 By Francis Weller Reviewed by Sara Demetry The work of the mature person is to carry grief in one hand and gratitude in the other and to be stretched large by them.  Francis Weller, www.thesunmagazine.org/issues/478/the-geography-of-sorrow Grief around the loss of my mother at age 28 is what turned my mind ...
continue
Posted September 3, 2021 by Natasha West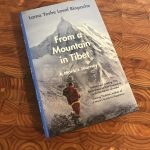 From a Mountain in Tibet: A Monk's Journey Written by Lama Yeshe Losal Rinpoche Reviewed by Kristine McCutcheon On a dateless day in the time of COVID, a dear monastic friend dropped this book off at my door. "You will like it!" she smiled. As a student of ...
continue
Posted August 11, 2021 by Natasha West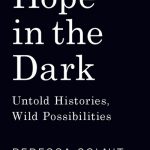 A review and reflection by Christine Heming I recently had a conversation with my friend Irene about her activism: how to view activism from a buddhist perspective, how not to get caught in the "us verses them" narrative, and what guides her decisions about what to do ...
continue
Posted January 24, 2020 by archives-staff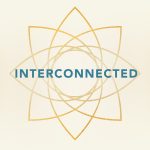 A book review by Christine Heming Interconnected, Embracing Life in Our Global Society is a deep dive into the Buddhist teaching on interdependence.  His Holiness The Karmapa speaks with a gentle tone, a sharp clarity, and at times, a poetic elegance.  His aim is help us "think ...
continue
Posted July 23, 2019 by archives-staff

RSS feed for the book reviews category
View all posts from authors in book reviews: natasha_west
Website Development by Blue Mandala using Wordpress MU.
All content and source Copyright © 1994-2022. Shambhala International (Vajradhatu), Shambhala, Shambhala Meditation Center, Shambhala Training, Shambhala Center and Way of Shambhala are registered service marks of Shambhala USA
Privacy Policy