Tuesday
book reviews
Interconnected, Embracing Life in Our Global Society: a new book by the 17th Karmapa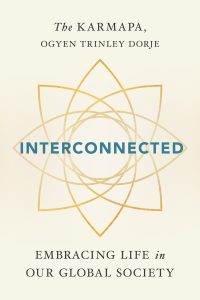 A book review by Christine Heming
Interconnected, Embracing Life in Our Global Society is a deep dive into the Buddhist teaching on interdependence.  His Holiness The Karmapa speaks with a gentle tone, a sharp clarity, and at times, a poetic elegance.  His aim is help us "think more clearly and carefully about the direction we are going."  The teachings on interdependence are the support we need to begin to shift our hearts and minds to the stark reality we all now face. He encourages us to act collectively so that all beings and the planet can flourish. We ignore this reality at our own risk.
It is easy to slip into complacency, apathy, overwhelm, even denial, when we look at the realities humanity is facing – ecosystem collapse, growing inequality and prejudice, the rise of nationalism.  Interdependence is a crucial lens to better understand how these realities came to be.  At the same time, the reality of interdependence gives us many options for shifting the world's current trajectory.  In a sense, interdependence is our best hope.
First we need to see how all things are interconnected and then realize the value of this insight to help us understand who we are and to more fully grasp the nature of all we experience. Whether we acknowledge it or not, interdependence is the defining force in our lives and in the universe. We start "by observing that everything in life happens due to various causes and conditions coming together."  Everything that exists impacts us "in a vast and complex web of causality."
The Karmapa looks at our culture and the current state of our planet, and shows how our strongly held view of separateness has created environmental and social decay all around us.  He addresses our collective karma, our loneliness, technology and social media, hierarchy and power, equality and diversity, and the interplay of our "inner" and "outer" worlds.  He leads us into and through a rich exploration asking pertinent questions to help us go deeper.
Next, we need to feel interdependence.  Without feeling, this teaching remains conceptual and is of little value. It begins with empathy.  The Karmapa writes: "There can be no social health unless empathy is made a central value. . . I think apathy kills more than any other single disease."  He coins the term, empathy impairment, and half-jokingly (I would like to believe he is not half-joking) invites us to imagine a world in which empathy is the number one qualification to become a world leader.  It makes one aware of this simple but potent aspect of genuine leadership.
When our empathy grows strong enough, it transforms into compassion – a whole new level of engagement, full of energy, wisdom and joy.  He writes:  "When you are completely connected to another's situation and feel as if you were in their place, you direct all your energy towards finding some solution."  Karmapa distinguishes "spectator compassion" from the real thing.  To sustain this intention takes courage and determination.
Again and again The Karmapa reminds us of the importance of creating the conditions for the inner qualities of empathy, compassion, discernment, aspiration and responsibility to grow and expand.  This is a gradual process that takes care, patience and nurturing.  He offers contemplations and practices to support this journey and continually tell us that these inner resources are limitless and renewable.  "To bring together the right outer conditions for others to flourish we must bring together the right qualities within ourselves."
Ultimately we need to live interdependence – to feel humanity as our primary community, to dissolve all boundaries that divide us, to feel our responsibility not as burden but as an opportunity to love.  The Karmapa acknowledges the challenges – how we have been conditioned by the strong forces of individualism and materialism, of competition and comparison, of entitlement and globalization. He writes:  "The moment we recognize . . . patterns . . . leading us in a dangerous direction, that is the moment to summon our courage, put on he brakes, and change course."  This means placing limits on what we can do and accepting limits on how much and what we consume.
The Karmapa talks about building inclusive communities and working collectively.  At the same time he strongly asserts that whatever we do, the smallest gesture for good or bad, has an impact on others and the planet.  He is clear that we are all responsible for the situation in which humanity now finds itself – that is the lesson of interdependence.  It is equally clear that interdependence allows us to change the world for the betterment of all beings.
The Karmapa challenges us to live interdependence "not as a theory but as what gives value to your life.  Feel it in your every breath.  Enact it in your every step.  Bring your most noble aspirations out into the world, share them with others, and take action… so that together we can serve as conditions for all beings on this planet to flourish."
You can find Interconnected for purchase from Wisdom Publications at this link.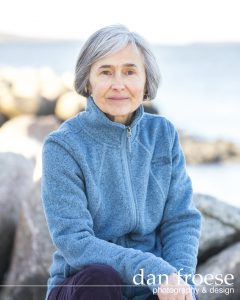 Christine Heming is a writer and educator.  She has been a student of the buddhadharma for over 45 years, and a senior teacher and meditation instructor in Shambhala.  She lives in Port Royal, Nova Scotia.
Post Tags:
book review
,
book reviews
,
christine heming
,
dharma
,
interconnected
,
karmapa
,
modern society