Tuesday
Uncategorized
Teaching with Bravery: Meditation and Heart Advice for Teachers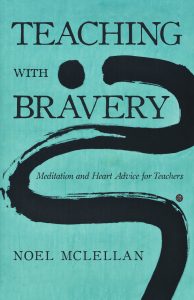 Christine Heming reviews the new book by Acharya Noel McLellan.
In the Introduction to Teaching with Bravery, Noel McLellan places his "Heart Advice" within the daunting realities of our time – "ecological crisis, social injustice, economic disparities, and political conflicts." School is the "place where the forces of our culture gather and soak into the lives of our youth."  It is where the young "grow up and are shaped into members of adult society."  When education focuses on curriculum and measuring outcomes (i.e., standardized testing), it ignores the deep cultural patterning that is taking place, and does so at students' and society's peril.
It is often said that the future lies in the hands of our children and McLellan asks us to think about just what it is we choose to put in those hands.  Learning how to think is important, but it is not enough.  Students need to rediscover the wisdom in their bodies, in their hearts, and in their relationships to nature and each other.  This is what it means to teach with bravery.
McLellan explains how teachers directly and indirectly communicate culture – what it means to be human and to live in society.  He invites teachers to take up the challenge to create within themselves and within their classrooms a culture of trust, kindness, empathy and humour.  He gently and gradually takes you through the journey of self-discovery necessary to accomplish this goal.
This is not another book about mindfulness or improving teaching methods.  McLellan writes:  "This book is about fostering our inner life and walking the inner path in the art of teaching. . . It is about how we as teachers can nourish ourselves. . . .  it's about cultivating  . . . a fresh humanity, which can infuse our teaching with new life."  Each chapter is a stepping-stone on this path.
What becomes immediately apparent in Teaching with Bravery is the interdependent relationship between teacher and students.  What has been called "teacher presence" becomes the very bedrock of classroom culture.  "The quality of our presence is at least as important as the lessons we give or how we teach them. . . . Being genuine and present with our students communicates with the genuineness in them."  This interdependence is what enables teachers to transmit basic goodness – the simplicity, worthiness and dignity of being human – and to be a transformative force in society.
Teachers need to embody these principles themselves, to rediscover their own inherent goodness and trust that it is always available, even in challenging moments.  McLellan shares stories of the ups and downs of his own journey, and acknowledges that it is not so much the attainment of some permanent state of confidence but a path of life-long learning.
Meditation is the key – the practice of being as we are and learning to relax with and trust that experience.  McLellan lays out this inner path with clarity and care.  He knows the pressures that teachers can experience – the overload, the many different demands for attention, the constant judgment calls, feelings of being spent, the increasing potential for violence in the classroom.  McLellan also acknowledges the social, political, and environmental conflicts in society that impact teachers and students alike.  Yet his confidence in the potency of this inner journey comes through directly and tenderly.
There is so much beauty in this little book.  Each chapter is pithy with "homework" assignments like, "Cooking class," "Tutorial" and "Backpack check."  McLellan incorporates story, analogy and metaphor to evoke an inner feeling for each topic – like "Trust," "Vulnerability," "Embodiment" and "Surrender."  The main parts of the book are poetically described, for example, "Teaching Like a Mountain,"  "Teaching Like a River" and "Touching the Earth."
Although meant for teachers, this book is for anyone inspired to open their hearts and minds to themselves and bring out the goodness in others.  There is so much wisdom here. Congratulations Acharya McLellan for so effectively offering this heart advice for teachers.
Click here to learn more about Teaching with Bravery or to order.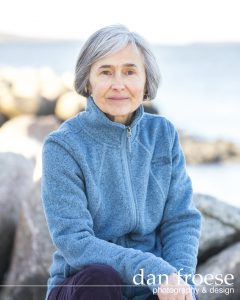 Christine Heming is a writer and educator.  She has been a student of the buddhadharma for over 45 years, and a senior teacher and meditation instructor in Shambhala.  She lives in Port Royal, Nova Scotia.
Post Tags:
book review
,
book reviews
,
heart advice
,
meditation
,
Noel McLellan
,
teachers