Friday
Filed under Regions, France, Spain
The four elements come together to generate energy and create beauty together in the garden
by Cash Clay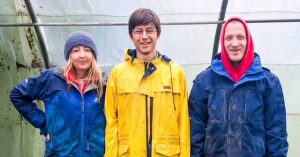 This summer sees the coming together of a great team of gardeners in the Ziji Garden. During the autumn and winter months of 2017 the foundations were laid and the team connected via Zoom, phone calls and messenger. Now, we are finally together in the phenomenal world of the garden and working as a phenomenal team!
So, who are we? Let's drop convention and bypass traditional introduction style, replete with banal mini-biographies. Instead, let me introduce the harmony we bring to the garden and the team by introducing our elemental natures.
We arrive here as the four sensory qualities of solidity, fluidity, temperature and mobility. The garden team are the four elements, and are characterised as earth, water, fire, and air. Continue…
Entries filed under France, Spain
After a couple of years of recording and mixing, Andrew has finally made available nearly ALL of his songs and albums – 108 titles.  The newest recordings are Ekstasis and Abastanza!   There are can all be downloaded in zip format for free
continue
Posted March 31, 2009 by Jessica Sarapoff
In 1995 I was a 24-year old club kid working for a vintage clothing store called "Flashy Trash" in Boystown, Chicago. When, in the midst of some temper tantrum, the woman I worked with joked that I should learn how to meditate, that moment, triggered something ...
continue
Posted March 18, 2009 by Zane Edwards
"In order to perform we have to relate to reality.  So to begin, we must have some training on how to relate to reality.  It's not a matter of questionning the nature of reality, it's learning about your style of relating to reality." Venerable Chögyam Trungpa Rinpoche
continue
Posted February 23, 2009 by Jessica Sarapoff
Sculptures in Resin (1970-1995) & "Infinity Boxes" (2002- 2004)   A mini retrospective spaning on 35 years  March 10 – April 12 Centre culturel Jean Gagnat; Limoges, France
continue
Posted February 23, 2009 by Jessica Sarapoff
¡Hay que experimentar Dechen Choling en invierno para creer que realmente existe un sitio así! Hay que estar ahí, sintiendo la energía desnuda en este lugar bendito: los árboles majestuosos sin hojas, el estanque helado, el aire crujiente, el cielo azul con algunas nubes blancas y ...
continue
Posted February 16, 2009 by Adrian_Bude

RSS feed for the France, Spain category
View all posts from authors in France, Spain: fredvanwelsem
Website Development by Blue Mandala using Wordpress MU.
All content and source Copyright © 1994-2020. Shambhala International (Vajradhatu), Shambhala, Shambhala Meditation Center, Shambhala Training, Shambhala Center and Way of Shambhala are registered service marks of Shambhala USA
Privacy Policy