Wednesday
California, Arizona, Community Articles
Streetspace Gallery in Berkeley, California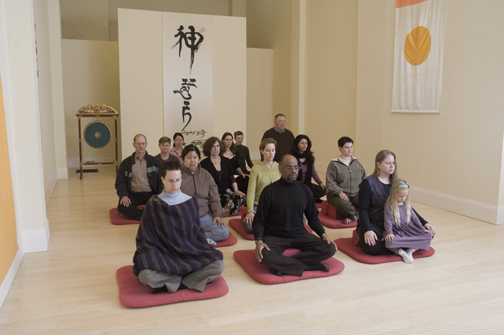 Two years ago the Berkeley Shambhala Center (BSC) opened the doors of Streetspace, a store-front, multi-purpose space located in downtown Berkeley, California. BSC has occupied the same second-floor space in a dzong-like building for over thirty years, while remaining virtually invisible to pedestrians and traffic. By renting a downstairs space in the same building, we bridge Shambhala to the larger community.
The purpose of Streetspace is to create an urban interface with the community and put forth Shambhala vision. Shambhala Culture, particularly the arts, is an important component of this vision. Since opening, we have turned away a number of requests for gallery art shows because the walls are made of a material on which artwork can not be hung. The newly-installed hardware system is made of rail and hangers so framed pieces can be hung securely without damaging walls.
BSC is holding a fundraiser for the purchase and installation of this gallery system. It was part of the original vision for the space, and remained uncompleted until now. BSC wishes to present the work of artists from the community, sangha and our active Dharma Art Community.
Our goal to earn $700, and have the system purchased and installed by Shambhala Day, is nearly complete. Tom Joyce has coordinated the installation, and plans to exhibit his show which was recently shown at the Thoreau Center for Sustainability in the Presidio, San Francisco. His photo exhibition on the desecrated bodhisattvas in the temple at Chuwar, Tibet, and the cave where Milarepa died, will be hung in Streetspace, on the new gallery system, ready for our Shambhala Day festivities.
We are very near our relatively modest goal of $750. Please consider donating any amount that you can afford. To make a PayPal donation, please go to: http://berkeley.shambhala.org/Fundraiser.php
Or send a check with "Streetspace Gallery" in the memo line to:
Berkeley Shambhala Center
2288 Fulton Street
Berkeley, CA 94704
Attention Comptroller
Post Tags:
art
,
Berkeley
,
Northern California