Sunday
Atlantic Canada, Featured Stories
Celebration in the Tidal Zone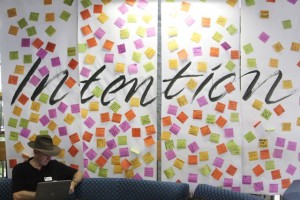 How the Shambhala Institute (now ALIA) Began
It might have something to do with the beaches where I grew up—under every rock, in every tidal pool, there was scuttling, swimming, clinging life of every shape and colour. I loved this fertile zone where the land and sea meet and mix, where there is constant squirming surprise.
Later when I encountered Buddhism I found myself again attracted to the fertile edges, first at Naropa Institute in the late 1970s and then later in Halifax.
Back in the late 1990s a group of us were interested in the interface between Shambhala vision and practice, and emerging new fields of social and organizational understanding. Our quest was to better understand what it meant to "create enlightened society"—a mission that had been planted deep in our mindstream by the late Chogyam Trungpa Rinpoche. We knew that the view and practices of Shambhala were the foundation, the path, and the guide. And we knew that Nova Scotia was the place we wanted to be as we traveled on this path. But at that point, the skillful means were not clear. We each had our individual careers, where we tried to make a good contribution. But we didn't know how to transform our social context, or even where to begin.
Personally my career had led me to be a freelance curriculum writer for the provincial education system. Everywhere I looked I saw intelligent, goodhearted, hard-working people committed to making a difference in the day-to-day life of children but frustrated and disheartened by "the system." There was no one to blame particularly. As Buddhists we understand this—interdependent causes and conditions cycle endlessly, creating unintended consequences. Any change begins with ourselves or we create further mess. As Shambhalians we also know that we can ride the wind of auspicious coincidence. We can command our world. And… it doesn't hurt to have a few tricks up our sleeve and tools in our pocket.
When negative, harmful patterns become embedded and reinforced in a social system, it is difficult to reverse the momentum through individual practice alone. We know that systems are created by mind, by our own habitual ways of thinking and acting. What are the collective practices that reflect and reinforce a nontheistic view, while engaging people in re-thinking and re-enacting their own systems?
This was the question that led us to make contact with some of the pioneers in non-mechanistic (and essentially nontheistic) organizational and social change theory and practice. We were excited to find each other and soon made a mutual commitment to offer a different kind of leadership program than anyone had ever experienced before.
And so it was that in June 2001, the first Shambhala Institute week-long program took place in Halifax, Nova Scotia, under the banner of "Authentic Leadership." Meg Wheatley (Leadership and the New Science), Juanita Brown (co-founder of the World Café) and Art Kleiner (now editor-in-chief of Strategy + Business magazine) were among those who led concurrent tracks. Peter Senge (The Fifth Discipline) led a whole-group session. For those who came as participants, it was an extraordinary opportunity to study in an intimate setting with these people, who were all pioneers, even celebrities, in their fields. Even more extraordinary was the context, or the "container," which would have been recognizable to any Shambhalian who had been to Kalapa Assembly or Naropa University. There was a daily meditation talk and practice session, dance and poetry, creative process sessions, flower arrangements, a sense of celebration, openness, and an unabashed yearning for a more enlightened, compassionate, and playful world.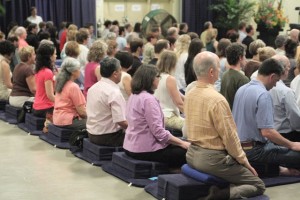 Close to 300 people arrived for that first event, from all over the world. The biggest surprise was how immediately people clicked into the environment. Most of them had no prior experience with anything Buddhist or Shambhala. But within a few days there was no noticeable difference between us. In fact, I felt challenged and drawn to be more authentic and on the spot, more courageous, and to drop more of my many preconceptions. The space was alive and we were all learning from and teaching each other. I was hooked, as were many others who later returned, some coming back year after year.
The Authentic Leadership gathering has continued annually. New collaborations, networks, friendships, and projects have all been born at the Institute. Gradually more Nova Scotians have begun to attend, and this has had a recognizable influence on all spheres of society. We have also been invited to take our program to other regions, and in 2009 we will show up in British Columbia and Ontario, with plans underway for a January 2010 program in the Netherlands. These new programs, along with other regional networking activities, are now under the new flag of ALIA—Authentic Leadership in Action.
So that is our story, or one version of it. It is a privilege to tell it on the occasion of the launch of the Shambhala Times. I look forward to more connection and story-telling between and among our networks, as we all continue to engage in the practice of creating enlightened society.
Susan Szpakowski is the Executive Director of the ALIA Institute.
Please visit the ALIA website here for more information and read the ALIA Institute's blog here.
Post Tags:
ALIA Institute
,
Authentic Leadership
,
Authentic Leadership in Action
,
Chogyam Trungpa
,
Shambhala Institute
,
Susan Szpakowski