Saturday
Featured Stories, Shambhala News Service
On the Passing of His Holiness Penor Rinpoche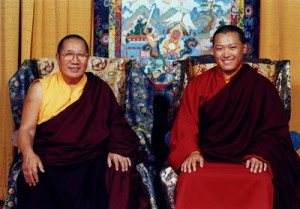 The following is a letter by Sakyong Mipham Rinpoche:
To the Shambhala Community,
It is with a sad and heavy heart that I write to you today with the passing of His Holiness Drupwang Pema Norbu Rinpoche. His Holiness single-handedly revitalized and strengthened the Nyingma tradition. He also had a profound effect on the Shambhala lineage and community.
His Holiness enthroned me as the Sakyong, and one of his last activities was his confirmation and enthronement of Khandro Tseyang as the Sakyong Wangmo. He was also a teacher, advisor, and ally for me. He played a tremendous role in the Tibetan community as one of the key teachers and supporters of Tibetan culture and spirituality. He was a true bodhisattva who worked tirelessly, with great courage and conviction. He was genuine and undaunted by hardships. It is hard to imagine a world without his presence.
During this time, while His Holiness is in the state of samadhi, it is appropriate for students to practice meditation, remembering his kindness and blessings. Vajrayana students may recite the Vajrasattva mantra, purifying obscurations, and practice guruyoga sadhanas.
During this very sad and devastating time, my thoughts and prayers go out to all the tulkus, khenpos, lamas, and thousands upon thousands of monks and nuns that were under His Holiness's care. I have no doubt that they will fulfill all the wishes of Rinpoche and continue the tireless work of planting the victory banner of dharma.
With heartfelt blessings,
The Sakyong
The Sakyong's remarks have been translated into Chinese and are posted online here.
Post Tags:
Penor Rinpoche
,
Sakyong Mipham