Monday
Featured Stories, Shambhala News Service, Video, Audio, Photos
Shambhala Day Address
This Sunday, the first internet hookup for Shambhala Day took place via Shambhala Online. Community members cheered, shouted "ki ki so so," and waved to each other across continents. President Reoch addressed the global mandala from Halifax, and Sakyong Mipham Rinpoche shared exciting news from retreat in a recorded message that left everyone cheering.
The theme for this Shambhala Day was love — being Valentine's Day after all.
Sakyong Mipham Rinpoche has been emphasizing love and kindness throughout the year as a means to strengthen our community and extend Shambhala vision outward. On Shambhala Day, he reiterated that message in poignant terms.
Sakyong Mipham Rinpoche stated:

"At this particular time, it is love that is the message. We don't need to give into hate, but rather we should have the power and maturity to express our love. I believe that this maturity to express love and kindness is what will save our mind and will save our planet. Love is believing in our basic goodness."

Listen the Sakyong's Shambhala Day Address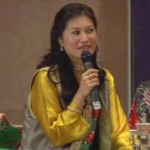 Shambhala Year in Review
From Centre Productions
Another recent Shambhala tradition is the Year in Review video, created by Centre Productions. This year featured footage from the Rinchen Terdzo, the Fourth Shambhala Congress, and the Tenshuk Ceremony, plus interviews with the Ashe Acharya John Rockwell about the opening of the Scorpion Seal and Jennifer Holder about the launch of the Shambhala Times.
Click on icon below to watch the Year in Review.
If you have trouble viewing the video, you can also visit Shambhala.org.
Download
Post Tags:
Sakyong Mipham
,
Shambhala Day